DRIVER PROFILE - TIM WAGAMAN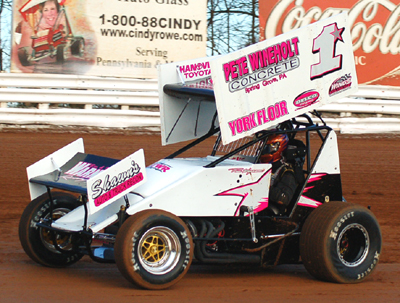 Tim in action at Williams Grove Speedway
Name: TIM WAGAMAN II
Birthdate: 1-24-82
Hometown: HANOVER PENNSYLVANIA
Marital Status: FIANCE
Family: NO KIDS
Occupation: PARTS-HANOVER TOYOTA BODY SHOP
How did you choose your car number? LIKED THE #1
Chassis: GAMBLER/JEI
Engine Builder: RACE TECH RACING ENGINES/DICK SMITH
Crew: JUSTIN REESE(CHIEF)MY DAD TIM(TIRE GUY) SHANE(CAR CLEANER) JASON(VINYL GUY) GRIFF(FUEL)
Sponsors: PETE WINEHOLT CONCRETE, BAER'S PAVING AND SEALING, BEV AND NORM WARNER RACING, RACE TO BETTER HEALTH AND WEALTH(RAY HOFFMASTER), SHAWNS AUTO AND RECON, RACE TECH RACING ENGINES, HANOVER TOYOTA.
Favorite Track: LINCOLN SPEEDWAY,TRAILWAY SPEEDWAY, WILLIAMS GROVE.
Divisions competed in: 358 SPRINT CARS, GO KARTS
Years Racing: 5
Wins: 6 KARTING
Championships: 0
Regular Tracks/Series: PA 358 SPRINTS, LINCOLN SPEEDWAY, TRAILWAY SPEEDWAY, WILLIAMS GROVE.
Hobbies: RACING
Favorite TV show: 24
Favorite Music: EVERYTHING
Favorite Band: FALL OUT BOY
Favorite Food: CRAB CAKES
Favorite Beverage: COORS LIGHT
Favorite Restaurant: COBBLESTONES, YORK PA
Favorite Driver: JEFF ROHRBAUGH, FRED RAHMER
When and how did you get started in racing?
MY UNCLE-JEFF ROHRBAUGH, HELPED HIM FOR 10 YRS, AND THEN BOUGHT MY OWN.
Who had the biggest impact on your racing career and why?
JEFF ROHRBAUGH. HE'S GOT ME TO WHERE I AM TODAY.
What would you be doing if you weren't racing?
HELPING ON A RACE TEAM.
What is your favorite aspect of racing?
THE THRILL OF GOING FAST.
What is your greatest accomplishment/best memory?
FINISHING IN THE TOP FIVE A FEW TIMES MY FIRST YEAR OF RACING. LAST SUNDAY 3/25/07 AT WILLIAMS GROVE, WITH 50 CARS THERE-MADE THE SHOW AND FINISHED 14TH.
What is the worst thing that has happened to you in racing, or your worst season?
FLIPPING TWICE IN THREE WEEKS.
In your own words, describe your 2006 season:
SOMETHING TO BUILD OFF OF. WE ACCOMPLISHED MANY THINGS.
What are your plans for the 2007 season?
TO BE A CONTENDER IN A VERY TOUGH CLASS, AND TO WIN RACES.
Where do you see Sprint Car racing five years from now?
I SEE IT BECOMING ALL ONE CLASS OF RACING..PROBABLY THE 360'S, INSTEAD OF 305'S,358'S,360'S,AND 410'S
What is your ultimate goal?
TO RUN WITH THE WORLD OF OUTLAWS FOR A LIVING.
---
www.SprintCarNews.com
---