Driver Profile - STEPHANIE TUTTLE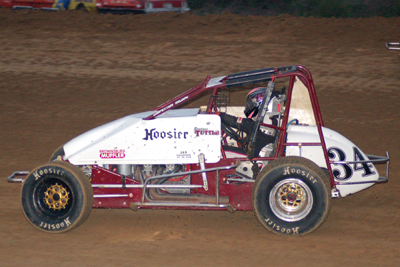 Stephanie on the gas at Paragon Speedway

Name: Stephanie Tuttle
Birthdate: September 24, 1989
Hometown: Brownsburg, Indiana
Marital Status: Single
Family: Bill(Dad), Susie(Mom), Damon & Josh (Brothers)
Occupation: Full time Student
How did you choose your car number? The number 34 has been with the car owner for awhile now.
Chassis: Competition Welding
Engine Builder: J&D Performance
Crew: Jeff Olson, Dad, Mike, Mary, & Michael Newman, and Brent Acton
Sponsors: Brownsburg Muffler, Hoosier Tires, IMPACT Racing, Staci Ward, John Baker, J&D Performance
Favorite Track: Eldora
Divisions competed in: Quarter Midgets, 600cc Upright mini sprints, 410 Non-Wing Sprint Cars
Years Racing: 12 years
Wins: Won my first heat race in the Sprint Car
Championships:
Quarter Midgets
-3 Grand Nation Championships
-15 New Track Records
-4 Mini Indy State Championships
-5 Indiana State Championships
600CC Upright
-3 Feature Wins
-10 top 3 Finishes out of 20 races
-15 top 5 Finishes out of 20
410 Sprint Car
-Best finish 5th @ Paragon
-Finished 8th at the KISS show @ Lincoln Park
Regular Tracks/Series: MSCS
Hobbies: Softball, going to the track 24/7, being with my family!
Favorite TV show: Grey's Anatomy
Favorite Music: Hip Hop, Pop, Rock, Country
Favorite Band: AC/DC
Favorite Food: Tacos
Favorite Beverage: Dr. Pepper
Favorite Restaurant: Texas Roadhouse
Favorite Driver: Tony Stewart & Robbie Stanley

Stephanie ready for action
When and how did you get started in racing?
My dad used to work on Sprint Cars while I was growing up. The guys at the shop used to always ask me when I was going to start and finally when I was 6 I decided I wanted to go racing.
Who had the biggest impact on your racing career and why?
My dad and my brother Josh because they are always there to motivate me and believe in me.
What would you be doing if you weren't racing?
I would probably still be playing softball for school.
What is your favorite aspect of racing?
The speed and adrenaline rush I get before every race.
What is your greatest accomplishment/best memory?
My best memory would have to be alawys traveling to different race tracks and meeting new people every summer!
What is the worst thing that has happened to you in racing, or your worst season?
Nothing bad has ever really happened, but flipping my sprint car wasn't the highlight of my year.
In your own words, describe your 2007 season:
Definately a learning season and an outlook of what my competition will be like next year!
What are your plans for the 2008 season?
Run the MSCS series and local shows.
Where do you see Sprint Car racing five years from now?
I would hope that I'm not only racing Sprint Cars but Midgets also and making history as a woman.
What is your ultimate goal?
To race IRL or Nascar.
Anything else you would like to add?
Big thanks to Jeff Olson for giving me the chance to show my talent! 2008 should be a GREAT year for the team!
---
www.SprintCarNews.com
---