DRIVER PROFILE - MIRANDA THROCKMORTON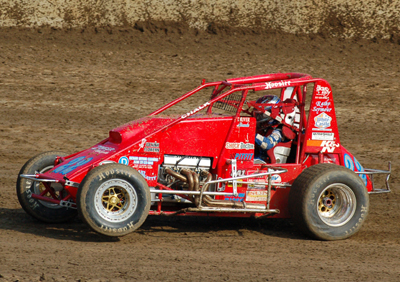 Miranda getting some bite at Kokomo Speedway

Name: Miranda Throckmorton
Birthdate: 1/14/92
Hometown: Avon, Indiana
Marital Status: Single
Family: Bill and Norma Throckmorton
Occupation: Deering Dry Cleaning
How did you choose your car number? My dad used to race both sprint cars and midgets. He always drove a red 22 racecar.
Chassis: Maxim
Engine Builder: Snyder
Crew: My Dad and I.
Sponsors: M&w Aluminum Products, Bond and Associates, Eubank Moblie Home Transport, Art Schletty, Maxim Race cars, Hoosier Tire, Ultrashield, QA1 shocks, Bell Helmets, White Castle, Jockish Flowers, Kigers Signs and Graphics, Weldtech, REV Valves, Brodix, PitFit Training, Shockdoctor, K&N filters, Deering Cleaners, The Finer Details, The Glove Lady, Sun Electric
Favorite Track: Lawrenceburg Speedway
Divisions competed in: I started in quarter midgets when I was five years old, then 600 micro midgets, One year of the USAC Kenyon Midget, 410 non-wing sprint car
Years Racing: 11
Wins: Many all together but one win in the sprint car
Championships: Ten in quarter midgets, I finished 5th in The USAC Kenyon Midget point standings in 2005, and this year I finished 5th in the Paragon points Standings with the sprint car
Regular Tracks/Series: local Indiana Dirt tracks with the 410 non-wing sprint car. This year I am racing with the Midwest Allstar Series and the Allstar Sprint car Series with the wing
Hobbies: Working out
Favorite Music: Rock & Pop
Favorite Food: Chocolate
Favorite Beverage: Mt.dew
Favorite Driver: Tony Stewart, Sarah Fisher
Website: www.MirandaThrockmorton.com

When and how did you get started in racing?

My dad used to race both sprint cars and midegts. He got me started racing a quarter midget when I was 5 years old.

Who had the biggest impact on your racing career and why?

My Parents. They have always been there to support and help me along the way.

What would you be doing if you weren't racing?

I would probably be going to watch sprint car races, or be involved with racing in some way.

What is your favorite aspect of racing?

I like the competition, and meeting new people. You can always learn something new and improve your driving.

What is your greatest accomplishment/best memory?

This year I won my first sprint car feature event at Paragon Speedway. I'm the first ever female to win a 410 non-wing sprint car feature across Indiana and the United States.

What is the worst thing that has happened to you in racing, or your worst season?

The hardest thing for me is to not get discouraged. Im in the learning process right now. I still have a lot to learn and I'm trying to improve on that at each race I go to.

In your own words, describe your 2007 season:

The 2007 season was probably the best Racing season ive had so far, especially in the sprint car. I learned alot, and I got my first sprint car win. That was a huge accomplishment for me.

What are your plans for the 2008 season?

I'm really looking forwrd to the 2008 season. I'm going to compete in the entire Midwest Allstar Sprint car Series with the wing. I am also going to run about 10-15 races with the Allstar Sprint car Series. Whenever I have a weekend i'm not racing with the wing I am going to take the wing off and run any non-wing races that I can.

What is your ultimate goal?

I want to run an Infiniti Pro Series car when I am 18. I would like to run either the IRL or NASCAR.
---
www.SprintCarNews.com
---