Driver Profile - AARON SHAFFER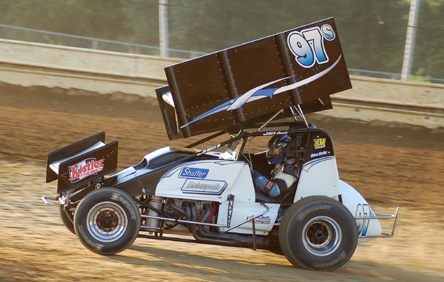 Aaron in action at Sharon Speedway
Name: Aaron Shaffer
Birthdate: August 3, 1979
Hometown: Oak Park, IL
Marital Status: In a relationship
Occupation: Marketing Manager for KYB America LLC
How did you chose your car number? Back when we ran ¼ midgets we always ran two cars, numbers 9 and 7. We eventually combined the numbers to 97 and added the "S" for Shaffer
Chassis: JEI
Engine Builder: Kistler
Crew: George Shaffer and Don Basigner
Sponsors: We are a mostly family-funded operation, but we do receive a little bit of help from Alpine Valley in Chesterland, Ohio
Favorite Track: Sharon Speedway
Divisions competed in: ¼ Midgets, Micro Sprints, 360 Sprints, 410 Sprints
Years Racing: 22
Wins: 2 in Sprints
Championships: 0, We have never chased points
Regular Tracks/Series: Sharon Speedway
Hobbies: Traveling, Snowboarding and 24 Hours of Lemons racing
Favorite TV show: Seinfeld and Top Gear
Favorite Music: Alternative
Favorite Band: The Sounds
Favorite Food: Any breakfast foods, especially omelets, waffles and breakfast burritos
Favorite Beverage: Coffee
Favorite Restaurant: Waffle House
Favorite Driver: Mark Keegan
When and how did you get started in racing?
My dad presented the idea of going ¼ midget racing when I was 8 years old; we have raced every season since.
Who had the biggest impact on your racing career and why?
Without question, it has been my father. He has invested so much time, energy and money for us to have and maintain nice equipment. He probably puts in as much effort as anyone in the sport as we don't have a huge crew and I live 350 miles away from the shop.
What would you be doing if you weren't racing?
I would definitely spend more time traveling. I would also love to have an older Porsche 911 as a project car.
What is your favorite aspect of racing?
I thoroughly enjoy the challenge of trying to go faster and make the car better. Building the cars is still fun, but I really like being at the track, watching it change and trying to make the right adjustments.
What is your greatest accomplishment/best memory?
Winning our first sprint car feature back in 2002. I had been such a big fan of sprint car racing for so long that winning our first feature was absolutely a dream come true. It was a pretty good race as well. We started on the front row, dropped back as far as third but I stayed patient and everything fell our way as the race went on. It really made all of the hard work, late-nights and sacrifices pay off.
What is the worst thing that has happened to you in racing, or your worst season?
1999, our first season in Sprint Cars. My second night in the car we came from the tail of B-main to make the feature at Oakshade. I started thinking; "This isn't going to be so tough." I realized that I may have been wrong when I flipped on the second lap of the feature. The next week I flipped out of Wayne County Speedway landing just shy of the pond.
In your own words, describe your 2009 season:
Of course you are never satisfied but overall I think that we had a decent year. We ran pretty well most nights, won a race and didn't tear up a lot of equipment.
What are your plans for the 2010 season?
We have one new car, a JEI XP-1 and are planning on running a similar schedule to 2009. We'll probably be at Sharon on most Saturdays but we'll also run at least a few shows at Lernerville, Attica and Fremont. If Wayne County and Lakeville schedule a few decent paying shows we will definitely be there.
Where do you see Sprint Car racing five years from now?
I doubt things will be drastically different; however I do believe that car counts will be negatively impacted without an increase in purses. The trend away from 410s and towards 360s will probably continue, however I don't think that is necessarily a bad thing.
What is your ultimate goal?
I would just like to be in a position to field a competitive car for as long as we want to do this. I also think it would be great to run the whole Ohio Speedweek deal at least once.
---
www.SprintCarNews.com
---