Driver Profile - LOGAN SCHUCHART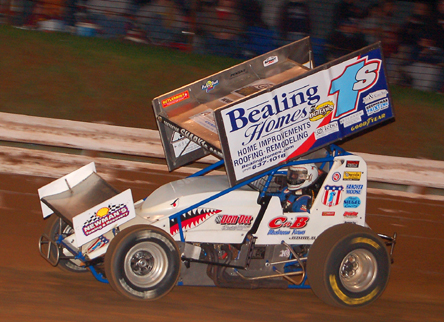 Logan in action at Williams Grove Speedway

Name: Logan Schuchart
Birthdate: 12/16/1992
Hometown: Hanover, PA
Marital Status: Single
Family: Mom-Dana Allen, Dad-Craig Schuchart
Occupation: High School Student/Racecar Driver
How did you choose your car number? My grandfather for most of his career was 1a, He is who I look up to so i chose 1s
Chassis: Shark Chassis
Engine Builder: Don Ott
Crew: Micheal Newman, Jason Peifer, Tyler Laughman, David French, Craig Schuchart, Gene Schuchart, Bob Gregory, Gary Newman, Joe and Bear
Sponsors: Rich Fogle Custom Pole Buildings, Sterner Rental Properties, Don Ott Racing Engines, Penske Shocks
Favorite Track: One with two grooves and a lot of passing
Divisions competed in: 358 winged sprint car,360 winged sprint car,410 winged sprint car
Years Racing: 3 years
Wins: 10
Championships: 2
Regular Tracks/Series: Williamsgrove, Selinsgrove, Lincoln
Hobbies: Riding four wheelers and racing gokarts
Favorite TV show: Justified
Favorite Music: County
Favorite Band: Justin Moore
Favorite Food: Maryland Blue Crabs
Favorite Beverage: Orange Tea
Favorite Restaurant: Red Lobster
Favorite Driver: Bobby Allen
Website: www.Shark1s.com

When and how did you get started in racing?

I started driving gokarts when I was two years old at my grandpa Bobby Allen's gokart track which is now Speedway 94 and then started racing competitively when I was eight

Who had the biggest impact on your racing career and why?

Obviously my grandpa Bobby Allen. he has taught me everything i know and is a great mentor.

What would you be doing if you weren't racing?

Working on a car to help a friend race

What is your favorite aspect of racing?

In my situation that I get to spend time with my family every weekend and have fun

What is your greatest accomplishment/best memory?

Winning the 360 national open at selinsgrove in 2011. I feel like we were an underdog in that race and came out on top.

What is the worst thing that has happened to you in racing, or your worst season?

My first season we were very under budgeted and couldnt keep together a reliable car, we fell out the whole month july due to mechanical issues.

In your own words, describe your 2011 season:

I feel like 2011 was great for our team but at the same time we learned a lot in order to be ready for 2012 and what we have to do to start out strong ..

What are your plans for the 2012 season?

We plan to run a little bit of everything with what our budget lets us. Depends on how we do and what we win back but we want to run a 410 as much as possible.

Where do you see Sprint Car racing five years from now?

A lot like it is now, maybe a few minor changes but in the long run very similar

What is your ultimate goal?

Win as many races and be consistent as possible before moving on to a higher division of racing.
---
www.SprintCarNews.com
---