Driver Profile - Sam Schlosberg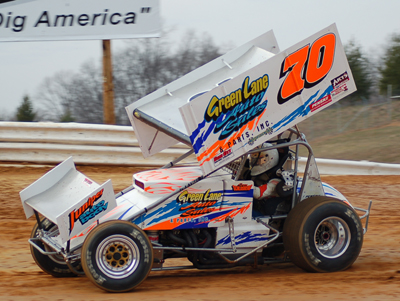 Sam at Lincoln Speedway
Name: Sam Schlosberg
Birthdate: 4-26-82
Hometown: Green Lane, Pa
Marital Status: Single and having fun!
Occupation: Salvage yard owner
How did you choose your car number? My dad's hobbie stock .. back in the day at Grandview
Chassis: J&J because they have a quality product and are nice to deal with.
Engine Builder: Don Ott gotta stick with the locals.. and he is the man....
Crew: Vince (owner) Henry Adams, Trent Umstead, Wayne Bull, Danny Snyder
Sponsors: Green Lane Auto Sales & Parts Inc ( my company) Shop 1 Fire Apparatus Repair, Carusos Restaurant, Juniper Auto Body, Arts Radiator
Favorite Track: Lincoln and Grandview Speedway( hence the only ones i have raced... must be I just love racing sprints,,) also that they're are similar and very racy.
Divisions competed in: Started in 1/4 midgets for a few years then in 98 Started in late models at g-view and did that till 03, in 04 bought a 410 sprint and that is where i am at.
Years Racing: On my 3rd sprint season (hopefully my best)
Wins: 5 late model wins , 1 410 feature at Lincoln
Championships: Not yet.
Regular Tracks/Series: Lincoln Speedway every Sat.. Do or Die!
Hobbies: The beach, snowmobiling , skiing, getting together with friends,
Favorite TV show: They're all decent
Favorite Music: Depends on my mood
Favorite Band: n/a
Favorite Food: I'm picky as hell.. you don't wanna go there
Favorite Beverage: goose and cran.. coke
Favorite Restaurant: hOOters ( just for the view of course)
Favorite Driver: n/a
When and how did you get started in racing?
I went to a flea market one Saturday morning and got a good deal on a late model roller... six years later at the last race in 03 i decided I wanted to run a 410 sprint.. so I put a for sale sign on the car and sold it 15 mins later... then proceeded to buy one of Fred Rahmer's (my neighbor) turn key cars off of Joe Harz along with plenty of spares to keep me on the track.
Who had the biggest impact on your racing career and why?
To tell the truth Kenny Jacobs cause one night I sat at home and watched the Knoxville Nationals and saw Kenny, one hell of a driver start on the front row.. and I said to myself if I race with him every week we can do just as well.. and a couple weeks later I won my first 410 feature in my rookie season
What would you be doing if you weren't racing?
Probably snowmobiling in NY or at the BEACH
What is your favorite aspect of racing?
Being competitive with such a great staff of talent
What is your greatest accomplishment/best memory?
I timed well at the World of Outlaw show at g-view in 05 and got in the dash.
What is the worst thing that has happened to you in racing, or your worst season?
Breaking my wrist in my late model at Susky in 03, I have had several non winning seasons just seeems like that is how it is sometimes all those 2nd and 3rds are frustrating.
In your own words, describe your 2005 season:
It was more consistant than the prior , had more top tens a few top 5's did well in some big shows.. I guess not bad for the sophmore jinx
What are your plans for the 2006 season?
Run Harder and be the first at the finish a few times!
Where do you see Sprint Car racing five years from now?
Well.. same purse, prolly the same sponsors, just updated talent.
What is your ultimate goal?
To Have a good time! and beat up on the best in the business
---
www.SprintCarNews.com
---