DRIVER PROFILE - JAY REICHARD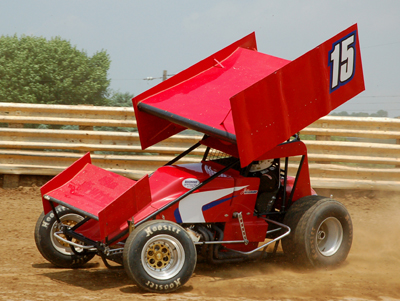 Jay on the gas at Port Royal Speedway

Name: Jay Reichard
Birthdate: 03-27-1983
Hometown: Hagerstown, MD
Marital Status: Single
Family: Dog-Hayden
Occupation: Sales Rep.
How did you choose your car number? It was my father's car number
Chassis: J and J
Engine Builder: Reichard High Performance
Crew: Doug, Luke, Lindsay, Melissa, Dusty
Sponsors: J and M Sportsworld
Favorite Track: Hagerstown Speedway
Divisions competed in: 1/4 Midgets, 250cc Micro, 410 Sprints Years Racing: 13
Wins: 19
Championships: 0
Regular Tracks/Series: Port Royal Speedway
Hobbies: Motorcycles, Snowboarding, Video Games
Favorite TV show: Top Gear
Favorite Music: Alternative Rock
Favorite Band: Breaking Benjamin
Favorite Food: Beef Jerky
Favorite Beverage: Pepsi
Favorite Restaurant: Outback
Favorite Driver: M. Schumacher


When and how did you get started in racing?

Early, Dad figured it would be safer than ripping around on a four wheeler in the woods.

Who had the biggest impact on your racing career and why?

My Dad and Brother. Without either one I probably wouldn't be where I am today.

What would you be doing if you weren't racing?

Riding my motorcycle on a nice twist country road.

What is your favorite aspect of racing?

Going faster than everybody else!

What is your greatest accomplishment/best memory?

Winning my first three races ever competing.

What is the worst thing that has happened to you in racing, or your worst season?

Anything worse than hitting a guardrail at 140mph?

In your own words, describe your 2007 season:

Learned alot along the way, had some good runs. Ended the season alot better than I started it.

What are your plans for the 2008 season?

Win alot, be competitive weekly, get more exposure.

Where do you see Sprint Car racing five years from now?

Hopefully taking NASCAR's top spot as America's primier motorsport.

What is your ultimate goal?

To become a world champion!

Anything else you would like to add?

Thanks to everyone that has helped me along with my racing career!
---
www.SprintCarNews.com
---