Driver Profile - SCOTT PRIESTER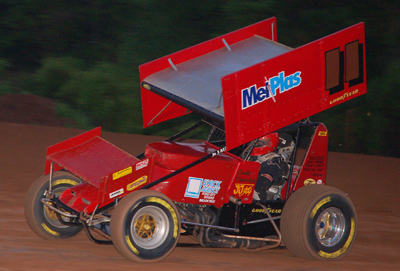 Scott in action at Lernerville Speedway
Name: Scott Priester
Birthdate: Jan. 29, 1969
Hometown: Rimersburg, PA
Marital Status: Married to Carla
Family: Son Corey, Daughter Kirstie
Occupation: Machine Shop Supervisor @ MetPlas, Inc.
How did you choose your car number? from the "King" Steve Kinser
Chassis: J&J
Engine Builder: Priester
Crew: Dean Priester, Corey Priester, Carla Priester, Kirstie Priester, Kevin Siverd
Sponsors: MetPlas, Inc., Eric Shick Insurance Agency
Favorite Track: Any of them where you can gas 'er up
Divisions competed in: Go-karts, 6 cyl. modifieds, Sprint Cars
Years Racing: 25th year in sprints this year
Wins: Lernerville, Sportsman's, Challenger, Mercer
Championships: '99 Challenger Champ, '91 Twin-State Challenge Series Champ
Regular Tracks/Series: Lernerville, Mercer
Hobbies: Racing, Steelers Football, Penguins Hockey, Downhill skiing
Favorite TV show: Rescue Me, Justified, Sons of Anarchy, Wind Tunnel
Favorite Music: Hard Rock
Favorite Band: Led Zeppelin
Favorite Food: Steaks
Favorite Beverage: Cold Beer
Favorite Restaurant: Emeril's
Favorite Driver: Steve Kinser, Sammy Swindell, Rick Ferkel
When and how did you get started in racing?
At age 9 in go-karts
Who had the biggest impact on your racing career and why?
My dad. He quit racing when I was a kid and got me started & still helps out a lot even still. Also my awesome wife & kids have been very supportive. What would you be doing if you weren't racing?
I have no good answer for that???
What is your favorite aspect of racing?
The competition, passion & the great people involved.
What is your greatest accomplishment/best memory?
My feature wins are all memorable and also all the great friends I've made while involved in racing
What is the worst thing that has happened to you in racing, or your worst season?
I've had a few ground-pounding flips over the years, a couple of them were pretty legendary!
In your own words, describe your 2010 season:
Disappointing. Struggled with the GoodYear tires & also had a lot of engine trouble as well, too many dnf's
What are your plans for the 2011 season?
Racing the Dionese #15 on Saturdays at Mercer & possibly other shows and hope to race the Priester #11 on Fridays at Lernerville (pending financial help).
Where do you see Sprint Car racing five years from now?
I look for it to remain strong for years to come, although I do have concerns about the economy affecting attendance.
What is your ultimate goal?
To have fun, win some more races and to be remembered as a driver who could "wheel" a car. Also, would like to build a car to go do some non-winged racing someday.
Anything else you would like to add?
Thanks to you, Rick "Racer" Rarer for you're your support & devotion to Sprint Car Racing...
---
www.SprintCarNews.com
---