DRIVER PROFILE - AMY OTT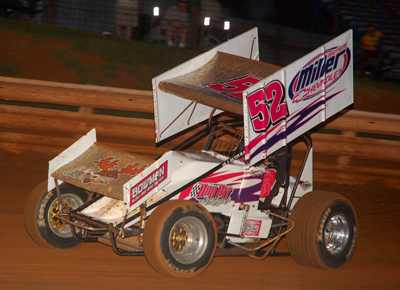 Amy in action at Williams Grove Speedway
Name: Amy Ott
Birthdate: April 20, 1994
Hometown: East Berlin, PA
Marital Status: Single
Family: Don Ott- father, Lee Ann Ott- mother, Aaron Ott- brother
Occupation: Cashier at Sears
How did you choose your car number? I always used to be number 88 in go karts, but then when I got into sprint cars my brother wanted me to change it to 52, so I could be the opposite of his number (25).
Chassis: J&J
Engine Builder: Don Ott
Crew: Dad, Mark, Nick
Sponsors: Miller Brothers Chevrolet, Don Ott Racing Engines, Moose Blocks, Bowman Block and Head, Lawrence's Auto Body, VRP Shocks
Favorite Track: Williams Grove
Divisions competed in:Quarter Midgets, 500 cage go-karts, Junior Champ go-karts, 358 sprint cars
Years Racing: 8
Wins: 25+ in karts
Championships:1 at Hunterstown Speedway
Regular Tracks/Series: Regular at Williams Grove Speedway in the 358 division.
Hobbies: Racing, Snowmobiling
Favorite TV show: Family Guy
Favorite Music: Anything but country music!
Favorite Band: Mayday Parade
Favorite Food: Chicken
Favorite Beverage: Mountin Dew
Favorite Restaurant: Chili's
Favorite Driver: Aaron Ott
Website: www.amyott.com
When and how did you get started in racing?
My dad one year bought my brother and I quarter midgets. We raced at Hagerstown Speedway in Maryland, but I only raced a handful of races because I was terrible. A few years later my dad bought my brother a go-kart and only Aaron raced for about a year or two. One night they held a powderpuff race for all the girls, and I strapped in Aaron's kart and turned some laps and won the race. Afterwards I told my dad I wanted to race, and he bought me a kart the following year.
Who had the biggest impact on your racing career and why?
My dad had a huge impact on my racing career. Although him and I butt heads most nights, he always stands by me in whatever I do.
What would you be doing if you weren't racing?
Watching my brother race
What is your favorite aspect of racing?
I like racing with my friends. I enjoy racing with the kids that I grew up with racing go-karts. It's amazing to see how much we've improved and to see how far we've made it.
What is your greatest accomplishment/best memory?
Winning the points championship at Hunterstown Speedway. I never thought I'd be able to pull it off because the points were really close, but I managed to win it.
What is the worst thing that has happened to you in racing, or your worst season?
Crashing at Williams Grove and getting a concussion
In your own words, describe your 2011 season:
2011 wasn't the best season for me. I had a few top ten finishes, and a few DNF's. Although I didn't get the first win yet, I learned a lot and I'm looking forward to apply what I've learned to the 2012 season.
What are your plans for the 2012 season?
Will be a regular at Williams Grove.
Where do you see Sprint Car racing five years from now?
I see sprint car racing growing. More rookies are moving up into sprint cars, so it's definitely going to get bigger.
What is your ultimate goal?
My goal has always been to race an Indy Car. If that doesn't work out, I'd stick to racing full time with the World of Outlaws.
---
www.SprintCarNews.com
---