Driver Profile - KEVIN NOUSE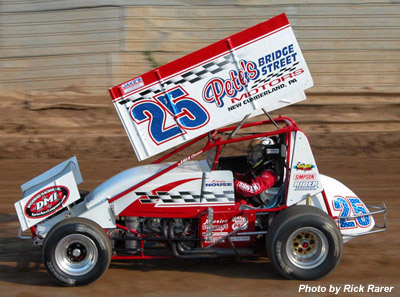 Kevin in action at Port Royal Speedway
Driver: Kevin Nouse
Birthdate: September 17, 1972
Hometown: Mechanicsburg, PA
Marital Status: Single
Family: None
Occupation: Owner of Signtech Race Graphics.com
How did you choose your car number? I have no idea
Chassis: Maxim & JEI
Engine Builder: Rider Racing Engines
Crew: Scott, Jerry, Stevie, Mark, and Heath
Sponsors: Pete's Bridge Street Motors, Signtech Race Graphics.com, Pikulin Chiropractic, Pro Shocks, Weld Racing, Simpson Race Products
Favorite Track: Selinsgrove Speedway - Selinsgrove, PA
Divisions competed in: 270cc & 600cc Micro Sprints, Super Sportsman, 358 Sprint Cars, and 410 Sprint Cars
Years Racing: 10
Wins: 50
Championships: 2
Regular Tracks/Series : Central PA 410 Sprint Cars
Hobbies: Racing
Favorite TV show: NBS 24/7
Favorite Music: Whatever is on
Favorite Band: Too many to list
Favorite Food: Steak & Pizza
Favorite Beverage: Mountain Dew
Favorite Restaurant: Outback Steakhouse
Favorite Driver: Mark Martin & Matt Kenseth
When and how did you get started in racing?
I grew up at the sprint car races with my family... I just always knew I was going to do it.
Who had the biggest impact on your racing career and why?
My father.... he introduced me to sprint car racing and still is an important part of my racing today.
What would you be doing if you weren't racing?
I have no idea.
What is your favorite aspect of racing?
The competition I guess.
What is your greatest accomplishment/best memory?
Winning the STP Tulsa Shootout in 2000 in only my 3rd ever 600cc Micro Sprint start.
What is the worst thing that has happened to you in racing, or your worst season?
Flipping under yellow while driving a micro sprint in 1997.
In your own words, describe your 2003 season:
Unbelievable. We switched divisions in the middle of the season, came out of the box and started winning races. That doesn't happen very often.
What are your plans for the 2004 season?
To race a 410 in PA, and get as much experience as possible.
Where do you see Sprint Car racing five years from now?
It will always be around. If the 410 division continues to lose car counts, the 360 division will take over. In my mind, sprint cars will never die.
What is your ultimate goal in racing?
I want to race for a living. I would like to get a WoO or All Star ride within 2 years from now.
Check out Kevin's weekly updates at: WWW.KEVINNOUSE.COM
---
Ohio/Pa Sprint Car Racing
---