Driver Profile - JOSH MUNTZ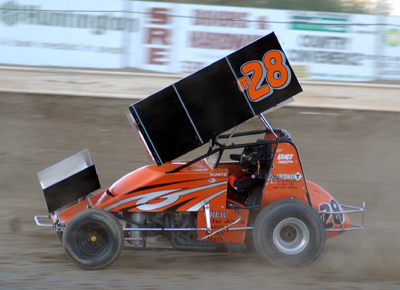 Josh in action at Sharon Speedway
Name: Josh Muntz
Birthdate: Oct 28, 1985
Hometown: New Riegel, Ohio
Marital Status: Single
Family: Dad Jeff, Mom Barb, 4 Sisters Lynn, Kelly, Kim, Jenny and 14 nieces and nephews
Occupation: Auto Tech
How did you choose your car number? Its the day of my Birthday
Chassis: Eagle
Engine Builder: Gressman Powersports
Crew: Kenny Sutton, Jeff (dad)
Sponsors: Muntz Equipment rebuild, WOW Epoxy Floors & More, Wal-Mart of Tiffin, Kears Speed Shop
Favorite Track: Fremont Speedway
Divisions competed in: 305/410 Sprints
Years Racing: 2
Wins: 1
Championships: 0
Regular Tracks/Series: Attica & Fremont
Hobbies: Fishing and Four Wheeling
Favorite TV show: Criminal Minds
Favorite Music: Country
Favorite Band: Brad Paisley
Favorite Food: Lasagna
Favorite Beverage: Water/Milk
Favorite Restaurant: Ruby Tuesdays
Favorite Driver: Joey Saldana
When and how did you get started in racing?
Started helping Jody Keegan in 2006 and while i was helping him I purchased a car from him and started to put it together that summer. I raced in my first race at Sharon Speedway the last race of the 2006 season with a motor of Jody's. In 2007 I raced the full year in a 305 then again in 2008, In 2008 I also raced another race at Sharon Speedway in a 410.
Who had the biggest impact on your racing career and why?
Jody Keegan, He has helped me more than anyone and really helped me get my career started.
What would you be doing if you weren't racing?
I would probably be doing a lot of sport bass fishing, I did a lot of this before I started racing and love it, just don't have the time to do it as much now that I have started racing.
What is your favorite aspect of racing?
The competition is just awesome and at the race track its just like everyone is like family
What is your greatest accomplishment/best memory?
My first win at Fremont Speedway after just my 29th race of racing anything
What is the worst thing that has happened to you in racing, or your worst season?
I have had a few bad wrecks but that's about it.
In your own words, describe your 2008 season:
Incredible, the whole team just learned so much and we got our first win and had many more good runs, along with some bad ones.
What are your plans for the 2009 season?
Race as much as possible and learn as much as we can, I will be in our family owned M28 Car again and doing as much racing as we can.
Where do you see Sprint Car racing five years from now?
Hopefully as good as it ever has been,
What is your ultimate goal?
World of Outlaws would be awesome, I have a lot of respect for them guys and would love to be able to travel and race with them every night.
---
www.SprintCarNews.com
---