Driver Profile - PETE MILLER III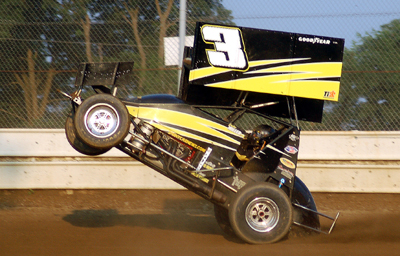 Pete on the gas at Sharon Speedway
Name: Pete Miller III
Birthdate: 5-4-91
Hometown: Port Vue, PA
Occupation: Repossessor
How did you choose your car number? It was pretty easy, Im Pete Miller the Third so "3" it was.
Chassis: Maxim Chassis
Engine Builder: Gaerte Racing Engines
Crew: Mike George, Jon Durica
Sponsors: Wishing for some
Favorite Track: I like any track with good competitive racing.
Divisions competed in: Go Karts, Limited Sprint Cars, 410 Sprint Cars
Years Racing: 7
Wins: 75+ Go Kart wins, 1-Limited Sprint win, and 1-410 win
Championships: 2
Regular Tracks/Series: 2009-2010 Lernerville Speedway and Mercer Raceway Park, 2011- All Star Circuit of Champions
Hobbies: Theres really no time left for hobbies with racing, when Im not racing Im out working so I have money for the next race.
Favorite TV show: Pawn Stars
Favorite Music: Classic Rock
Favorite Food: Steak
Favorite Beverage: Root Beer
Favorite Restaurant: TGI Fridays
Favorite Driver: Dale Blaney, I admire his style on and off the race track. He's a class act.
When and how did you get started in racing?
I tried playing football and was to small, tried baseball and that just wasn't for me. So we decided to buy a Go Kart and we've been stuck ever since.
Who had the biggest impact on your racing career and why?
My parents, they are awesome! They back me and all my crazy choices. I said I wanted to go "410 Sprint Car" racing, and they stuck themselves out for me to fulfill a dream. My Mom, I hand her all my money from each paycheck as well as every dime I ever get and she always budgets it and makes sure we have enough money for the next race. My Dad, he's great. He plans everything as well as guiding me in the correct direction all the time. None of this would be possible with out them.
What would you be doing if you weren't racing?
Anything possible to be back in the seat of a race car!
What is your favorite aspect of racing?
Winning, the thrill of competition!
What is your greatest accomplishment/best memory?
Snatching that first 410 Sprint Car win, the thrill was indescribable.
What is the worst thing that has happened to you in racing, or your worst season?
The 2010 season had its ups and downs, but I consider it very disappointing. I had very high hopes going into it and most of them werent met. But we learned from our mistakes and we moved on.
In your own words, describe your 2010 season:
Like i said above, overall it was disappointing, but on a good note we did pick up our first win.
What are your plans for the 2011 season?
Traveling full time with the All Star Circuit of Champions
Where do you see Sprint Car racing five years from now?
Bigger, better and more competitive then ever.
What is your ultimate goal?
To one day travel and race for a living would be a dream come true.
Anything else you would like to add?
I would like to thank God for keeping me out there racing as well as keeping us all safe.
---
www.SprintCarNews.com
---