Driver Profile - PAUL MCMAHAN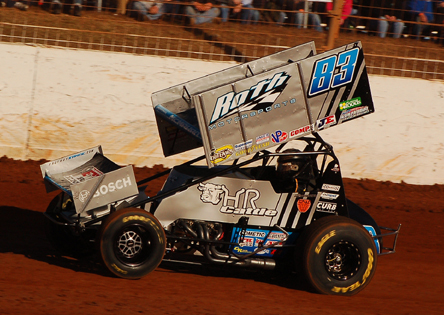 Paul on the gas at the World Finals
Name: Paul Mcmahan
Birthdate: December 1st
Hometown: Elk Grove, CA
Marital Status: Married to Jan McMahan
Family: Brayden, Kylie
Occupation: Driver
Chassis: Maxim
Engine Builder: Kistler
Crew: Bryan,Noah,Dennis
Favorite Track: Eldora Speedway
Years Racing: 25 years
Wins: I don't know
Championships: One
Regular Tracks/Series: All-Stars
Hobbies: Fishing and Golf
Favorite TV show: Deadliest Catch
Favorite Music: Anything cause I have kids
Favorite Food: Round Table Pizza, In-N-Out, Jimboys Tacos
Favorite Beverage: Nice Cold Beer
Favorite Restaurant: Fuji's Japaness Steak House
Favorite Driver: Brad Doty, Jimmy Boyd
Website: paulmcmahanracing.com
When and how did you get started in racing?
Racing has been in my family for over 60 years
Who had the biggest impact on your racing career and why?
I would say my family cause they got me started in it
What would you be doing if you weren't racing?
Would have to have a real job somewhere.
What is your favorite aspect of racing?
The competition and wanting to be the best on every giving day .
What is your greatest accomplishment/best memory?
My first WOO feature win.
What is the worst thing that has happened to you in racing, or your worst season?
Worst season? Losing
In your own words, describe your 2011 season:
It was a good season won four Outlaw races and finished 4th in the points
What are your plans for the 2012 season?
Driving for Bryan Grove Motorsports with the All Stars
Where do you see Sprint Car racing five years from now?
Hopefully not run into the ground.
What is your ultimate goal?
To win a World of Outlaws championship.
---
www.SprintCarNews.com
---