Driver Profile - BRENT MARKS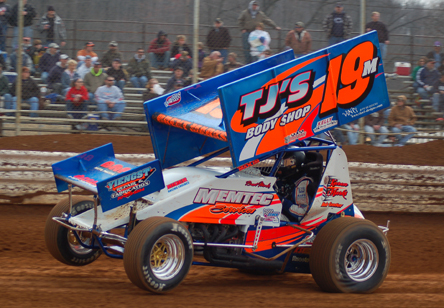 Brent on the gas at Lincoln Speedway

Name: Brent Marks
Birthdate: December 29, 1990
Hometown: Myerstown, PA
Marital Status: Single
Family: Mom and dad
Occupation: Student / Sprint Car Driver
How did you choose your car number? Steve Smith
Chassis: Maxim
Engine Builder: Rider Racing Engines
Crew: Kevin, Dad, Dave, Dawn, Nikki, Mom, Pop, Tasha
Sponsors: Memtec Services Inc., BAPS Auto Paint & Supply, Apple parts Express, Tj's Body Shop, Karen Marks Hair Center, Russell Heller Builder, Kindred Interiors, Vinci Design & Publishing.
Favorite Track: East Bay Raceway Park
Divisions competed in: Go-Karts, 600cc Micro Sprints, Sidewinder Micro Sprints, 1000cc Mini Sprints (for 3 races), 410 Super Sprint
Years Racing: 11
Wins: 275+
Championships: 16
Regular Tracks/Series: Lincoln Speedway in the 410 Sprint Car division
Hobbies: Electronics, rc cars, mainly just working on the race cars all the time.
Favorite TV show: Nitro Circus
Favorite Music: Hip-Hop, Rock
Favorite Band: 3OH!3
Favorite Food: Italian
Favorite Beverage: Coke, Pepsi
Favorite Restaurant: Red Lobster
Favorite Driver: Tony Stewart

When and how did you get started in racing?

I started racing in 1999 at age 9. My dad helped and sponsored 358 sprint car driver Donny Wolfe for numerous years. Once Donny retired I begged my dad to start racing and one day at the Silver Spring flea market we bought our first go-kart and here I am today!

Who had the biggest impact on your racing career and why?

My father because he knows how much I love it and he knows that I want to make a career out of it. He has been behind me the whole way and spends tons and tons of hard earned money on me to help me succeed in what I love to do.

What would you be doing if you weren't racing?

I couldn't imagine life without racing, I've been around it since I was born and It's really all I know, but if I couldn't race I would want to work on a big team or become an electronics engineer.

What is your favorite aspect of racing?

The speed and being able to manhandle a car that is out of control, and the adrenaline you get out of it. The feeling you get winning a race is a feeling you wont find anywhere else in the world.

What is your greatest accomplishment/best memory?

To be honest I have many accomplishments that are number 1 on my list but the one im most well known for is winning the winternationals in florida two consecutive years before moving into sprints. My best memory would be winning the Kevin Gobrecht Memorial at Trail-Way in the 600 and the following week winning the Delaware Nationals in the 600. Another great memory is at the 2007 Super 600 showdown comming from 22nd in the C Main to finish 7th in the A Main. What I am most proud of though, is finally reaching my dream of racing a 410 Sprint Car.

What is the worst thing that has happened to you in racing, or your worst season?

Worst thing that has happened to me was going end over end at Trail-Way half the distance of the front stretch. My worse season had to of been 2007 with 11 weeks in a row at just Trail-Way's and no where else not finishing more than 2 races. That has to be my biggest slump of 11 years in racing.

In your own words, describe your 2008 season:

It was good but not great, captured 10 wins, and gained a lot of experience in 2 other divisions, but wasn't up to my expectation of how I should of performed that season.

What are your plans for the 2009 season?

Race the 410 sprint car at lincoln and try to hit Williams Grove every so often and maybe the PA Speedweek. Without a lot of major sponsorship we are limited to one track for the most part.

Where do you see Sprint Car racing five years from now?

Unfortunally with the high prices of 410 engines, I see the 360 divsion become bigger, especially with the backing of lucas oil. I dont really see 410's being much different than they are now, though.

What is your ultimate goal?

Become a full time World Of Outlaw driver or a USAC Driver.

Anything else you would like to add?

I would just like to say thank you to everyone who has been behind me from the start and thank you to the sponsors that have stuck behind me throughout my career!
---
www.SprintCarNews.com
---