Driver Profile - AARON LONG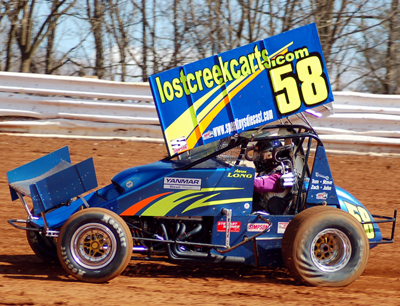 Aaron in action at Williams Grove Speedway

Name: Aaron Long
Birthdate: 10-16-83
Hometown: Dillsburg Pa
Marital Status: Not married
Family: great
Occupation: Engine builder, Dyno testing(soon)
How did you choose your car number? old football jersey numbers.
Engine Builder: Aaron Long, FIT Engines
Crew: Tom, Steve, Zach, John
Sponsors: FIT Engines, Serradellas Pizza, Simpson
Favorite Track: The Grove
Divisions competed in: 358's, sportsman, 410's
Years Racing: Since 2003
Wins: 1 Lincoln, 10 heat wins
Championships: soon
Regular Tracks/Series: Williams Grove 358's
Hobbies: Building engines, watchin drag racing, meeting my future wife.
Favorite TV show: NHRA Today
Favorite Music: Oldies & Country
Favorite Band: BR549
Favorite Food: Chicken fingers/fries
Favorite Beverage: Diet Coke
Favorite Restaurant: whatever
Favorite Driver: Eric Stambaugh


When and how did you get started in racing?

Working for Eric Stambaugh when he was a rookie in 1998. Him and engine builder Jeff Brown taught me just about everything.

Who had the biggest impact on your racing career and why?

If it weren't for me working building engines at FIT Competition Engines, I never would have been able to afford to build a motor and go racing.

What would you be doing if you weren't racing?

Running my soon to open business, A-list performance Engine Dyno Testing.

What is your favorite aspect of racing?

Competition, beating guys with lots more money than me, experimenting with different engine combinations that everyone else doesnt have the balls to try, and makin it work!!

What is your greatest accomplishment/best memory?

Victory, May 22 2004 Lincoln Speedway

What is the worst thing that has happened to you in racing, or your worst season?

Anytime we destroy a car when its not our fault, 2006 it happened to much, no body is more under funded than myself.

In your own words, describe your 2006 season:

A big learning curve!!!!!!!

What are your plans for the 2007 season?

Williams Grove 358's. Maybe a 410 show or two later in the year.

Where do you see Sprint Car racing five years from now?

Exactly the way it is now, unbearably expensive yet plenty of cars to fill the field.

What is your ultimate goal?

The same as every driver, to do it for a living. But landing the right sponsor is the ticket to showin what you're made of.

Anything else you would like to add?

A-List Performance will be the first affordable engine dyno testing business in the area. (Central Pa) We will be opening doors in the winter of 2006.
---
www.SprintCarNews.com
---