Driver Profile - KEVIN LEE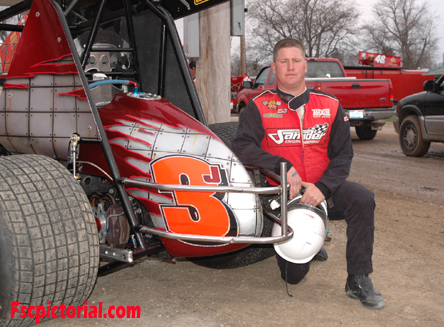 Kevin with his Sprinter
Name: Kevin Lee
Birthdate: March 11th, 1983
Hometown: Green Springs, Ohio
Marital Status: Single
Occupation: Carpenter
How did you choose your car number? Car owner chose it.
Chassis: Maxim
Engine Builder: Gressman Powersports
Crew Chief: Jason Deel
Sponsors: JD Automotive, Day Construction, Bob Lee's Cycle, Papa Jimmies Pizza & Restaurant, Humbert Trucking.
Favorite Track: Attica Raceway Park
Divisions competed in: 410 & 305 Sprints
Years Racing: Six. 2004-Present 305 Sprint Cars (Fremont Speedway & Attica Raceway Park) (6 - 410 Starts in 2008)
Wins: 3 (2 Fremont, 1 Attica)
Championships: Rookie of the Year at Fremont Speedway 2004, 305 Sprints.
Regular Tracks/Series: Fremont Speedway, Attica Raceway Park.
Hobbies: Hunting and Fishing
Favorite TV show: CSI
Favorite Movie: Days of Thunder
Favorite Music: Country
Favorite Band: Kenny Chesney
Favorite Food: Pizza
Vehicles: /1997 F150 - 1996 Ford Explorer
Website: www.3jmotorsports.com
When and how did you get started in racing?
I started racing 305 sprints for our family owned team in 2004.
Who had the biggest impact on your racing career and why?
My Dad. He helped me get started by starting a team to compete in the 305 division at Fremont and Attica Speedways.
What is your favorite aspect of racing?
The raw power, and the fan's!
What is your greatest accomplishment/best memory?
-3 Feature Wins (1-Attica, 2-Fremont)
-Top ten in 305 points at Fremont & Attica 2005 thru 2007.
-Second in Fremont 305 Point Standings 2007 & 2008.
What is the worst thing that has happened to you in racing, or your worst season?
Worst crash: Attica 2007, destroyed the car after being helped into the front stretch wall.
Most disappointing season would have to be finishing second in the 2008 Fremont 305 point standings by 16 points after having a part failure in the final feature of the season.
What are your plans for the 2009 season?
We're moving up to the 410 division this season and planning run Fremont weekly and then hit some new tracks when Fremont isn't running the 410's. We also plan to run a few 305 shows at Fremont as well.
What is your ultimate goal?
To win track championships at Fremont and Attica Speedways. Race sprint cars full time.
---
www.SprintCarNews.com
---