Driver Profile - Lee Jacobs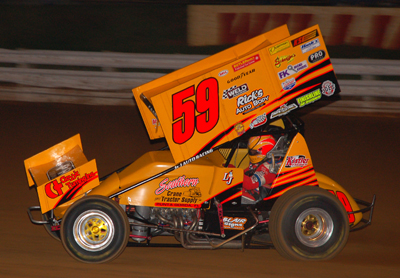 Lee at the Williams Grove National Open
Name: Lee Jacobs
Birthdate: May 21st, 1983
Hometown: Dalton, Ohio
Marital Status: Married to Tara Jacobs
Family: Expecting our first child
Occupation: Student - Working on early childhood education
How did you choose your car number? Car owner chose it
Chassis: J&J
Engine Builder: Kistler
Crew Chief: Andy Potter
Sponsors: Southern Crane and Tractor Supply, Rick's Auto Body, Classic Turning, FK Rod Ends, Kistler Race Engines & Equipment, Butler Built Seats, Bell Helmets, Hinchman, PRO Shocks, Goodyear, Outer Wears, AGIP Oil, Hanks Performance, KSE, Winters Rear Ends, and Blair Signs
Favorite Track: Attica Raceway
Divisions competed in: 410 & 360 Sprints
Years Racing: Eight
Wins: 8
Championships: Rookie of the Year at Wayne County Speedway
Regular Tracks/Series: All-Star Circuit of Champions
Hobbies: Hunting and Fishing
Favorite TV show: The Office
Favorite Music: Country
Favorite Band: Keith Urban
Favorite Food: Italian
Favorite Beverage: Coffee
Favorite Restaurant: Carrabba's
Favorite Driver: My father Kenny
When and how did you get started in racing?
I first started racing quarter midgets indoors when I was four years old.
Who had the biggest impact on your racing career and why?
My father has had the biggest impact on my racing career. If it wasn't for him, I would have never been able to get into the sport on my own.
What would you be doing if you weren't racing?
Focusing more on school
What is your favorite aspect of racing?
The adrenaline rush, and the fan's
What is your greatest accomplishment/best memory?
The first race I won in a sprint car because my Grandpa was right there with me.
What is the worst thing that has happened to you in racing, or your worst season?
The Knoxville Nationals this year when my motor blew and losing the Rookie of the Nationals.
In your own words, describe your 2008 season:
I had an up and down year with only one win. Things are looking a lot better now with the 59 car and I'm really looking forward to get back behind the wheel in '09.
What are your plans for the 2009 season?
We're going to run a lot of the All-Star races and hit some of the bigger 360 races.
Where do you see Sprint Car racing five years from now?
The same as it is now, because nobody is willing to change the things that need changed.
What is your ultimate goal?
The same as every other driver, Win the Knoxville Nationals
---
www.SprintCarNews.com
---