Driver Profile - BOB HOWARD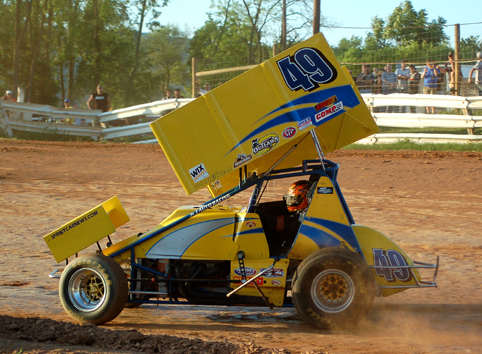 Bob in action at Clinton County Raceway

Name: Bob Howard
Birthdate: 6/10/69
Hometown: State College, PA
Marital Status: Married to Elisa
Family: Three step sons and one 17 yr old son Bradley
Occupation: Truck Driver
How did you choose your car number? Got it from my Dad's car back in the 70's
Chassis: J&J
Engine Builder: Fit Engines
Crew: Bradley, Dennis, Mom & Dad, Donnie, and Doug
Sponsors: AEH Trucking, D&F Lawncare, Fineline Autobody, J&J Auto Racing, Panchos
Favorite Track: Clinton County
Divisions competed in: Go Karts, Super Sportsman and 358 & 410 Sprints
Years Racing: 25
Wins: Wins at Clinton County, Selinsgrove, Path Valley, Silver Spring, Sportsmans, and Williams Grove
Championships: 0
Hobbies: Riding 4 wheelers
Favorite TV show: NCIS
Favorite Music: Counrty
Favorite Band: Nickleback
Favorite Food: Shrimp and Steak
Favorite Beverage: Coke Zero
Favorite Restaurant: Red Lobster
Favorite Driver: Jeff Gordon
When and how did you get started in racing?

Started in go karts in 1984, My family has been involved in racing for years.

Who had the biggest impact on your racing career and why?

My dad, he always told me to do it myself, That way I learn all that I can.

What would you be doing if you weren't racing?

Traveling more.

What is your favorite aspect of racing?

Being with all of the friends we've met over the years.

What is your greatest accomplishment/best memory?

Winning at Williams Grove Speedway in a car that I built myself and my last win at Clinton County with my parents there.

What is the worst thing that has happened to you in racing, or your worst season?

Flipping the whole way down the backstretch at Silver Spring Speedway

In your own words, describe your 2011 season:

We had a good year, Got alot stronger in our motor program and got to do alot of traveling.

What are your plans for the 2012 season?

Planning to race at Port Royal, Mercer, Pittsburgh Lowes and any other Pennsylvania tracks I can make it to.

Where do you see Sprint Car racing five years from now?

About the same.

What is your ultimate goal?

To race at Knoxville before I quit, I've raced about everywhere else.

Anything else you would like to add?

Yes, Over the years I've learned to enjoy everything the sport has to offer. Friends, Family and good racing, Remember most of us do this for fun.
---
www.SprintCarNews.com
---