DRIVER PROFILE - Nate Hammaker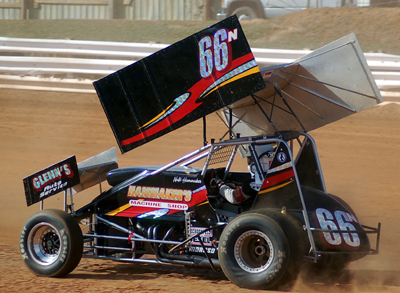 Nate in action at Williams Grove Speedway

Name: Nate Hammaker
Birthdate: 6/30/86
Hometown: Grantville PA
Marital Status: single for now
Occupation: mechanic
How did you choose your car number? family
Chassis: Gambler
Engine Builder: Gary Hammaker
Crew: Gary, Russel, Tim, Donny, Jay, Travis, Derrick
Sponsors: hammaker ent.,longs machine & tool
Favorite Track: Port Royal Speedway
Divisions competed in: 358 limited sprints
Years Racing: 5
Wins: 2
Championships: 0
Regular Tracks/Series: Williams Grove, Lincoln
Hobbies: hunting, riding motorcycles
Favorite TV show: don't really have a fav
Favorite Music: Country
Favorite Band: Garth Brooks
Favorite Food: pasta
Favorite Beverage: Mountain Dew
Favorite Restaurant: Olive Garden
Favorite Driver: Fred Rahmer
When and how did you get started in racing?

About five years ago is when I started. My whole family got me into racing being that i'm a third generation racer in the family.

Who had the biggest impact on your racing career and why?

I'd say my dad because he's knows right from wrong and ain't afraid to let me know it either...lol

What would you be doing if you weren't racing?

i can't honestly say but i'd probably be doin sumthin to do with racin.

What is your favorite aspect of racing?

Knowing that the chance to be the best is in your hands.

What is your greatest accomplishment/best memory?

Winning at Williams Grove and ending up 9th in points at the Grove.

What is the worst thing that has happened to you in racing, or your worst season?

I believe it was the opener at the Grove two or three years ago when I ended up taking a ride down the frontstrech upside down in a heat race.

In your own words, describe your 2006 season:

In my words it was a great year being able to see that we were improving week by week. Especially torwards the end of the year.

What are your plans for the 2007 season?

My plans for 07 are to race Williams Grove and Lincoln in the 358 class, other then that it's up in the air.

Where do you see Sprint Car racing five years from now?

Definetly still around, just all the more expensive.

What is your ultimate goal?

To reach the highest level of any racing that I am fortunate enough to run.

Anything else you would like to add?

I'd like to say thanks to everyone who helps me out in racing.
---
www.SprintCarNews.com
---