Driver Profile - GUY GRIFFIN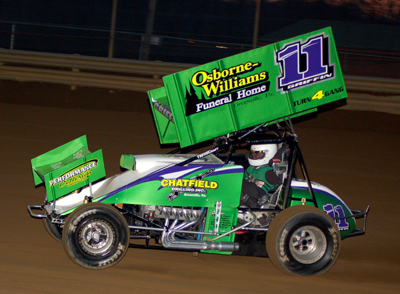 Guy on his way to another Mercer win

Name: Guy Griffin
Birthdate: 11/26/55
Hometown: Greenville , Pa
Marital Status: Recently married 11/11/11 Stacey
Family: Daughter-Rachel...Daughter- Heidi (deceased)
Occupation: Penn Dot
How did you choose your car number? I wanted #20 like my Dad's cars were, was taken, so #11 the King .
Chassis: Treviscraft
Engine Builder: Tim Schwanke
Crew: Jon(sphincter boy)Adams, "Uncle" Bob Kendall, Dan Horstman, Mike "Killer" Miller, Nelson (acorn) Horstman
Sponsors: Osborne-Williams Funeral Home, Chatfield Drilling, Performance Collision, Rodgers Insurance
Favorite Track: Any
Divisions competed in: Karts, Micros, 6 Cylinder mods, Big Block mods, 410s and now the 305 class Years Racing: 25
Wins: Good question...no idea
Regular Tracks/Series: Mercer.....Outlaw Sprint Warriors
Hobbies: Racing
Favorite TV show: Speed
Favorite Music: Country
Favorite Band: Trace Adkins
Favorite Food: Any
Favorite Beverage: Any
Favorite Restaurant: Outback
Favorite Driver: Lou Blaney, Ralph Quarterson, Bill Banick, Steve Kinser
When and how did you get started in racing?

Went with my dad in the 60's and got the fever...

Who had the biggest impact on your racing career and why?

My dad, as when he was still alive, he would give me small tips about how geometry and physics would never change on a race car with setup etc.

What would you be doing if you weren't racing?

Going to the races or a male stripper(LOL)

What is your favorite aspect of racing?

The Competition

What is your greatest accomplishment/best memory?

Have met and enjoyed so many people over the years.

What is the worst thing that has happened to you in racing, or your worst season?

Life flighted out of Lernerville and in hospital for a few days.

In your own words, describe your 2011 season:

Great season, the best help ever and a championship.

What are your plans for the 2012 season?

I think we can try one more year.

Where do you see Sprint Car racing five years from now?

I hope it keeps going, money issues seem to really be the problem and something needs to happen.

What is your ultimate goal?

Be a millionaire from the lottery and share it with evryone I can!!!!

Anything else you would like to add?

Thanks Rick...for the chance at this........
---
www.SprintCarNews.com
---