Driver Profile - CRAIG FOLMAR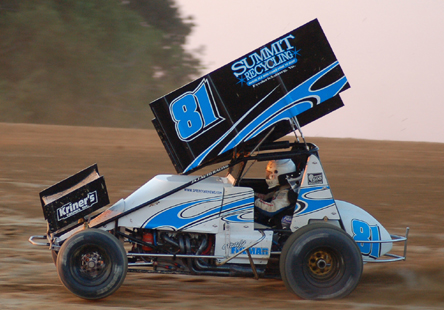 Craig in action at Thunder Mountain Speedway

Name: Craig Folmar
Birthdate: 9/16/71
Hometown: Philipsburg, Pa.
Marital Status: Engaged
Family: Fiance Becky, Stepson Ashton
Occupation: Equipment Operator
How did you choose your car number? My uncle ran it in motocross back in the erly 70's
Chassis: J&J
Engine Builder: Kriners
Crew: DonnieWalker, Doug Walker, Mike Eirich, Keith Yocum, Dan Woomer
Sponsors: G+R Excvating, Summit Recycling, Kriners Racing Engines, Design 500
Favorite Track: Virginia Motor Speedway
Divisions competed in: 305,360,410 Sprints
Years Racing: 30 years
Wins: Not enough
Championships: 07 Virginia Motor Speedway
Regular Tracks/Series: Central Pa.,All Stars, World of Outlaws
Hobbies: Family, Hunting
Favorite TV show: How its made
Favorite Music: old school country, southern rock
Favorite Band: Waylon Jennings, Johnny Cash, David Allen Coe
Favorite Food: Steak and Seafood
Favorite Beverage: Red Bull and Mt. Dew
Favorite Restaurant: outback
Favorite Driver: Dale Earnhardt Sr.
Website: www.CraigFolmar.com

When and how did you get started in racing?

My Mom took me bmx racing somewhere around 1978.

Who had the biggest impact on your racing career and why?

My uncle used to race motocross back in the 70's, he was the biggest influence back in the early days.

What would you be doing if you weren't racing?

Probably alot more work

What is your favorite aspect of racing?

Just being around the racing community and meeting new people when we travel.

What is your greatest accomplishment/best memory?

There's been years of great memories, too many to list.

What is the worst thing that has happened to you in racing, or your worst season?

Plenty of these as well, injuries probably at the top.

In your own words, describe your 2008 season:

Started a new team in the middle of the year with all new guys here in Pa., had some ups and downs that go along with a new team but overall ended up with a great group of guys that are dedicated and want to win, 2009 looks to be a great year with our team.

What are your plans for the 2009 season?

Race Central Pa, along with a partial schedule with the All-Stars and World of Outlaws.

Where do you see Sprint Car racing five years from now?

Hopefully headed in the direction that will implement some rules in the 410 division to cut some costs.

What is your ultimate goal?

Just keep being competetive and be able to keep traveling.
---
www.SprintCarNews.com
---