Driver Profile - MIKE ERDLEY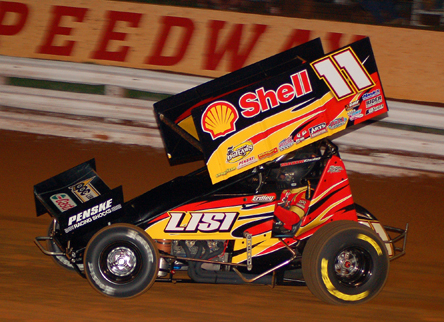 Mike in action at Williams Grove Speedway
Name: Mike Erdley
Birthdate: 5/12/75
Hometown: Elizabethville, Pa
Marital Status: Wife Shana
Family: Bailey 12 & Tyler 5 Occupation: Farmer
How did you choose your car number? Number 11 was the starting position in the first race I ever ran
Chassis: Maxim
Engine Builder: Rider
Crew: Jason Helt, Mike Miller, Adam Stahl, Steve Walsh
Sponsors: SponsorsLisi Oil Co,Weida Bros. Auto Collision,Zemco Headers,Butler Built Seats
Favorite Track: Port Royal Speedway
Divisions competed in: Pro Stocks, 410 sprints
Years Racing: 15
Wins: 12 pro stock, 10 410 sprint
Championships: 1 Selinsgrove pro stock, 2006 Port Royal Sprints
Regular Tracks/Series: Central Pa 410 Sprints
Hobbies: Snowmobiling, Hunting
Favorite TV show: Criminal Minds
Favorite Music: Rock
Favorite Food: Steak
Favorite Beverage: Ice Tea
Favorite Restaurant: Outback
Favorite Driver: Sammy Swindell
Website: MikeErdleyRacing.com
When and how did you get started in racing?
In high school my friends and I built an enduro car and I drove it at Selinsgrove Speedway
Who had the biggest impact on your racing career and why?
Randy Lisi He started helping me out as a sponsor of my own car and took over the ownership role. Without him I would probably be done racing.
What would you be doing if you weren't racing?
Hunt more
What is your favorite aspect of racing?
Favorite aspect of racing is the competition
What is your greatest accomplishment/best memory?
2006 National Sprint Tour win at Selinsgrove Speedway and 2008 Tuscarora 50 at Port Royal victory
What is the worst thing that has happened to you in racing, or your worst season?
Broken ribs and shoulder at Port Royal in 2001
In your own words, describe your 2011 season:
A bit of struggle, we just cant get a handle on these good year tires
What are your plans for the 2012 season?
Same as last season, Port Royal every week and some time trial shows, about 35 shows
What is your ultimate goal?
To win the next race and try to have some fun
---
www.SprintCarNews.com
---