Driver Profile - SKIP DOUGHERTY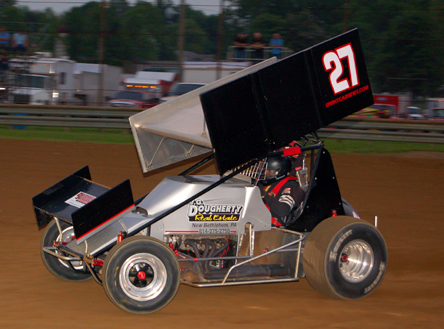 Skip in action at Mercer Raceway
Name: Skip Dougherty
Birthdate: 2/25/65
Hometown: Fairmount City Pa
Marital Status: Married to Theresa
Occupation: Mangement at Utilities& Industries
How did you choose your car number? 27,Was the number my father raced
Chassis: Maxim Chassis
Engine Builder: Ingram Engines
Crew: Duane Botelho, Theresa(Wife), Vinny(son), Brett(son), Vince(Dad)
Sponsors: V.G.Dougherty Real Estate, Bill Kersey Autobody, TLC Court Reporting
Favorite Track: Sportsmans Speedway
Divisions competed in: 3 years Modified, 10 years Sprints
Years Racing: 13
Wins: 16
Championships: No championships yet
Regular Tracks/Series: Dog hollow and Americas, Race saver Sprint series
Hobbies: Traveling, Hunting, Shooting
Favorite TV show: Seinfeld
Favorite Music: Country rock, oldies,60's 70's, and 80's
Favorite Band: CCR
Favorite Food: Ribeye Steak, Cheeseburgers
Favorite Beverage: Guiness
Favorite Restaurant: Chilis, Applebee's
Favorite Driver: Tony Stewart
When and how did you get started in racing?
I got started in racing by going to the track with my Dad, and started driving in 1994
Who had the biggest impact on your racing career and why?
Bob Felmlee, Always tried to help me out.
What would you be doing if you weren't racing?
If I werent racing I would be going to the races, Ha!
What is your favorite aspect of racing?
Favorite aspect of racing is the competition and the freindships i have made, and also that the whole family can be involved.
What is your greatest accomplishment/best memory?
My first sprint win at Challenger Raceway, then sitting out most of 2007 until I heard about Sportsmans Speedway opening back up, pulled the car out of storage, bought a motor put it together in two weeks and won the feature the first night out. Actually did that twice, in 05 and 07 at Sportsmans.
What is the worst thing that has happened to you in racing, or your worst season?
Two very bad flips at Lenerville Speedway ,one starting in turn four and ending in turn one with a trip over the flagstand.
In your own words, describe your 2011 season:
Well I was out of racing for three years and had alot of catching up and learning to do all over. I think I will be much better prepared in 2012 with knowledge and equipment
What are your plans for the 2012 season?
To race Dog Hollow and Americas racetracks with the Racesaver Sprint Series, and travel to a few racesaver events out east, Port Royal and the Grove.
Where do you see Sprint Car racing five years from now?
I think thing will be pretty much the same in five years, maybe just a few different faces out there
What is your ultimate goal?
My ultimate goal is to win a championship
---
www.SprintCarNews.com
---