Driver Profile - CALE CONLEY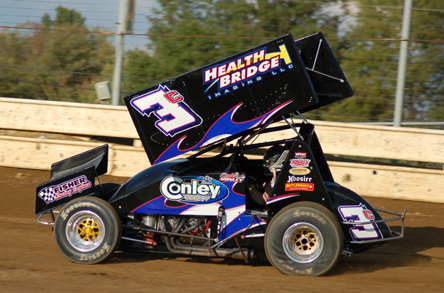 Cale in action at Sharon Speedway
Name: Cale Conley
Birthdate: 5/13/92
Hometown: Vienna, WV
Marital Status: Single
Family: Dad is Yale, mom is Karmyn, sisters are Cienna and Raemy and my brother is Vinnie
Occupation: Driving racecars for my Dad
How did you choose your car number? It was my Dad's old race number
Chassis: Maxim
Engine Builder: Fisher Racing Engines
Crew: James Fisher, Dave Fisher, Kim Keeton, Alex Peer, Larry Austin, Trucker Garry
Sponsors: Health Bridge Imaging, Conley Energy, Fisher Racing Engines, and PMC The PM Company
Favorite Track: Eldora
Divisions competed in: WoO, Allstars, ASCS, NRA, USAC
Years Racing: 10
Wins: 1 sprintcar win
Championships: none
Hobbies: Fishing, skiing, going out on the river
Favorite TV show: Nitro Circus
Favorite Music: Country
Favorite Band: Lynyrd Skynyrd
Favorite Food: Spaghetti
Favorite Beverage: Cherry Coke
Favorite Restaurant: Da Vinci's, a local italian restaurant
Favorite Driver: Mark Martin
When and how did you get started in racing? My dad took me to a go kart race when I was 5 to see if I wanted to do it and ive been hooked on it since then
Who had the biggest impact on your racing career and why?
My dad and Uncle Jason when they use to race
What would you be doing if you weren't racing?
Trying to find a job around racing
What is your favorite aspect of racing?
The speed and being on the edge
What is your greatest accomplishment/best memory?
Breaking the 360 track record at the 360 Knoxville nationals
What is the worst thing that has happened to you in racing, or your worst season?
Wrecking bad at lawrenceburg speedway and not being able to finish the season
In your own words, describe your 2009 season:
Learned a ton, wish we would have won more races but glad to have the chance to be out there racing
What are your plans for the 2010 season?
Winged sprintcar and asphalt midget through out the year
Where do you see Sprint Car racing five years from now?
On a rise with the economy when it turns back around
What is your ultimate goal?
To make it to nascar someday
Anything else you would like to add?
I would love to run the World of Outlaw tour once in my life
---
www.SprintCarNews.com
---