Driver Profile - STEVE BUCKWALTER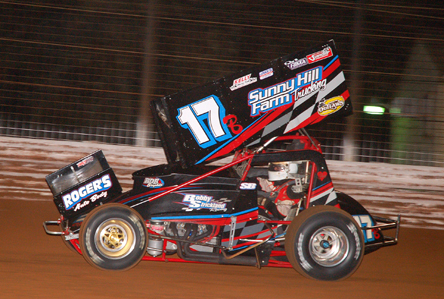 Steve at Williams Grove Speedway
Name: Steve Buckwalter
Birthdate: September 4th
Hometown: Royersford, PA
Marital Status: Single
Family: Daughter - Gracyn (3 years old)
Occupation: Full Time Race Car Driver
How did you choose your car number? My midget number 25, was my Uncle Ricks
Chassis: Sprint Car - Maxim Midget - Elite
Engine Builder: Don Ott Racing Engines
Sponsors: Sprint - Clair and Jan Ritter Midget - Don Ott Racing Engines, VRP Shocks, Hoosier Tires
Favorite Track: Gas City (Indiana)
Divisions competed in: quarter midgets, go kart, micros, midgets, sprint cars
Years Racing: since I was four years old
Regular Tracks/Series: Sprint - Williams Grove Midget - ARDC
Hobbies: fishing
Favorite Music: Rock
Favorite Food: Sea Food
Favorite Beverage: Coke
Favorite Restaurant: Texas Roadhouse
Favorite Driver: Tony Stewart
When and how did you get started in racing?
My grandparents
Who had the biggest impact on your racing career and why?
The support of my family.
What would you be doing if you weren't racing?
I have no idea...driving is all I have ever done.
What is your favorite aspect of racing?
Winning races
What is your greatest accomplishment/best memory?
Making the A-Main at the Chili Bowl for the first time.
What is the worst thing that has happened to you in racing, or your worst season?
Crashing!
In your own words, describe your 2009 season:
Rain, Rain, Rain
What are your plans for the 2010 season?
I will be running Williams Grove weekly and select time trial shows in the Sprint Car and in the Midget I will be running with ARDC and select USAC shows.
What is your ultimate goal?
To win the Chili Bowl
---
www.SprintCarNews.com
---