Driver Profile - CARL BOWSER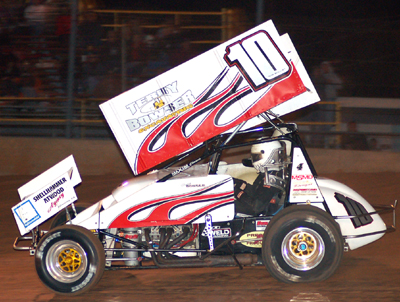 Carl at Lernerville Speedway where he scored his first win

Name: Carl Bowser
Birthdate: 1/9/87
Hometown: Sarver, Pa
Marital Status: Single
Occupation: construction worker/racecar driver
How did you choose your car number? It was my number when i played sports
Chassis: Maxim
Engine Builder: Don Ott
Crew: Mike, Pup, Zane, Brian, Dad
Sponsors: Terry Bowser Excavting, Reesman Auto Body, Shellhammer Attwood Nationwide Insurance Company, Mike Shick Motorsports Designs
Favorite Track: Port Royal, Williams Grove
Divisions competed in: 270 micros, 410 sprints
Years Racing: 2 in micros, 2 in 410's
Wins: 9 in micros, 1 in 410's
Championships: -
Regular Tracks/Series: Lernerville Speedway
Hobbies: Racing and anything with wheels really
Favorite TV show: Rob and Big
Favorite Music: anything
Favorite Band: dierks bentley
Favorite Food: pizza
Favorite Beverage: red bull
Favorite Restaurant: The villa
Favorite Driver: Daryn Pittman


When and how did you get started in racing?

My dad sponsored a car and I started helping out at the track and every year I got more and more involved.

Who had the biggest impact on your racing career and why?

The biggest had to be my dad because he always wanted to race and never could while owning and operating our company, but two years ago decided to buy a sprint car and go race. He pretty much told me that if you want soemthing bad enough you will find a way to get it.

What would you be doing if you weren't racing?

Living in the south where it's always warm.

What is your favorite aspect of racing?

The thing I like about open wheel racing is that you can race so close to a guy but if one of you screws up you both will wreck , so it takes a lot of trust and talent.

What is your greatest accomplishment/best memory?

Winning my first feature at Lernerville after starting tenth.

What is the worst thing that has happened to you in racing, or your worst season?

My second year in micros I destroyed a car the first night out and only raced eight times that year and i think i only finished three races.

In your own words, describe your 2006 season:

Trying to develop as a driver, we had 1 win and seven top 3 finishes and I only wrecked once. So overall it was a pretty good year.

What are your plans for the 2007 season?

Racing every friday at Lernerville and planning on going to Mercer, and Sharon when we can, and making a few trips to Port Royal once the season gets into full swing.

Where do you see Sprint Car racing five years from now?

If they control the cost of everything it should just keep getting better, but something has to be done about the low payouts and high costs of everything else.

What is your ultimate goal?

I want to race sprint cars full time where ever I can just as long as i get to drive.

Anything else you would like to add?

I would like the thank my family for all the support, and my crew for everything you guys do, and all of my sponsors.
---
www.SprintCarNews.com
---