Driver Profile - JESSICA ANDERSON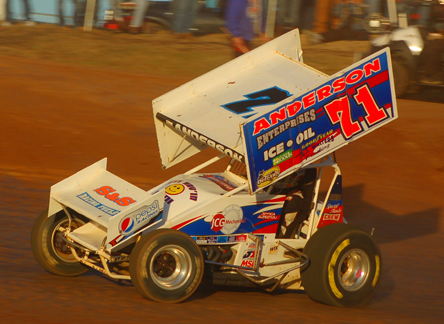 Jessica in action during the World Finals

Name: Jessica Anderson
Birthdate: 05/22/1991
Hometown: Berwick, PA
Marital Status: Single
Family: None
Occupation: Full Time Student, (Mechanical Engineering)
How did you choose your car number? Same as my Dadís number
Chassis: Maxim
Engine Builder: Jensen Technologies
Crew: Charlie Anderson (Dad), Joni Anderson(Mom), Darren Schott, Dale Stutzman, Amanda Anderson, Megan Anderson, Chris Whitenight, Tim Wike, Ricky Garlof, Frankie Faulk, Jeff Stutzman, Dallas Schott, Darren Schott II
Sponsors: ANDERSON ENTERPRISES ICE & OIL , A.J. WALTERS TRUCKING , CMC POWDERCOATING , S&S RACING FUELS , PEPSI RACING (READING DISTRIBUTER) , WHITEBREAD ENT. , JENSEN'S ENGINE TECHNOLOGIES , ZEMCO SPEED EQUIPMENT , SCHOTT RACING , JCG MECHANICAL
Favorite Track: Selinsgrove Speedway
Divisions competed in: 270cc Micro Sprint Car Regular and Jr. Divisions, 358, 360, and 410 Sprint Car
Years Racing: 6
Wins: 5
Championships: 0
Regular Tracks/Series: Selinsgrove Speedway in the 358 sprint car
Hobbies: racing, working on my cars, snowboarding, running
Favorite TV show: Greyís Anatomy
Favorite Music: County
Favorite Food: Pizza and Ice Cream, not together just equally love both
Favorite Beverage: Vitamin Water
Favorite Restaurant: Maggianos Italian Restaurant
Favorite Driver: Charlie Anderson #71
When and how did you get started in racing?

Started working on my dadís sprint car in 2003. 2006 my dad decided to get me and my older sister 270cc micro sprint cars, so we could start racing too. So I raced Friday nights and helped my dad on Saturday nights.

Who had the biggest impact on your racing career and why?

My dad, he taught me everything I know about racing. He also taught me how to work on my cars and how to set them up

What would you be doing if you weren't racing?

I guess be bored out of my mind because racing takes up pretty much my whole life, and I wouldnít have it any other way.

What is your favorite aspect of racing?

Just the feeling I get when I am behind the wheel, itís indescribable.

What is your greatest accomplishment/best memory?

I think itís a tie between winning the first woman rookie of the year at Selinsgrove Speedway in 2009 and also finishing 2nd this past season in the 358 sprint car ( my best finish to date).

What is the worst thing that has happened to you in racing, or your worst season?

Breaking both of my hands in two wrecks in one micro race in 2008. I didnít get to race for 6 weeks and it was the worst 6 weeks ever.

In your own words, describe your 2011 season:

The best way to describe my 2011 season, is to call it educational. I had my first few races in my 410 so every race with that was a learning experience. I was also able to earn a few top 5ís, so I feel like I have been able to improve. I also had the chance of a lifetime at the very end of the season to race with the Outlaws at Charlotte Motor Speedway, that race in itself was a huge opportunity to learn from the best.

What are your plans for the 2012 season?

This season I am planning on running all three division of sprints (358, 360, and 410). I donít plan on running one track every week, it will just be a mix up of different local area tracks.

Where do you see Sprint Car racing five years from now?

Iím hoping the number of competitors will be up from previous years. Iím also sure someone will discover some way to make us faster.

What is your ultimate goal?

My ultimate goal is to race anything and everything I can, and be victorious in each series.

Anything else you would like to add?

I would like to thank everyone who has supported me throughout my career. Without the support of my family, friends, crew, fans, and sponsors I would never be able have the amazing opportunity of getting behind the wheel of a racecar every week.
---
www.SprintCarNews.com
---