Driver Profile - CHAD KEMENAH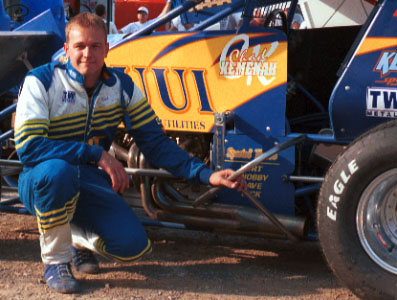 Jim Fisher Photo
Birthday - October 21, 1971
Hometown - Findlay, Ohio
Marital Status - Engaged
Children - None
Occupation - Full time racer
Hobbies - Golfing
Favorite Resturaunt - Wendy's
Favorite Food - Anything at Wendy's
Favorite Drink - Dr. Pepper
Favorite Music - Country
Favorite Artist - LoneStar
Favorite Tv Show - ESPN
Favorite Race Track - Eldora Speedway
Started Racing - 1988
Divisions Competed In -Street stocks, Sprint cars
Career Wins - 54
Chassis - Gambler
Motor - Kistler Engines
Sponsers - UUI, Hyundai Construction Equip., Kear's Speed Shop, Goodyear
Car Owners - Harble Motorsports
Crew Members - Brian Kemenah, Jimmy Havens, AJ Havens
Career Highlights - Finishing second place to Steve Kinser at the Historical Big One in 2000
Career Lowlights - When I only got to race 17 times from 1992 - 1994
Future Goals - To win the All Star championship this year and to win more races in the future.
RacingHeroes - Kenny Jacobs, Fred Linder, Jack Hewitt
If you weren't racing what would you be doing? - Driving a semi-truck
How long have you been interested in racing, and how did you get started racing yourself?
I've been interested in racing all my life, My dad owned a sprint car for many years.
Who has had the biggest impact on your racing career and why?
My brother because of his knowledge in sprint cars.
Where do you see Sprint Car racing five years from now?
Hopefully not over the edge on cost and maybe even having all division racing under the same rules.
Do you plan on staying in Sprint Cars, or do you have plans of moving to another division?
I plan on retiring in sprint car racing
---
Ohio/Pa Sprint Car Racing
---