Last Updated 14 July 2002
Welcome
to
Riding Tall
The 1800ís. The Wild West. A time of outlaws, fair maidens and rugged men. A time when the law was often in the hands of the person with the fastest gun. The world of the COWBOY.
Welcome to my little corner of the cyberspace world and my page dedicated to two television programs set in this era. THE YOUNG RIDERS and the MAGNIFICENT 7.
Programs that not only shared with their viewers a little of what the west could have been, but also touched on timeless problems such as racism, bigotry and social injustice, as well as building some of the most loved characters and relationships on television in their times. Although they spanned only three and two seasons respectively, they will live on forever in the hearts and web pages of its fans.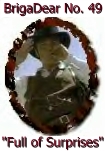 Thanks Tammy for the badge
March 2

The completion of Lyn's story Storm Warning has been posted. Also the concluding chapters to my own The Change are posted as well. Also posted are my as yet unfinished stories Victim Of The Game(The sequel to the Change) and Which One of Them

Riders Since 22 December 1998
Email:

Sign My Guestbook
View My Guestbook
This The Magnificent Seven Webring site owned by Suzy.
[ Previous 5 Sites | Previous | Next | Next 5 Sites | Random Site | List Sites ]