MY FOUNDATION

Over the years my life became more cluttered with ins and outs, do's and don'ts and grey areas that people find as they 'mature'. Although time dulls all emotions and pales colours, the Breed Standard is still shiny and bright as I first read it and remains my beacon in the diversions of 'type' that may be in the show ring today.
Can., Am., P.R., S.A., Int'l Ch. Solstice Britannia TT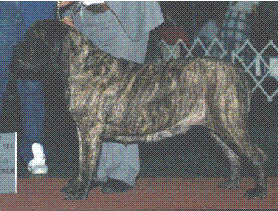 was the light of my life, my majordomo and my good arm. She sorted out the other dogs when needed and was always there for me to cry on.
She weighed 180 lbs
Betty Baxter wrote of Britannia at the Dallas show in 1988...
Open Bitch - An excellent class
1st - Langshaw's Can. Ch. Solstice Britannia; she caught my eye the moment she came into the ring; an imposing, deep chested broad bodied, massive bitch of real quality. In addition she had a beautiful head - broad across the skull, just the right amount of wrinkle, deep, short, strong blunt muzzle and a lovely expression given by dark eyes (so many eyes I saw today were either light or round or both, and either of these faults completely spoils the overall expression). This bitch had strong hindquarters and broad strong second thigh, excellent bone, lovely feet and well laid shoulders. Showed and moved well. I made her my Winner's Bitch and also Best Opposite.

Can., Am., P.R., S.A., Int'l Ch. Solstice Mavourneen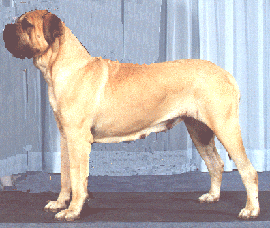 This was Brit's most famous daughter and had Group placings
in Canada as well as Puerto Rico .
She weighed 195 lbs.
Please check back often for more updates

I've been proud of my dogs no matter how they looked or whether they've been shown or not.They're all my babies, regardless.


Background and graphics provided by Blackats