Moses Peter Sommers
Lakhso'tha (my grandfather)
Born: March 8, 1872, Oneida, WI
Mother: Mary Hill, born Aug 14, 1847, Oneida, WI
Father: William Sommers, born 1850, Oneida, WI
Spouse: Cordelia Mae Wheelock, born Dec 15, 1883, Oneida, WI
Married: Sept 11, 1905, Oneida, WI
Occupation: Carpenter, Shoemaker, Farmer, Laborer
Died: May 14, 1945, Manitowoc, WI
Cemetery: Possibly St.Joseph's, Oneida, WI

Moses Peter Sommers was born on the Oneida Reservation in Wisconsin in 1872. At the time he was born he had one half-brother: Abram Sommers (born in 1871 to William Sommers and Christine Hill). His sister Hannah Sommers was born two years later in 1874. A half-sister: Sarah Sommers, was born in 1891 to William Sommers, her mother is unknown at this point. Hannah married Joeseph "Joel" Cornelius, and Sarah married William Archiquette.

Moses' grandfather Abram Summers jr was born in New York around 1826 and departed for Canada with his family, including his father Abram Summers sr, and his grandfather Chief Peter Summer, around 1841. It has been told to my mother that Moses' family came from Canada, and this is found to be true. Peter Summer is shown as Chief of the band of Oneida departing Oneida, NY for the township of Delaware, London District, Upper Canada, on the Treaty between the 1st and 2nd Christian Parties of Oneida and the State of NY, dated June 19, 1840.

Moses' grandfather Abram Summers jr departed the Oneida Reservation in Canada and arrived at the Oneida Reservation in Wisconsin sometime prior to 1850. He was listed as one of the "Landless" or "Homeless" Oneida on the 1888 Census.

The family name changed from the original spelling in New York of "Summer" to the English "Summers" and in Wisconsin to the German spelling "Sommers."

Moses attended Haskell Indian Institute for eight years, from age 18 (in 1890) to age 26 (in 1898), studying carpentry and shoemaking. We believe the photo above is from his graduation at Haskell on June 24, 1898. A search of Haskell School records kept at the National Archives in St Louis has not come up with Moses records.

In 1891 he was allotted 26 acres of land on the Oneida Reservation in Wisconsin under the Dawes Act. This land was held in trust until 1909.

After graduating from Haskell, he lived somewhere in Oklahoma for a few years, between 1898 and 1905, working as a shoemaker for the Indian School Service. The Indian Service was the predecessor to the Bureau of Indian Affairs. It is likely that he worked at an Indian Agency on a reservation while in Oklahoma.

By 1905 he was back in Oneida, Wisconsin. That year he married Cordelia Mae Wheelock, daughter of Calvin Wheelock and Rachael Williams.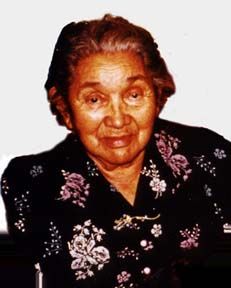 Cordelia Mae Wheelock


Akso'tha (my grandmother)





Moses also built a small house on the land he was allotted. The Oneida Historian in Wisconsin, Loretta Metoxin, currently resides on the land once owned by Moses. In her possession is a board taken from the house after it was torn down. It reads: "I Moses Sommers built this house with my own hands in 1905."

Moses was issued the Fee Patent for his land in 1909. Times were extremely hard on the families during this period. Once the land was issued in the Allottees names, they then became responsible for the property taxes to the county. Most could not afford the taxes and quickly lost their land. A few years after receiving the Fee Patent, Moses sold his 26 acres to a European immigrant family, estimated value at the time was $800. Around 1915 he moved off the reservation seeking work. Between 1905 and 1915 he and Cordelia had five children, one of whom died as an infant.

In 1920 we find the family living in Shepley, Wisconsin near the Menominee Indian Reservation. Some of the children attended school at the Wittenburg Indian Mission. Moses may have been working in the Menominee forests as a lumberman. One daughter was born to the family during this time.

In 1923 the family moved to Grimms, Wisconsin, near Manitowoc, where Moses found work in the local quarry. He traveled back to northern Wisconsin during the fall to work in the Cranberry Harvest. The family rented a small house from the Grimms quarry company and had two more children, one of whom died as an infant. Cordelia often performed as a midwife to the mothers giving birth in the area. Her skills and knowledge of Oneida herbal medicine are legendary.

The family continued to live in Grimms until the death of Moses from appendicitis in 1945 at Manitiowoc Holy Family Hospital. At the time of his death, his brother Abram lived in nearby Valders. A funeral service was held at Immaculate Conception Church in Oneida. Catholic Church records indicate that Moses was buried at St Joseph's Cemetery in Oneida, but cemetery records from that time, which are incomplete, do not show his name. Family members living today cannot recall where his grave is located, and we are still searching for clues.

Moses' widow Cordelia then moved back to the Oneida Reservation where she married Alex Parkhurst, senior, who became grandfather to many of us. Cordelia died March 24, 1970. She is sadly missed by all.

-William Sommers Quistorf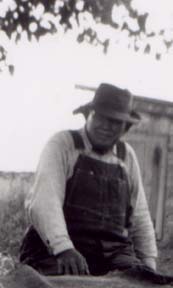 Alexander Parkhurst, senior
Lakhso'tha Alex
Oneida, WI, around 1952