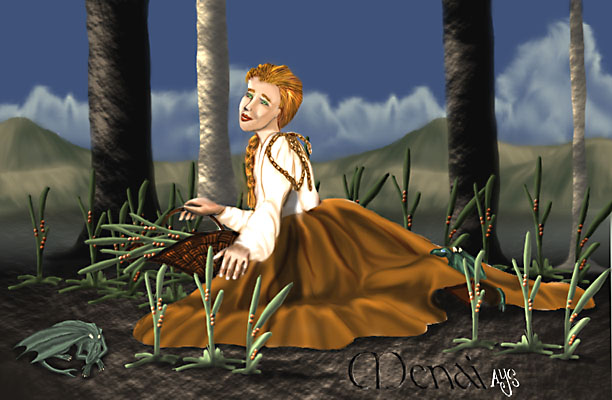 Menai's Homepage
Welcome to my homepage! On this site you'll find the new and improved All the Plants of Pern

(yes, I finally got around to updating it...) Stay tuned fore more stuff soon! I have the beginnings of a Perneese cookbook, so if you have any recipes involving only ingredients we know exist on Pern, please send them in, and I'll add them to the site!
I hope to eventually add a picture library of Pern plants, so if anyone knows of a place on the web to get nice line drawings of herbs and other plants please let me know! thanks!
The wonderful picture of me is provided by April. For more of her great fan art, you can visit her site.

On to All the Plants of Pern

On to the cookbook

See what's new.
Visit Anne McCaffrey's officaial website!

Email: Menai.
[Skip Previous | Previous | Random Site | List Sites | Next | Skip Next

Menai's Homepage is owned by Menai
[ Previous Page | Next Page | Random Site | Next 5 ]

***********************************************************************
All references to worlds and characters based on Anne McCaffrey's fiction are copyrightę Anne McCaffrey 1967,2000, all rights reserved, and used by permission of the author.

The Dragonriders of Pern« is registered U.S. Patent and Trademark Office, by Anne McCaffrey, used here with permission. Use or reproduction without a license is strictly prohibited
***********************************************************************