The Blytheville Emergency Squad thanks you for visiting our website.
The Blytheville Emergency Squad is a non-profit organization, a 501 (c) 4 corporation and all donations are tax deductable.
The squad is dispatched through Mississippi County Sheriff's Office (870)-658-2242 and notified through a paging system.
Contact: Mike Godsey Co-Captain
200 Chickasawba
Blytheville AR 72315
Cell 870-740-2248
Our pages are filled with graphics and we've attempted to keep the download time to a minimum.
The pictures on the "Scenes" page are a combination of real scene shots, our many drills, demonstrations and training exercises.
Please be sure to check out the "Members" page, as these are the hardworking, dedicated people making up the membership of our squad, who volunteer their time to save lives and deserve recognition.
We invite you to sign the guest book and/or email us. We would love to hear from you!
Would you like to link to our site? Feel free to use our banner.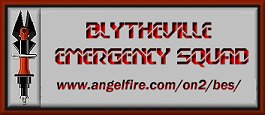 Copyright © 1999, 2000, 2001, 2002, 2003 Blytheville Emergency Squad
Most recent update Wednesday, April 16, 2003.
All Rights Reserved.