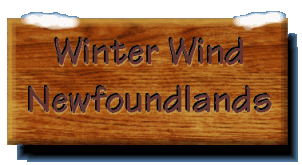 " Here I am, the pride of Winter Wind,
Ch. Winter Wind Cyrus O' Boradaile CGC TDI.
You can call me Cyrus. Click on my photo album and I will take you on a tour of Winter Wind Newfoundlands. Some pages may load slow, because there are lots of pictures, but it's worth the wait. "
Web site developed by - Dogware
3800 Beckwood, San Antonio, Texas 78259 - Vist us on the web at www.dogware.net
>