---------------------CURRENTLY UNDER CONSTRUCTION---------------------

DATE STARTED: MAY 2001

SITES TO USE/SOURCE:

www.redlist.org

http://www.bagheera.com/endangeredspecies.htm

http://www.wcmc.org.uk/

http://www.lam.mus.ca.us/cats/

http://in.geocities.com/projecttiger/

http://www.wildaboutcats.org/

http://cats.about.com/

http://bigcats.care2.com/

http://www.big-cats.co.uk/

http://www.i-love-cats.com/

http://www.animalsindanger.com/

http://www.bluelion.org/lions_den.htm

http://cathouse-fcc.org/catsinfo.html
WILD CATS
There are 36 species of wild cats sub-divided into 3 genera: Panthera, Felis, and Acinonyx.
Wild Cat Species
* African golden cat (Profelis aurata) * Andean mountain cat (Oreailurus jacobita) * Asian golden cat (Catopuma temminckii) * Black-footed cat (Felis nigripes) * Bobcat (Lynx rufus) * Bornean bay cat (Catopuma badia) * Canadian lynx (Lynx canadensis) * Caracal (Caracal caracal) * Cheetah (Acinonyx jubatus) * Chinese mountain cat (Felis bieti) * Clouded leopard (Neofelis nebulosa) * Cougar (Puma concolor) * Eurasian Lynx (Lynx lynx) * Fishing Cat (Prionailurus viverrinus) * Flat-headed cat (Prionailurus planiceps) * Geoffroys cat (Oncifelis geoffroyi) * Iberian lynx (Lynx pardinus) * Jaguar (Panthera onca) * Jaguarundi (Herpailurus yagouarundi) * Jungle cat (Felis chaus) * Kodkod (Oncifelis guigna) * Leopard (Panthera pardus) * Leopard cat (Prionailurus bengalensis) * Lion (Panthera leo) * Marbled cat (Pardofelis marmorata) * Margay (Leopardus wiedii) * Ocelot (Leopardus pardalis) * Oncilla (Leopardus tigrinus) * Pampas cat (Oncifelis colocolo) * Pallas cat (Otocolobus manul) * Rusty-spotted cat (Prionailurus rubiginosus) * Sand cat (Felis margarita) * Serval (Leptailurus serval) * Snow leopard (Uncia uncia) * Tiger (Panthera tigris) * Wildcat (Felis silvestris)
ANCIENT CAT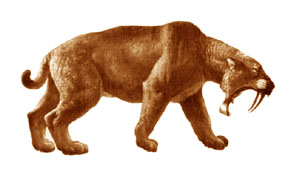 THE SABER-TOOTHED CAT: SMILDON FATALIS
Size: The saber-toothed cat was the size of the modern African lion.
Habitat: Probably lived on grassy plains and in open woodland.
Primary prey: The saber-toothed cat probably killed prey larger than themselves, such as ancient horses and buffalo but may have also taken smaller animals like antelope and deer. They may also have eaten carrion.
Conservation Status: Extinct.
Distribution: North America and South America.
Notable Features: Of all the animals known from Rancho La Brea, the saber-toothed cat, sometimes called the saber toothed tiger, most vividly captures the imagination.


ENDANGERED CATS TODAY
IBERIAN LYNX: LYNX PARDINUS
Size: 33-43 in. (85-110 cm)
Habitat: The Iberian lynx is a habitat specialist. With the exception of the flat, coastal Doņana area, the species is largely confined to broken terrain below 1300 m, preferably covered with a mixture of Mediterranean scrubland and open grassland, where intensive land uses of any kind is absent.
Primary Prey: Among available prey, Iberian lynx strongly select, and depend upon, European rabbits (Oryctolagus cuniculus), i.e. they are feeding specialists.
Conservation Status: Critically Endangered; The Iberian lynx (Lynx pardinus) is a cat species with an highly restricted geographic distribution, occurring only in Portugal and in Spain. Presently, is classified as the most endangered carnivore in Europe and as the most endangered feline in the world, being recently listed by the UICN as critically endangered. They were once distributed through much of Iberian Peninsula. Now, however, they have been extirpated from most of their range - they are extinct in most Spanish autonomic regions and in a significant percentage of Portuguese territory. Today, Iberian lynx population numbers are between 150 and 200 animals distributed by two reproductive populations: Doņana and Cardeņa-Andújar
Principle Threats: Habitat alteration, habitat removal,prey scarcity
Distribution: Spain and Portugal
Notable Features: It is the most endangered feline in the world today. As there are only approximately 200 Iberian Lynx
FOR FURTHER INFORMATION:
IUCN Cat Specialist Group: Iberian Lynx Compendium
SOS LYNX
The Iberian Lynx: Status and Conservation
The Iberian Lynx: Status Survey and Conservation Action Plan
Iberian Lynx

CHEETAH: ACINONYX JUBATUS
Size:4 feet - body length; 28 inches - tail length
Habitat: In Namibia cheetahs have been found in a variety of habitats, including grasslands, savannahs, dense vegetation, and mountainous terrain.
Primary Prey: Small antelope, young of large antelope, warhog, hare, and game birds.
Conservation Status: Critically Endangered
Principle Threats: Decline in prey, loss of habitat, poaching, and indiscrimnate trapping and shooting as a livestock predator threaten the survival of the cheetah.
Distribution: South Africa and India
Notable Features: The world's fastest land animal, the cheetah, is the most unique and specialized member of the cat family and can reach speeds of 70 mph. Unlike other cats, the cheetah has a leaner body, longer legs, and has been referred to as the greyhound of the cats.
TO HELP CHEETAHS PLEASE CHECK OUT:
CHEETAH CONSERVATION FUND
CHEETAH SPOT
AFRICAT

JAGUAR: PANTHERA ONCA
Size: females 36 kg (80 lbs) males 55 kg (122 lbs).
Habitat: Usually found near water in moist forest, but also occur in more arid habitats such as savannah and scrub where water is available.
Primary prey: An excellent swimmer, jaguars eat fish, turtles, caimans, and snakes as well as deer, sloths, capybaras, monkeys, and armadillos.
Conservation Status: Vulnerable
Principal threats: Loss of habitat due to deforestation; illegal hunting.
Distribution: Southern Mexico and parts of Central and South America.

OCELOT: FELIS PARDALIS
Size: 30-41 inches long and weigh 15-30 lbs.
Habitat: Forest and bushlands. Understory layer of rainforest.
Primary prey: Agoutis, pacas, peccaries, birds, rodents, small mammals.
Conservation Status: Endangered
Principal threats: Being hunted for their fur.
Distribution: Texas to South America.
Notable Features: The ocelot is nocturnal. It has large eyes which allow it to see well in low light.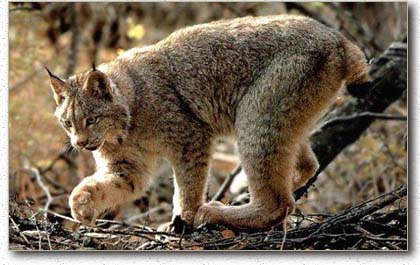 CANADIAN LYNX: LYNX CANADENSIS
Size:males 10.7 kg (n=201) and females 8.9 kg
Habitat:Areas of woodland and forest.
Primary Prey: Hare.
Conservation Status: Endangered
Principle ThreatsHabitat for snowshoe hares, trapping.
Distribution: North America and South into the American Rocky Mountains
Asiatic/Indian Lion (Panthera leo persica)
South Arabian Leopard (Panthera pardus nimr)
Amur Leopard (Panthera pardus orientalis)
North African Leopard (Panthera pardus panthera)
Anatolian Leopard (Panthera pardus tulliana )
Amur Tiger (Panthera tigris altaica)
South China Tiger (Panthera tigris amoyensis )
Sumatran Tiger (Panthera tigris sumatrae)
Florida Panther/Puma/Cougar (Puma concolor coryi)
Eastern Panther/Puma/Cougar(Puma concolor couguar)
www.redlist.org (extinct in the wild/ critically endangered --start at 1001)