---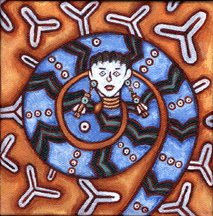 The Intertribal Wordpath Society is a nonprofit organization whose purpose is to promote the teaching, awareness, use, and status of Oklahoma Indian languages.
---
Wordpath
Channel 28 in Norman and Chickasha
Mondays at 5.30 pm and Wednesdays at 7.00 pm
IWS produces Wordpath, a weekly half-hour television show about Oklahoma Indian languages and the people who are teaching and preserving them. The show seeks to make the general public more aware of the importance of Indian languages and culture, to make language class information available to teachers and students, and to honor those who are teaching their languages. It has been running for about 4 years and we have produced 121 shows to date.
The Wordpath show is in urgent need of new crew members!!
Wordpath tapes Thursdays from 5:30 to 7:30 in the Cox studio on OU campus (Forum Building).
No experience is required; but volunteers must be Norman residents age 18 or older, and must take a special one-night class at the studio to become qualified. These classes are held on the third Thursday of each month. This is an excellent opportunity to learn video skills at no cost and at your own pace. Opportunities are available in studio and remote camera work, sound, lighting, editing, computer graphics, and directing.
If you would like more information about Wordpath, call producer Alice Anderton at 447-6103 or e-mail: Towordpath@aol.com.
To sign up for the training class, call Jim Jones at Cox Communications, 600.6941.
---
[home] [background] [board] [contribute] [OK language status] [English Only] [links]
All written material on this website ©2000 Intertribal Wordpath. Images ©2000 America Meredith