A Guitar Repair Shop and More . . .

Welcome to Terry's Guitar Repair Plus
of Del City, Oklahoma
Look what's new on page 2! or page 3! or page 4! or page 5!

We specialize in custom setups on acoustic and electric guitars. We don't care what kind or brand of guitar you have, we just want to make it play and sound better.
We also do minor amp repair as well as effects pedal repair.


We stock and recommend DR Handmade Strings
, we also stock

Duck's Deluxe guitar & bass strings

and some Dean Markley strings.



We sell and install all types of quality nuts and saddles (no plastic). We believe you will find the cost of a quality nut and/or saddle made of the "NEW" Iboney (hardened cow bone and looks like ivory), or a Graph Tech's Trem Nut / Saddle Saver is very inexpensive and the quality it will add to your guitar's tone and playability will make it worth every penny. We also install brass nuts and saddles.


Have an acoustic guitar with the body bowed in the bridge area, we can install a JLD Bridge System and not only flatten the top but increase volume and improve tone. This is especially effective on plywood top guitars.
We stock Dr. Duck's Axwax & String Lube and Dr. Duck's Equipment and Cord cleaner.
We sell Dinosaur and TGR+ Custom instrument cables. We can repair, make or order custom size and color instrument cords for you. There is no charge for testing your instrument, speaker or microphone cables. We also sell TGR+ Custom microphone and speaker cables.
We are an official dealer for Sovtek, Ruby Tubes & the New Electro-Harmonix tubes. We have popular numbers and we will order it, if we don't have what you need. We also have some Audio Glassic tubes in stock.


Here is a one of our favorite products - The Guitar Caddy!
A portable workbench, great little device for changing strings and cleaning your guitar.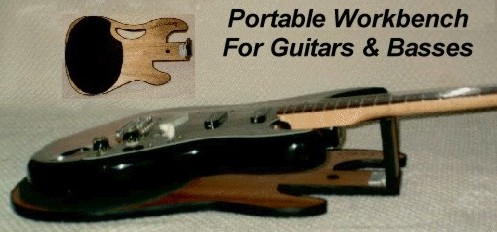 UPS Delivered price, USA only $37.95 (that's right, this includes shipping)
If you live out side Oklahoma and the surrounding states, contact Ken Olson,
mailto:OlsonKK@aol.com about ordering a portable workbench. See more Guitar Works products on page 3.
We are a dealer for Dinosaur, Electro-Harmonix, Sovetek Amps, All Parts, WD Parts, MiteMite Parts, Graph Tech, Iboney, JLD Bridge Systems, Magic Parts, Schatten Acoustic Pickups and we will be listing and showing more as we progress on the webpage.
Contact us by:
mailto:tguitar@icnet.net
Terry's Guitar Repair Plus


~ Support your local musicians! ~