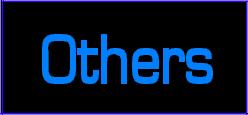 Here is the list of things I have that I want to get rid off.This list includes many people so look around carefully.See something you want,email me and we'll work something out!

Backstreet Boys:

A night out with the Backstreet Boys Video,want to sell this,or trade for some GOOD Hanson item.$10.00
*RARE*1999 Offical Calendar,never used,in great shape!Sell for cheap,or once again trade.$5.00
*RARE*Import cd,Includes 3 songs.I'll never break your heart,regular version and Spanish version,Quit Playing games with my heart is the live version.Sell or trade.$5.00

N*Sync

SevenTeen Maganzine recent LONG interview.Talks about what they are recently doing,if you married a N*Synce member and etc!Email me to have more accurate topics.


O-Town

RARE O-Town Trading Card of Dan.I'll trade this for a Ashley Trading card,or I'll sell this for $2.00

I also have many other artists,actors and actresses.Email me for a list or rundown on who I have.I can also try to get magazines and such of them.Whatever you ask me for or about I will try my best to get ahold of!If I can't,I will let you know!