My animation of the Screamin' Demon launched loop that ran from 1977-1987 at Kings Island, Ohio.

Courtesy Bob Hooley
Welcome to Brad's Coaster Station! As an artist, I have always loved the balance between engineering & aesthetics in these scream machines. My infatuation with amusement parks has to be traced to the summer of 1970, when my parents visited (the original) Elitch Gardens in Denver, CO, on their honeymoon. They rode Mr. Twister, known to the amusement world as one of the most notorious coasters to ever stand on this earth. Thanks to them, my brother and I are both hooked. So enjoy your visit, and please WALK to the attractions! Cotton Candy is only 50 cents....
---
Looking for that coaster you rode as a kid? Want to know which rides hold world records? Check out

---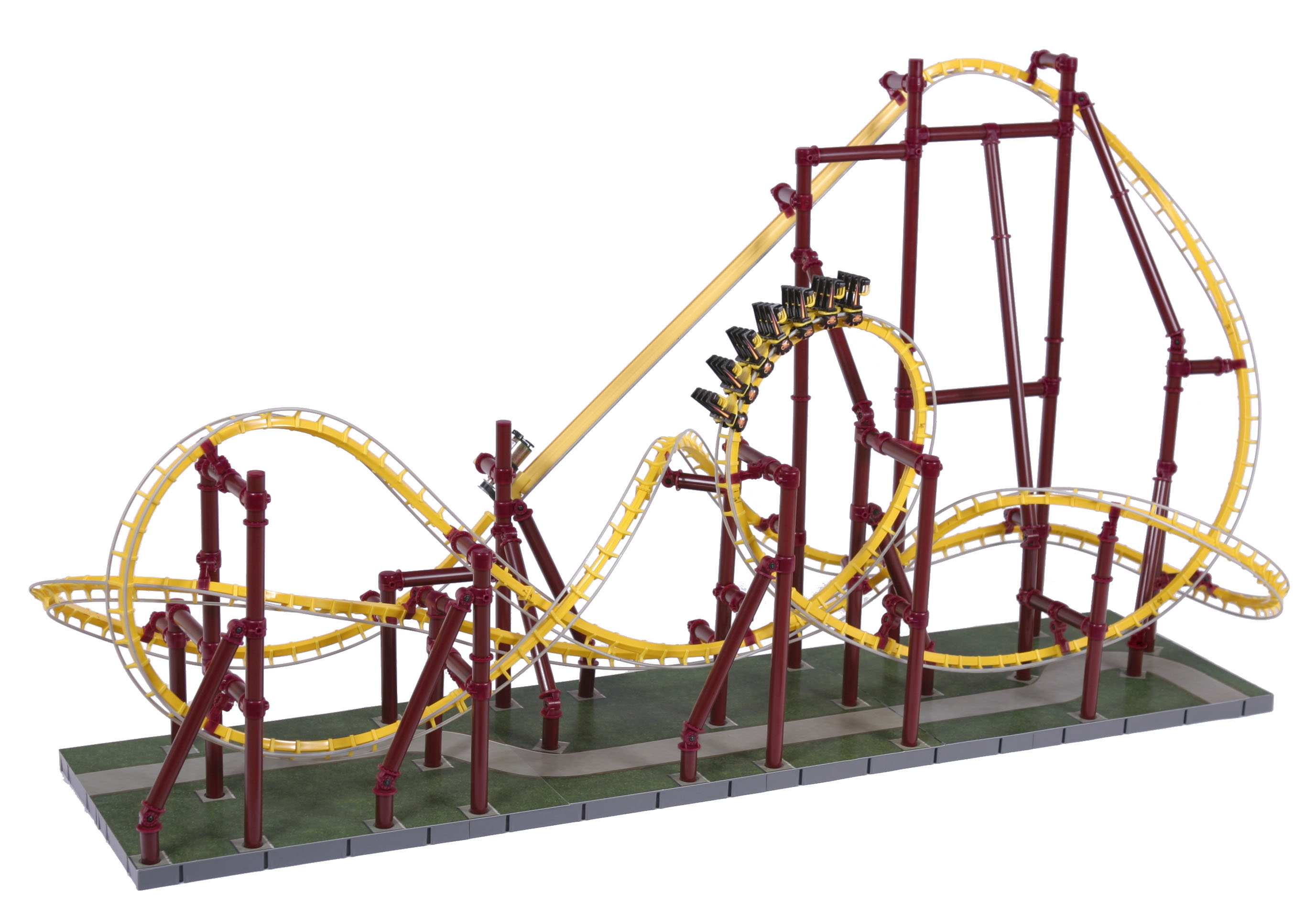 1:48 and 1:87 (O and H.O.) Scale operating roller coaster model kits. I am available for custom builds including scenery with lights. Contact me for details.
The guys at CoasterDynamix continue to add to their line of fully functioning HO and O gauge roller coaster models. The track in some of the kits is flexible and pieces snap or screw together for endless re-creations of your favorite coasters out there! I'm thrilled to have been among the first to test out this amazing system (see the RAPTOR link at left). This is a MUST HAVE for every true coaster fan and is far superior in look and preformance to the difficult and inconsistent FALLER Big Dipper kit and the KNEX kits. Several of today's popular coaster types are available by kits directly from their site, or by converting some of the collectible STATIX coaster trains available at gift shops in many parks (many just need wheels replaced with the metal ones). Colorful, accurately molded parts and smooth operation are just the beginning. No glue is required for assembly, meaning quick, easy construction and infinite layout designs. YouTube is full of custom layouts.
Get yours today and be a part of the most amazing model coaster system to date!
---
Photos from various park trips can be seen at my facebook albums here
---
Arrow Dynamics - Visionaries, Pioneers, Masters
Arrow Dynamics had a huge impact on the amusement ride industry. They have been involved in the design and construction of hundreds of amusement park attractions, including roller coasters, log flumes, dark rides, antique car rides, and even park transportation systems. Starting with a small machine shop in 1946, Arrow undoubtedly changed the way that we have fun at parks. Arrow got their big break when Walt Disney, after seeing a boat they had built, decided that he would have them construct many of the attractions at his soon-to-open Disneyland park in Anaheim, California. After developing various rides for Disney, including the world's first steel tubular tracked coaster (Matterhorn Mountain), Arrow went on to introduce the runaway mine train, log flume, and corkscrew looping coaster which was the first to turn guests upside down since the early 1900's. This breakthrough ride in 1975, which now resides at Silverwood theme park in Idaho, led to many styles of inversions that can be found today on virtually every looping coaster, including the modern inverteds and stand-ups. The most recent examples of Arrow's craftsmanship are Tennessee Tornado, at DollyWood in Tennessee, and "X", a one-of-a-kind 4D coaster that combines flying, twisting and looping with a new style of rotating seat! X opened in 2001 at Magic Mountain in Valencia California. The amusement industry has more manufacturers than it can handle now, but they all owe a great deal to the company who started it all. In 2002 the company was absorbed by S&S power.
---
MY 'HOME PARK'
Take some time to visit Steven Wilson's look back at the midwest's finest theme park. When it opened in 1976, Marriott's Great America, 45 minutes north of Chicago, was one of two identical parks operated under Willard Marriott. In 1986 this park fell under Six Flags control, and the other, located in Santa Clara, California, is now owned by Cedar Fair. Neither have a strong resemblence to their past, but thanks to people like Steven we can always look back and remember! I have visited SFGAm nearly every year since it opened, and am currently modeling some of it's coasters.
---
COASTER 101
How do they work? To put it simply there are 3 main things. Gravity, a vehicle with wheels, and some sort of guiding track. If that doesn't satisfy your craving for detail, here's a friend of mine that knows more about them than the folks that build 'em! Check out his amusing hall of shame too! DAVE'S ADVENTURES
---
Coasterbuzz features industry news, forums, links, and even a trackspotting guide.
---
I am also a member of organizations dedicated to the operation, preservation and overall enjoyment of rollercoasters. Not only do we have meetings and tour the world, but we are allowed to attend special events, including ERT (extended ride time) on coasters just for us! What's it like to ride Magnum at 1 am with the park empty? Or the Legend at night (the absolute best pitch black coaster experience)? Or how about TV shoots on water rides at a frigid 8am? :) Join and find out! If you love amusement parks, and have a special interest in coasters, wood or steel, you will greatly benefit from joining. Perhaps the greatest feeling is seeing people of all nationalities and ages coming together to preserve and enjoy these marvels of engineering. Please click on the links to find out more.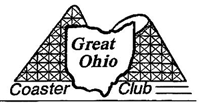 ---
Rollercoaster Tycoon is the smash hit that swept the world in 1999. Combining Sims-like strategy and the fun of building and running amusement parks, this addictive game has become a household name, and continues to grow in popularity with add on packs and even a newer version of the original game. Having problems with the game? Want to know more about the different types of coasters and what makes each one unique? Need advice on succeeding at your theme park empire? Want some crazy designs to download? Check out
---
Amazing 3D creations of coasters and trains. Also featured are on-ride videos of many of today's newer scream machines. This site is a must see!
---
BACKYARD COASTERS
Building models is one thing, but this is unbelievable! Here are links to some awesome home built thrill machines:
John Ivers' steel looping coaster
---
HAUNTED HOUSE LINKS
There is nothing like a great haunted house, and I find Disney's and Knoebels' to have the best around. Visit these links to engage in a hauntingly in-depth look behind some of the greatest thrills and chills!
PHANTASMICS (tons of ideas including the famous Flying Crank Ghost)
DARKRIDE AND FUNHOUSE ENTHUSIASTS
---
AMUSEMENT PARK SAFETY
It is extremely important to obey ALL warnings given by a park, whether verbally or on a sign. Unfortunately sometimes things happen no matter how many precautions are taken. The best thing you can do is follow the warnings and treat the rides and attractions with respect. DO NOT test your luck. Respect rides......they do not respect you.THIS LINK will take you to the most complete database of accidents reported at parks over the years. Notice how many of these are guest induced.

MY FAVORITE COASTER
THE LEGEND
Located at Holiday World in Santa Claus, Indiana, The Legend is the newest wooden-terrain-twister roller coaster to hit the planet. Packed with a 116' lift, plenty of tightly banked turns and sudden drops, this story of the Headless Horseman is told in this thrilling chase through the woods. The ride begins at a station themed like a school house. After climbing high above the trees and hearing "don't look back...", you plunge into complete darkness, twisting and turning from one direction to the other. You have no idea where the train is going next, as you brace yourself for tunnels, a double helix, a double-up (where the train gains altitude twice in the same hill coasting up), and more S-curves than the state of California, this ride is unmatched! And all to end with a breathtaking screech to a halt at the station. Even better is a ride at night during their Hollywood Nights event. Wooden coasters have made a resurgence in recent years and Holiday World is a great example that you don't need to break world records every time you build a coaster. Add to this the great family-owned experience, free parking, drinks & sunscreen, and you'll be sure to include this park in your next trip to the midwest.
For more information about Holiday World, The Legend and Raven, or anything else related, please contact me, or visit the park HERE!
THE LEGEND facts:
Length: 4,042'
Ride time: 2 minutes
Maximum height: 116'
Longest drop: 113', with 77' spiraling drop
Trains: Two 24 passenger trains by PTC.
Cost: $3 million
Designed and built by: Custom Coasters Inc., of West Chester Ohio (now The Gravity Group, LLC)

---
All images copyright Brad Sherman unless noted otherwise. Logos copyright their respective sources.