One of the criminals who hung there hurled insults at him: "Aren't you the Christ? Save yourself and us!" But the other criminal rebuked him. "Don't you fear God," he said, "since you are under the same sentence? We are punished justly, for we are getting what our deeds deserve. But this man has done nothing wrong." Then he said, "Jesus, remember me when you come into your kingdom." Jesus answered him, "I tell you the truth, today you will be with me in paradise."



~~~~~~~~~~~~~Luke 23:39-43 NIV~~~~~~~~~~~~~



Click on photo for website.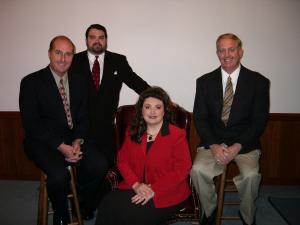 (CLICK ON TITLE TO HEAR SONG)
WHAT DID HE EVER SEE IN ME
by Called Out
Hanging here on a tree on dark Calvary,
There's a man hanging by my side;
Bonds of love have him bound as his blood falls to the ground,
From the stripes and crown of thorns that he wears.

Not long ago my voice was heard mingled in the scornful words,
As I mocked his holy name;
But in some amazing way grace gave me the strength to say,
When thou comest into thy kingdom O Lord remember me.

The King of all eternity then turned and looked at me,
And I thought how foolish I must seem;
Lord, I could never work for thee for I'm bound to my own tree,
My past is filled with misery and shame.

O but I can't believe these words I hear falling down upon my ear,
But it's left grace so full and free;
Floods of joy now fill my eyes as I hear these words to my surprise,
Today thou shall be with me in Paradise.

Tell me, what did he ever, ever see in me?
My yesterdays are in shambles the grave my destiny;
O this my song through all the ages throughout all eternity,
O what did he ever, O what did he ever;
Tell me what did he ever, ever see in me?

In me?


BACK TO SONGS