Actor Profile: John Wayne/Brian W. Fairbanks-Writer

Actor Profile:
JOHN WAYNE
(1907-1979)
James Stewart is more beloved. Henry Fonda more respected. Humphrey Bogart more influential.
That's one way to interpret the American Film Institute's recent list ranking the greatest stars of the first half of the 20th century. Stewart and Fonda both finished in the upper reaches of the top ten, and Bogart, to no one's surprise, stood above them all at number one.
Surprisingly, John Wayne missed the top ten, finishing in 13th place, trailing not only James Cagney and Gary Cooper, but even Gregory Peck, a comparative lightweight.
But then it's really no surprise at all. Though the man known as the Duke is beloved and respected by many as a flesh and blood symbol of America, the land of the free and home of the brave, he is also despised , ridiculed, and vilified as a symbol of another America, the world's number one superpower in which might makes right, and the war in Vietnam was just and necessary.
One thing is certain: no other actor was more consistently popular with moviegoers. For an unprecedented 25 years - from 1949 to 1974 - he was named one of the top ten box-office attractions by theater owners, finishing in the top four on nineteen occasions, and topping the list as late as 1970 when, at age 62, most of his contemporaries were either dead, reduced to supporting roles, or seeking a second wind of stardom on TV.
In 1995, more than a decade after his death, a public opinion poll revealed he was still America's most popular star, surpassing Clint Eastwood, Mel Gibson, Tom Hanks, and other more contemporary screen actors. Chances are he would have ranked higher on the AFI list, too, had the votes been cast by real moviegoers rather than a grab-bag of prominent people, including talk show host Larry King ("You heard it hear first: Jackie Robinson was a helluva ballplayer!") and others whose knowledge of movies is as questionable as King's.
Wayne's lofty position in the American movie landscape is unrivaled. As author Gary Wills points out in his book John Wayne's America, most icons are rebels like Bogart, and, preferably, young rebels like Elvis, James Dean, and Madonna. But Wayne, who was 40 years-old before he achieved genuine superstar status, represented the Establishment - law and order as approved by Uncle Sam.
The man who would come to personify the essence of American masculinity was born Marion Michael Morrison in Winterset, Iowa on May 26, 1907. Although he had "grown up in a house of petty bickering" and his parents would divorce before he reached maturity, his early years were fairly conventional and conservative. He belonged to the YMCA and the Boy Scouts, and was vice president of his high-school class in both his sophomore and junior years, and president in his senior year. He played football without much distinction, covered sports for his school paper, participated in the drama club, and even represented the school in the Southern California Shakespeare Contest, delivering Cardinal Wolsey's speech from Henry VIII.
He entered the movie business as a laborer in the 1920s, and gradually worked his way into bit parts, then small speaking roles, including appearances in Salute and Men Without Women, both directed by his future mentor, John Ford. His first big break came in 1930 at age 22. With Gary Cooper unavailable to star in The Big Trail, director Raoul Walsh picked Wayne because "The sonuvabitch looked like a man." Filmed in an early wide-screen process, The Big Trail failed for the same reason it was revolutionary. Already hard hit by the depression, theaters that had only recently converted to show "talking pictures" were not prepared to show a film made in a gauge other than 35mm, and, like the film itself, Wayne never had the opportunity to make an impression.
When his contract with Fox was not renewed, he went to Columbia, a studio that made one grade A picture a year, always directed by Frank Capra, but otherwise ground out low-budget junk. The simplest way to summarize Wayne's work at Columbia is to point out that he never worked with Frank Capra.
Columbia didn't want him for long, so it was on to the B movie unit at Warner Bros., then Monogram, a studio where a B film was a step up in quality. In 1939, though, John Ford cast him as the Ringo Kid in Stagecoach, and a star was born. "John Ford invented John Wayne," Richard Widmark said, and, in the process, created what Widmark calls "the ideal Western hero."
But that was still to come.
Stagecoach made John Wayne a star, but he was still one of many in the Hollywood galaxy. Consider that three years later, he still wasn't popular enough to avoid being second-billed to Ray Milland in Cecil B. DeMille's Reap the Wild Wind. And in 1945, he was second-billed to Robert Montgomery, a big star in his day but rather obscure now, in Ford's They Were Expendable.
But in the early 1940s when a lot of other actors were serving in WWII, there were plenty of roles for Wayne in some very good films. Among his successes were The Long Voyage Home, The Shepherd of the Hills, The Spoilers, The Wake of the Red Witch, Three Godfathers, and, by the end of the decade, at least four indisputable classics: Howard Hawks' Red River, the first two films in Ford's "calvary trilogy," Fort Apache and She Wore a Yellow Ribbon, and the film for which he would receive the first of his two Oscar nominations, The Sands of Iwo Jima.
More than any other film, 1948's Red River may be the one admired even by those who don't necessarily like "John Wayne movies." Superficially the story of a cattle drive, it is one of the earliest examples of what came to be known as the "psychological Western," even including a subtle but still rather obvious reference to homosexuality. It is in this film that John Wayne fully became "John Wayne," and achieved a stardom that would soon reach beyond the silver screen into the soul of American society. If he was going to be second-billed again (he would be, to James Stewart in John Ford's The Man Who Shot Liberty Valance, but only on the posters for the film, not in the onscreen credits), you'd swear it was a typo.
In some ways, The Sands of Iwo Jima is the most significant film in the John Wayne canon. Newt Gingrich called this 1949 film "the formative movie of my life." Sgt. Barnes, a character in Oliver Stone's Platoon (1986) quotes Wayne's battle cry from the film, "Saddle up! Lock and Load!" And the film's climactic scene, the raising of the American flag over Mount Suribachi, inspired Ron Kovic, whose life story became the source for Stone's Born on the Fourth of July, to volunteer for service in Vietnam, a tour of duty that would leave him a paraplegic. Nor was its power lost on the U.S. Marines. They often used the film to drum up support and encourage enlistment. Ironically, Wayne, who angered John Ford by avoiding service in WWII for fear it would interrupt the momentum of his career, would be identified in many people's minds as having won that global conflict single-handedly, thanks to films like The Sands of Iwo Jima.
If moviegoers believed in "John Wayne," why shouldn't Marion Michael Morrison believe in him too?
The year of Red River and The Sands of Iwo Jima was also the year that "John Wayne" began speaking out on political issues. In Gary Wills' view, Wayne began to speak his mind only when it was safe to do so, when the opposition had already been defeated. "To step in then," Wills writes, "was joining the bully, not an underdog."
The early 1950s found America fighting a Cold War, hunting for Communists in Hollywood, finding an alternative to movies in television, and concerned about the effect something called rock and roll was having on their children. Wayne, a rock too steady to roll, did his best to support the first effort, made one of his dumbest movies, Big Jim Mclain, in support of the second, acknowledged the third by casting "teen idols" like Ricky Nelson and Fabian in his films, and avoided the latter, turning down CBS-TV's offer to star in their new series, Gunsmoke, by recommending they cast one of his proteges, James Arness, in the role of Marshal Matt Dillon instead. Except for filming an introduction to the show's debut episode, Wayne's only acknowledgement of the new medium's popularity came with a few guest appearances on some of the more popular shows of the day, including I Love Lucy.
In between the release of two of his worst films, The Conqueror and Jet Pilot, (both produced by Howard Hughes), Wayne starred in John Ford's The Searchers. Though not one of his most successful films commercially, the film's reputation would grow steadily through the years and now it regularly turns up on critics' lists of the best films of all time. As Ethan Edwards who embarks on a seven year search for a niece captured by Indians, Wayne is at his most complex, a ruthless man whose eyes burn with hatred for his niece's captors, yet who still inspires sympathy.
Wayne closed out his first decade of superstardom with Howard Hawks' Rio Bravo, his answer to High Noon, a film he considered leftist for its portrayal of a sheriff who throws away his badge rather than continue to serve a town that abandoned him in his hour of need. Joined by a drunken Dean Martin, a comically grumpy Walter Brennan, and a deadpan Ricky Nelson, he takes on an outlaw gang without the support of the town he serves, never once forsaking his duty. Leisurely paced and immensely entertaining, Rio Bravo is now a cult film. It also set a pattern for many of the Wayne films to come in that its ingredients were put together to ensure the strongest possible showing at the box-office.
Wayne was certainly big enough to bring in the crowds on his own, but a few more stars might bring in customers who didn't care for "John Wayne." So, in Rio Bravo you not only had ol' Dino, but teen idol Ricky Nelson to attract the teenaged market discovered in 1956 with the ascent of Elvis Presley and rock and roll. In 1960's North to Alaska, it was Stewart Granger and Fabian, and in the same year's The Alamo, the extra boost was provided by Richard Widmark and Frankie Avalon. Additional stars also served to prevent Wayne's presence from overpowering the rest of the cast. "If you don't get a damn good actor with Wayne," Howard Hawks said, "he's going to blow him right off the screen, not just by the fact that he's good, but by his power, his strength."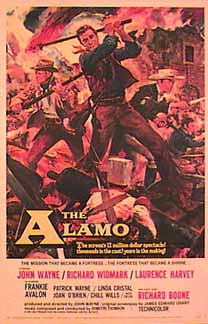 The Alamo may be the most personal film of his career. For some unexplained reason, Wayne seized upon the notion that the defeat of Davy Crockett and company at the Alamo was an inspiring patriotic story and, as early as 1948, he was hoping to commit his dream of The Alamo to film. It wasn't until 1960, however, that the Todd A-O epic reached the screen with Wayne producing, directing, and starring as Davy Crockett. Though it has its defenders, most critics found the film overlong, tedious, and historically questionable. Wayne looked at home as Crockett, as did Widmark as Jim Bowie, and, surprisingly, British actor Laurence Harvey as Travis, but Frankie Avalon, called upon to do Ricky Nelson duty, looked entirely too urban, even before his Beach Party days.
The film was a costly endeavor for Wayne who failed to win respect as either a producer or director when The Alamo, despite an Oscar nomination as best picture, was critically panned and less successful at the box-office than anticipated. A re-release in 1966 did little to reverse its box-office fortunes, and the film only showed a profit after its sale to NBC-TV where it made its television debut in September 1971.
Eight years after The Alamo, another labor of love would prove to be his most controversial film ever. Just as he saw a need to make The Alamo in the year in which liberal John F. Kennedy defeated conservative Richard M. Nixon in the race for the White House, the star believed it was his patriotic duty to star in, produce, and co-direct The Green Berets to spread his gospel on Vietnam
Angry at student radicals and others who protested America's involvement in the disastrous war, the Duke believed the record needed to be set straight. As he saw it, "we're helping a brave little country defend herself against a ruthless Communist invasion." To his surprise, this icon of the "My country, right or wrong" set could not gain the cooperation of the Defense Department which apparently read Robin Moore's sleazy book more closely than Wayne did when snapping up the rights to the best-seller. The heroes Wayne had wanted to salute were savage barbarians in Moore's account, and the screenplay required extensive rewriting before the cameras rolled.
Released in July 1968, perhaps the most violently divisive year in 20th century American politics, The Green Berets was a major box-office hit, but also a film intensely despised. As Wayne told TV Guide in 1972, "I took plenty of abuse from the critics. Did you ever see reviews like that? Reviews with hatred and nastiness."
The fact that the movie was structured just like any of the flag waving propaganda films from WWII, with comic relief from a cute Vietnamese boy unofficially adopted by a whimsical Jim Hutton, only angered the critics more. Though it was, in many ways, an embarrassment for the star, he defended it to the end, including during a 1974 appearance before the editors of the irreverent Harvard Lampoon.
"I won't be wronged. I won't be insulted. I won't be laid a hand on," he would say in The Shootist, and he proved it when facing the Harvard Lampoon audience that had invited him to appear simply in the hope of reducing this icon of the Establishment to an object of ridicule. But when asked about his "phony toupee," he was as quick with his wit as he was on the draw, and the Duke disarmed his detractors. "It's not phony. It's real hair. Of course, it's not mine, but it's real."
In the years between The Alamo and The Green Berets, he lent his star power to the all-star epics How the West Was Won and The Longest Day, and was laughably bad as the Centurion who put Jesus to death in George Stevens' The Greatest Story Ever Told. Otherwise, he settled very comfortably into generic "John Wayne" pictures. Dean Martin paid a return visit to Wayne's world in 1964's The Sons of Katie Elder, Kirk Douglas joined him for The War Wagon in 1964, and, in 1967, Robert Mitchum took over Martin's drunken sheriff for a retread of Rio Bravo called El Dorado. One of the more unusual pairings of Wayne with a big male star came in 1969's The Undefeated. In this Civil War epic, the champion of right wing political conservatism co-starred and became friends with Hollywood's gayest leading man, Rock Hudson.
It was while making The Sons of Katie Elder in 1963 that Wayne took on his toughest challenger yet. After being diagnosed with lung cancer, half a lung was removed and, in words that would not have sounded out of place if spoken by one of the characters he played in the movies, he would boast about having "licked the Big C."
Most of his films from the 1960s were solid entertainment directed at those who were already converts to the John Wayne legend, but 1969's True Grit strayed from the formula a bit by casting him as a grizzled one-eyed Marshal helping a young girl track down the men who killed her father. Based on a beloved novel by Charles Portis, the film was a monument of sorts to its star. While Rooster Cogburn is an anachronism in a rapidly changing West, John Wayne was also an anachronism in a rapidly changing 20th century. Rather than mourn the passing of old times and the old men who made them, True Grit celebrates them, just as it celebrates its star. "After The Green Berets, I never thought I'd be able to take John Wayne seriously again," Vincent Canby wrote in The New York Times, adding that Rooster Cogburn was the finest role of Wayne's career.
Just how much of a monument Wayne had become was apparent when the X rated Midnight Cowboy won the Oscar as best picture for 1969. Early in the film, Jon Voight dons his newly acquired Western duds, and, posing in front of a mirror, utters the only words likely to come to mind at the moment one becomes a "cowboy":
John Wayne!"
Wayne's colleagues in Hollywood also felt the time was right to acknowledge the living legend in their midst and awarded him the Oscar as best actor for True Grit. He was 62 years old.
Great changes were taking place in America society as the politically charged 1960s gave way to the 1970s. Helen Reddy sang "I am woman, hear me roar." Tennis star Billie Jean King defeated self-proclaimed male chauvinist Bobby Riggs in a televised "battle of the sexes." Gloria Steinhem founded Ms, a magazine that challenged the traditional role of women in society. Actor Burt Reynolds bared it all in the pages of Cosmopolitan just as women had been doing for years in Playboy. And, on television, the sitcom Maude introduced viewers to a heroine as outspoken as Archie Bunker, but with a mind as open as the closet doors from which homosexuals were emerging to demand their rights. Gender roles were being redefined, but not the role of John Wayne.
He made Chisum, Rio Lobo, Cahill: U.S. Marshal, Big Jake, and The Train Robbers, all typical Wayne Westerns, while McQ was a cleaned up imitation of Clint Eastwood's role in Dirty Harry. Another urbanized oater, 1975's Brannigan with Wayne as a detective on assignment in London, also seemed to have roots elsewhere: it looked like a remake of "The London Beat" episode of Richard Widmark's short-lived Madigan TV series.
Mark Rydell's The Cowboys was much discussed because Wayne was gunned down long before the conclusion by a wickedly sneering Bruce Dern, an act that TV talk show host Dick Cavett told Dern was comparable to "raping the Statue of Liberty." In 1975, Rooster Cogburn, a sequel to True Grit, set him up against Katherine Hepburn in an attempt to duplicate the sparks she created with Bogart in The African Queen.
Wayne also overcame his indifference to television in this decade. In addition to appearing on The Dean Martin Show, he became a semi-regular visitor to Rowan and Martin's Laugh-In, often good-naturedly spoofing his macho image and even dressing up as the Easter bunny in a 1972 episode.
In 1970, he decided television was also the best place to express his love for America. Budweiser bankrolled his 90 minute salute to patriotism, Swing Out, Sweet Land, to the tune of $2 million, the highest budget for a television special to that time. Eveyone from the cast of TV's Bonanza to Bob Hope, Jack Benny, Lucille Ball, Dean Martin, and Johnny Cash appeared at rock bottom prices as a favor to the star. Even Tommy Smothers, "a liberal cat," whose variety show with brother Dick created controversy with its anti-war stance, agreed to appear in a sketch about dissent. Critics generally hated Wayne's star-studded salute to the land of the free, but 77,000,000 viewers tuned in, making the show a big success for NBC. In 1973, he also recorded an album, America: Why I Love Her, that sold 100,000 copies its first week in the stores.
In 1975, he even appeared on the aforementioned Maude, trading barbs with Beatrice Arthur in an episode of the sitcom that, like most of the programs produced by Norman Lear, espoused a decidedly liberal point of view. But the man who made The Green Berets was a big fan of All in the Family, Sanford and Son and the like because they showed that "we can kid about ourselves."
No one knew it at the time, but The Shootist, directed by Don Siegel, would be his last film. In what can only be considered perfect timing, John Wayne's swan song was released in 1976 during the summer of America's bicentennial. As J.B. Books, a gunfighter slowly dying of cancer, he played scenes that he had already played for real, and would soon play again. The late 1970s would be more notable for his failing health than his films.
In 1978 he had open heart surgery, in 1979 his stomach was removed to prevent the spread of more cancer, and when he was introduced at that year's Academy Awards, a gaunt figure only vaguely resembling John Wayne appeared to present the best picture Oscar to The Deer Hunter, a film about Vietnam bearing no resemblance to his own film of ten years earlier.
A giant was about to fall.
Later in the year, cancer struck again, and President Carter paid him a visit in the hospital while Congress debated whether or not they should issue a medal in his honor. They did. When he died on June 11, 1979, flags were flown at half-mast throughout the country in recognition of an American legend.
"Sure I wave the American flag," he said in 1972. "Do you know of a better flag to wave? Sure I love my country with all her faults. I am not ashamed of that, never have been, never will be."
And even those for whom Wayne represented the darker forces of the American spirit were not ashamed to admit that they admired and even idolized him.
"Even cavemen felt a little admiration for the dinosaurs that were trying to gobble them up," Abbie Hoffman, the radical 60s protestor, said. And when he was reminded that Wayne represented support for Vietnam, Richard Nixon, and the Communist witch hunts of the McCarthy era, liberal minded Chicago newspaper columnist Mike Royko did not disagree, but said, "I still like John Wayne."
The most memorable dialogue in John Ford's The Man Who Shot Liberty Valance, "When the legend becomes fact, print the legend," could very well describe the life of Marion Michael Morrison and his alter ego, "John Wayne."
Having embraced and, it might be argued, even defined the conservative political agenda in America, it is assumed that Wayne was as narrow-minded as any other right-wing Republican. Yet the rumors of pot smoking that followed Robert Mitchum throughout his career did not dissuade Wayne from appearing with the sleepy-eyed actor in El Dorado. Nor did Wayne protest the casting of Rock Hudson in The Undefeated even though, like the rest of Hollywood, he was well aware that the actor was a homosexual.
Because his on-screen adventures involved the slaying of a slew of Native Americans and Japanese, he is sometimes called a racist, a charge his critics believe was strengthened by a "Playboy Interview" in which he suggested that blacks were not yet qualified to hold high public office because discrimination prevented them from receiving the kind of education a political career requires. Yet all of his three wives were of Latin descent.
Once, when told that everything isn't black and white, Wayne growled, "Why the hell not?" But it seems that those who insist on seeing him in the narrowest terms possible have also failed to acknowledge that there were shades of gray even in John Wayne.
In real life, Marion Michael Morrison was anything but a war hero, having avoided service in WWII to focus on his career. Yet on-screen, "John Wayne" is the ultimate hero, the very embodiment of bravery, justice, and strength. He has been dismissed as an actor time and time again, yet he played his roles so believably that the facts of his life were made irrelevant by the image on the screen. And no one embraced the image of "John Wayne" more than the actor who gave him life.
Marion Michael Morrison is dead, but John Wayne lives on and on and on. As immovable as a mountain, as pervasive as the wind, and immortal as only a myth can be.
Long live John Wayne.
© Copyright 1999, Brian W. Fairbanks. All Rights Reserved.
About the author
More Actor Profiles
On Movies and Criticism
FOREWORD from I Saw That Movie, Too

BACK TO

Films of John Wayne:
Brown of Harvard, Bardelys the Magnificent, The great K and A Train Robbery (1926), Annie Laurie, The Drop Kick (1927), Mother Machree, Four Sons, Hangman's House (1928), Speakeasy, The Black Watch, Noah's Ark, Words and Music, Salute, The Forward Pass (1929), Men Without Women, Born Reckless, Rough Romance, Cheer Up and Smile, The Big Trail (1930), Girls Demand Excitement, Three Girls Lost, Men Are Like That, The Deceiver, Range Feud, Maker of Men (1931), That's My Boy, The Voice of Hollywood No. 13, Shadow of the Eagle, Texas Cyclone, Two-Fisted Law, Lady and Gent, The Hurricane Express, The Hollywood Handicap, Ride Him, Cowboy, The Big Stampede, Haunted Gold (1932), The Telegraph Trail, The Three Musketeers, Central Airport, Somewhere in Sonora, His Private Secretary, The Life of Jimmy Dolan, Baby Face, The Man From Monteray, Riders of Destiny, College Crash, Sagebrush Trail (1933), The Lucky Texan, West of the Divide, Blue Steel, The Man From Utah, Randy Rides Alone, The Star Packer, The Trail Beyond, The Lawless Frontier, 'Neath the Arizona Skies (1934), Paradise Canyon, Texas Terror, Rainbow Valley, The Desert Trail, The Dawn Rider, Westward Ho, The New Frontier, Lawless Range (1935), Sea Spoilers, The Oregon Trail, The Lawless Nineties, King of the Pecos, The Lonely Trail, Winds of the Wasteland, Conflict (1936), Born to the West, California Straight Ahead, I Cover the War, Idol of the Crowds, Adventure's End (1937), Pals of the Saddle, Overland Stage Raiders, Santa Fe Stampede, Red River Range (1938), Stagecoach, The Night Riders, Three Texas Steers, Wyoming Outlaw, New Frontier, Allegheny Uprising (1939), The Dark Command, Three Faces West, The Long Voyage Home, Seven Sinners (1940), Stars Past and Present, Lady for a Night, A Man Betrayed, Lady From Louisiana, The Shephard of the Hills (1941), Reunion in France, Reap the Wild Wind, The Spoilers, In Old California, Flying Tigers, Pittsburgh (1942), A Lady Takes a Chance, In Old Oklahoma (1943), The Fighting Seabees, Tall in the Saddle (1944), Falme of Barbary Coast, Back to Bataan, They Were Expendable, Dakota (1945), Desert Command, Without Reservations (1946), Angel and the Badman, Tycoon (1947), Fort Apache, Red River, 3 Godfathers (1948), Wake of the Red Witch, The Fighting Kentuckian, She Wore a Yellow Ribbon, Sands of Iwo Jima (1949), Rio Grande (1950), Operation Pacific, Flying Leathernecks (1951), The Quiet Man, Big Jim McLain (1952), Trouble Along the Way, Island in the Sky, Hondo (1953), The High and the Mighty (1954), The Sea Chase, Blood Alley (1955), The Conqueror, The Searchers (1956), Jet Pilot, The Wings of Eagles, Legend of the Lost (1957), I Married a Woman, The Barbarian and the Geisha (1958), Rio Bravo, The Horse Soldiers (1959), The Alamo, North to Alaska (1960), The Comancheros (1961), The Longest Day, The Man Who Shot Liberty Valance, Hatari, How the West Was Won (1962), McLintock, Donovan's Reef (1963), Circus World (1964) The Greatest Story Ever Told, In Harm's Way, The Sons of Katie Elder (1965), Cast a Giant Shadow (1966), The War Wagon, El Dorado (1967), The Green Berets, Hellfighters (1968), True Grit, The Undefeated (1969), Rio Lobo, Chisum (1970), Big Jake (1971), The Cowboys (1972), The Train Robbers, Cahill: U.S. Marshal (1973) McQ (1974), Brannigan, Rooster Cogburn (1975), The Shootist (1976).
Miscellaneous film appearances: The Challenge of Ideas (narrator, 1961), A Nation Builds Under Fire (himself/narrator, 1967), No Substitute for Victory, Harry Jackson: A Man and His Art, Chesty: A Tribute to a Legend (narrator, 1970), Directed by John Ford (himself, 1971), The American West of John Ford (himself/narrator, 1971), Cancel My Reservation (cameo, 1972).
Notable television appearances: The Jack Benny Program (1950) I Love Lucy (1951), Climax (1954), Gunsmoke, Screens Directors Playhouse (1955), Wagon Train (1960), The Dick Powell Show (1961), Flashing Spikes, The Lucy Show, The Beverly Hillbillies (1962), The Glen Campbell Goodtime Hour, The Dean Martin Show, The Red Skelton Show (circa 1970), Swing Out, Sweet Land, Raquel (1970), Rowan and Martin's Laugh-In (1972), Maude, The Tonight Show starring Johnny Carson (1975), The Barbara Walters Specials, The 51st Annual Academy Awards (1979).
As producer: Gun the Man Down, Man in the Vault (1956), China Doll, Escort West (1958), The Alamo (1960), Hondo and the Apaches (1967), The Green Berets (1968).
As director: The Alamo (1960), The Green Berets (1968).