From the archives of Paris Woman Journal

Coyote Ugly (2000)
Cast: Piper Perabo, Maria Bello, John Goodman, Adam Garcia, Bridget Moynahan, Tara Banks, Leann Rhimes.
Screenplay: Gina Wendkos
Director: David McNally
** out of *****
Opens in France on November 8, 2000
"Why is it called Coyote Ugly?" a visitor to the bar of that name asks Lil, the assertive blonde who owns the establishment.
"Cheers was already taken," she says, referring to the long-running American sitcom set in a Boston tavern.
The name Flashdance was already taken too, but Coyote Ugly could almost qualify as a remake of that 1983 blockbuster. Both films were produced by Jerry Bruckheimer, now best known for loud action films like Top Gun and The Rock. Both films boast an energetic soundtrack you can dance to. And both are essentially fairy tales in modern dress that exploit female sexuality while pretending to promote female empowerment.
Flashdance was the story of a girl who worked as a welder by day and an exotic dancer by night while dreaming of the day when she would pass the audition required for admittance to a prestigious dance school. In Coyote Ugly, we have Violet Sanford (Piper Perabo). Squeaky clean and squeaky voiced, she's a wide eyed innocent who leaves her New Jersey home for New York City where she hopes to find fame and fortune as a songwriter. Violet never considers the possibility of also performing her songs because she's been led to believe that stage fright runs in her family. The inability to face a crowd of strangers is apparently what prevented her late mother from realizing her dream of a performing career.
Once Violet reaches New York, she trucks her songs from one disinterested record company to another. One night while dejectedly eating apple pie in a diner, she observes a trio of beautiful women counting money at a nearby table.
"We made $300 each tonight," one boasts to another.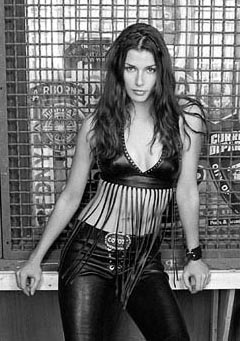 Judging them by their sexy attire, Violet assumes the women are prostitutes. She soon learns they are the staff at Coyote Ugly, a bar where they flaunt their stuff in tight halter-tops and leather pants while performing wild stunts on the bar. One of the coyotes, Rachel (Bridget Moynahan, pictured at right), is nicknamed "The Flame" in honor of her habit of setting fire to the bar, then dancing across it.
Our wide-eyed innocent is woefully out of place in this rowdy environment, but the bar's no-nonsense owner, Lil (Maria Bello), hires her anyway. It takes Violet awhile to establish herself as Coyote material, but her more assertive co-workers soon bring out the confidence she'll need to succeed as a Coyote, confidence that will also serve her well in realizing her dream to sing her own songs. Along the way, Violet finds time for romance with an Australian fry cook who collects comic books, and to visit her worried father on weekends.
Of all the moments in Coyote Ugly, the only ones that ring true involve John Goodman as Violet's concerned father. He provides the film with whatever heart it has, and also provides most of its intentional humor. But nothing is likely to provoke laughter (of the unintentional sort) quite as well as the ludicrous finale, which includes an appearance by country singer Leann Rhymes.
As far as sex goes, Coyote Ugly is as much of a tease as the women who populate it. "Look available, but don't be available," Lil orders her employees. The women are sexy, but the movie has virtually no sex, and, surprisingly, no profanity, unusual in an age when movie characters tend to be as foul mouthed as a rap singer. The movie is old-fashioned in other ways, too. The romance between Violet and the fry cook is as saccharine as a Doris Day movie, while most of the music is more than a decade old. At one point, the filmmakers go all the way back to 1961 for Elvis Presley's "Can't Help Falling In Love" for a scene in which Violet dances with her father at a wedding.
Shallow, silly, and surprisingly tame, Coyote Ugly is so slight that it tends to drift from the mind even as you watch it. Despite that, it is entertaining in its own empty and stupid way.
Brian W. Fairbanks
Entertainment Editor
About the author
Originally published at Paris Woman Journal
© 2000 Paris Woman Journal

Back To Articles on Film from

BACK TO

Email: brianwfairbanks@yahoo.com