Burt Lancaster: Actor Profile/Brian W. Fairbanks-Writer

Actor Profile:
BURT LANCASTER
(1913-1994)
"Burt Lancaster! Before he can pick up an ashtray, he has to discuss his motivation for a couple of hours." So said Jeanne Moreau, the sultry French actress who co-starred in 1965ís The Train. But to hear his friend Nick Cravet tell it, Lancaster was not being pompous. He was simply seeking the truth. "He canít bear to not know how and why things add up," Cravet said. For movie fans, Lancasterís many films and varied roles add up to make him one of Hollywoodís greatest stars.

Born November 2, 1913, Burton Lancaster grew up in East Harlem, New York, the youngest of four children in a family impoverished in everything but love. "I never felt underprivileged," he said years later. "We ate well and had a happy home." To help put food on the familyís table, the growing boy shoveled snow, shined shoes, and sold newspapers, but his favorite activity was reading, and it would remain so throughout his life.

"Most people seem to think Iím the kind of guy who shaves with a blowtorch," he said. "Actually, Iím bookish and worrisome." Earl Holliman, his co-star in The Rainmaker and Gunfight at the O.K. Corral remembers "When he wasnít working, he was reading."

He also enjoyed the movies, especially the swashbuckling adventures of Douglas Fairbanks, and he would often imitate the derring-do he saw on the silver screen in his familyís living room. Acting was not a goal, however. Lancaster hoped to be an opera singer but the change that puberty made in his voice ended that dream. By the time he enrolled in New York University, his goal was to be a gym teacher. But he was bored by school, so he soon took off with pal Nick Cravet and joined the circus as an acrobat. "It was a great life," he said of the circus, but after the bombing of Pearl Harbor in 1941, he exchanged circus tights for army fatigues.

After his tour of duty ended, Lancaster was visiting his family in New York when he was invited to audition for a play, A Sound of Hunting. The production got good notices but closed after three weeks, but not before the former acrobat was noticed by Hollywood. He was soon under contract to producer Hal Wallis.

Lancaster appeared in three films before 1947ís The Killers, but his starring top-billed role as the hapless Swede in that film noir based on an Ernest Hemingway story reached the screen first, and "I woke up a star. It was terrifying."

Tall and muscular with wild, wavy hair and a flashing set of teeth that became his most recognizable feature, the intense 32 year-old made a strong impression, but it was his early refusal to be typed that really made him unique. The tough guys of Brute Force (pictured, below right) and I Walk Alone seemed a natural fit, but Lancaster campaigned for more diverse roles such as the ambitious husband of Barbara Stanwyck in Sorry, Wrong Number and the alcoholic doctor in Come Back, Little Sheba, a role coveted by Humphrey Bogart but which studio politics prevented him from taking. By the time he won praise for that role, Lancaster had already branched out as a producer, having become one of the first actors to set up his own production company.
The first title from the production company he formed with agent Harold Hecht (the two were later joined by writer Jim Hill) was 1948ís Kiss the Blood Off My Hands. It was followed by such popular swashbucklers as The Flame and the Arrow and The Crimson Pirate, two films that gave the star perfect opportunities to show off his acrobatic skills. The company reached a high point with 1955ís Marty, a low-budget drama starring Ernest Borgnine based on the Paddy Chayefsky teleplay. A "little film," as the industry called it, Marty was a powerhouse at the box-office and at the Oscars where it won the gold in four categories including best picture.
As an actor, Lancaster reached a high point of his own as Sgt. Milt Warden in Fred Zinnemannís 1953 adaptation of James Jonesí best-seller, From Here to Eternity. The multi-Oscar winning film is almost as famous for having resurrected the career of Frank Sinatra as it is for the classic love scene on the beach between Lancaster and Deborah Kerr, but it also brought the star the first of four Academy Award nominations and the first of three New York Film Critics Circle Awards as best actor.
Even on The Killers, Lancasterís later reputation as "difficult" was beginning to develop causing producer Mark Hellinger to comment: "That kid has made one picture and already he knows more than anyone on the lot." It was no surprise then that he would try his hand at directing. 1955ís The Kentuckian introduced Walter Matthau to film audiences but Lancaster found directing and acting at the same time an ordeal, one he would not repeat until the abysmal The Midnight Man nineteen years later.
Returning to acting, he gave winning performances opposite Anna Magnani in Tennessee Williamsís The Rose Tattoo and Katherine Hepburn in The Rainmaker. When starring in a film for his own company, the actor was savvy enough to boost the filmís box-office potential by often appearing alongside another heavyweight, so, in Vera Cruz he co-starred with Gary Cooper, in Trapeze he teamed with Tony Curtis, and in Run Silent, Run Deep, he was second-billed to Clark Gable. But his most notable co-star was Kirk Douglas. Lancaster and the dimple-chinned actor had earlier appeared together in 1948ís I Walk Alone, but it was on 1957ís Gunfight at the O.K. Corral that they became friends.

"He tries to tell me how to act," Lancaster said. "I try to tell him how to act...and out of this kind of feuding and fighting and fussing has come a great respect and mutual love that weíve gained."
In the years after playing Wyatt Earp to Douglasí Doc Holliday, the two stars would share the screen in The Devilís Disciple, Seven Days In May, and Tough Guys, as well as make separate appearances in The List of Adrian Messenger and the TV film Victory at Entebbe.
It was in another film released in 1957, however, in which Lancaster gave one of his most memorable performances. Sweet Smell of Success was not a hit, but it has acquired cult status due to its compelling depiction of a ruthless gossip columnist and his eager sycophantic press agent (Tony Curtis). The Ernest Lehman scripted drama was bolstered by moody black and white photography that vividly captured the smoky milieu of New York nightlife.
In 1960, the financially struggling Hecht-Hill-Lancaster folded, but the year also brought Lancaster what many consider his signature role. As Elmer Gantry, the fire and brimstone evangelist with a weakness for whiskey and women, the star won the Oscar as best actor of the year. Pointing his finger in defiant self-righteousness, slashing through the air with a Bible, and leaping about the stage like the acrobat he once had been, the star was never more electric. One canít help but wonder how many of todayís TV evangelists spent more time studying Lancasterís performance than they did the Gospel. It was the perfect merging of an actor and a role. "Some parts you fall into like an old glove," Lancaster said. "Elmer really wasnít acting. It was me."
The Young Savages, the least popular of United Artistsí two juvenile delinquency films of 1961 (West Side Story was the other) introduced the star to John Frankenheimer, a director with whom he would make four more films (Birdman of Alcatraz, Seven Days in May, The Train, and The Gypsy Moths). The director described his most frequent star as one of the few performers "who really know something about production."
Despite only one major scene, Lancaster received second billing after Spencer Tracy in the star studded cast of Judgment at Nuremberg. The actor and co-star Maximillian Schell apparently had as antagonistic a relationship off-screen as they did in their respective roles as a defender of the Third Reich and a prosecutor, but sparks really flew during an appearance on Mike Wallaceís TV show P.M. Rather than endure the future 60 Minutes reporterís questions about his temper, Lancaster stormed out of the studio never to return.
Things were equally unpleasant on the Italian set of The Leopard. Cast as the proud prince of Giuseppe Tomasi di Lampedusaís best-selling novel primarily because his name helped director Luchino Visconti obtain financing from 20th Century Fox, the star eventually won over his reluctant director with what Claudia Cardinale called his "power...integrity and his professionalism." The two men became friends and, more than a decade later, Lancaster appeared in Viscontiís Conversation Piece.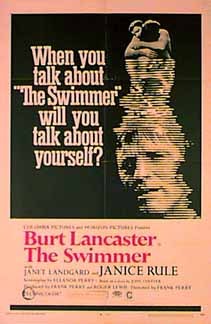 In order to do offbeat projects like The Leopard, as well as the underrated The Swimmer based on John Cheeverís short story, Lancaster was willing to sign on for films that even he labeled "junk." That was his verdict concerning Airport. Patronized by critics, Ross Hunterís "Grand Hotel of the air" became 1970ís biggest box-office hit, even winning an Oscar nomination as best picture.
Perhaps the lack of challenge represented by such mass appeal entertainment led him back to the stage. His appearance in a 1971 Los Angeles production of Knickerbocker Holiday earned him some grudging praise for his rendition of "September Song," but otherwise the critics were unenthused. That year, he also recited the alphabet on PBSís Sesame Street.
The rest of the decade represented a decline for the aging actor who was increasingly cast in supporting roles with special billing benefiting his legendary status, or starring in well-meaning projects that lacked commercial appeal.
An ardent supporter of liberal causes and champion of the often controversial American Civil Liberties Union (A.C.L.U.), he was intrigued by the conspiratorial proposition posed by Executive Action, a seedy looking drama that suggested a cabal of wealthy businessmen were behind the assassination of President John F. Kennedy.
Robert Aldrichís 1972 western Ulzanaís Raid drew allusions to Vietnam and won praise from some of the more perceptive critics, but Robert Altmanís Buffalo Bill and the Indians in which he appeared as Ned Buntline, the "creator" of Buffalo Bill (Paul Newman) came and went as quickly as the bicentennial celebrations that were in full gear when it was released in July 1976. Robert Aldrichís 1977 Twilightís Last Gleaming gave the star the leading role of a deranged former Air Force officer determined to expose the truth about Vietnam by threatening nuclear war, but it, too, was a disappointment.
If his name no longer carried much weight at the box-office, Lancaster was still in demand and the price for his services was often beyond the budgets of the filmmakers who wished to hire him. But if Bernardo Bertollucci couldnít meet his asking price for 1900, no problem, Lancaster would do it at no charge. And when the bargain basement budget of Go Tell the Spartans couldnít guarantee the filmís completion, the actor signed a check for $150,000 to insure that the film (judged by Newsweek to be "the best movie yet made about the Vietnam War") would not be abandoned.
With the start of a new decade, things were looking up for the star. Director Louis Malleís first choice for the role of the small-time gangster of 1981ís Atlantic City was Robert Mitchum but the lackadaisical actor wasnít interested. For Lancaster, it represented a major comeback. In addition to earning him the British equivalent of the Academy Award, and best actor citations from both the N.Y. and L.A. film critics, it brought him his fourth Oscar nomination which he likely would have won if Henry Fonda, who had never won an Oscar, had not been a sentimental favorite for On Golden Pond.
By this time, Lancaster, who was becoming active in television with such mini-series and TV movies as Moses, the Lawgiver and On Wings of Eagles to his credit, was suffering from health problems. He collapsed on the set of Cattle Annie and Little Britches in 1980, and underwent open heart surgery in 1982. He remained active throughout the decade, reuniting with Kirk Douglas for the slight but amusing Tough Guys, but he was dismissed from The Old Gringo in 1987 after his heart condition made him uninsurable. A lawsuit he brought against the company was settled out of court, and he went on to appear in five more productions, including the popular Field of Dreams with Kevin Costner before a massive stroke in 1990 led to his withdrawal from the public eye. On October 20, 1994, at the age of 80, he died of a heart attack.
In his last role, as John W. Davis, the lawyer who opposed Thurgood Marshallís attempt to overturn the Supreme Court decision that made segregation in public schools legal, he co-starred with Sidney Poitier. During the production of Separate But Equal, Poitier said of Lancaster, "Heís incredible."
He was, and, thanks to the miracle of film, he will continue to be.
© Copyright 1999, Brian W. Fairbanks. All Rights Reserved.
About the author
On Movies and Criticism
FOREWORD from I Saw That Movie, Too

FILMOGRAPHY
The Killers (1946), Brute Force, Desert Fury, Variety Girl (1947), I Walk Alone, All My Sons, Sorry, Wrong Number, Kiss the Blood Off My Hands (1948), Criss Cross, Rope of Sand (1949), The Flame and the Arrow, Mister 880 (1950), Vengeance Valley, Jim Thorpe-All American, Ten Tall Men (1951), The Crimson Pirate, Come Back, Little Sheba (1952), South Sea Woman, From Here to Eternity, Three Sailors and a Girl (cameo)(1953), His Majesty OíKeefe, Apache, Vera Cruz (1954), The Kentuckian, The Rose Tattoo (1955), Trapeze, The Rainmaker (1956), Gunfight at the O.K. Corral, Sweet Smell of Success (1957), Run Silent, Run Deep, Separate Tables (1958), The Devilís Disciple (1959), The Unforgiven, Elmer Gantry (1960), The Young Savages, Judgment at Nuremberg (1961), Birdman of Alcatraz (1962), A Child Is Waiting, The List of Adrian Messenger (cameo), The Leopard (1963), Seven Days in May (1964), The Train, The Hallelujah Trail (1965), The Professionals (1966), The Scalphunters, The Swimmer (1968), Castle Keep, The Gypsy Moths (1969), Airport (1970), Valdez Is Coming, Lawman (1971), Ulzanaís Raid (1972), Scorpio, Executive Action (1973), The Midnight Man (1974), Conversation Piece (1975), Buffalo Bill and the Indians (1976), The Cassandra Crossing, Twilightís Last Gleaming, The Island of Dr. Moreau, 1900 (1977), Go Tell the Spartans (1978), Zulu Dawn (1979), Atlantic City, Cattle Annie and Little Britches, La Pelle (1981), Local Hero, The Osterman Weekend (1983), Little Treasure (1985), Tough Guys (1986), Rocket Gibralter (1988), Field of Dreams (1989). As Producer only: The First Time (1952), Marty (1955), The Bachelor Party (1957), The Rabbit Trap, Cry Tough, Take a Giant Step (1959), Season of Passion (1961). As Director: The Kentuckian (1955), The Midnight Man (co-director and co-author with Roland Kibbee) (1974).
Television Movies and Mini-Series: Moses, the Lawgiver, Victory at Entebbe (1976), Marco Polo (1982), Scandal Sheet (1985), On Wings of Eagles, Barnum (1986), Control (1987), Sins of the Fathers (1988), The Jewelerís Shop, The Betrothed (1989), The Phantom of the Opera, Voyage of Terror: The Achille Lauro Affair (1990), Separate But Equal (1991).
Miscellaneous Television Appearances: "Sesame Street" (1971), Donahue (1986).
More Actor Profiles

Review of Burt Lancaster: An American Life by Kate Buford

Previously published at
BACK TO