Anthony Perkins

Actor Profile:
ANTHONY PERKINS
(1932-1992)
Anthony Perkins began his career as a teen idol of sorts, impressing young girls with his awkwardness and diffident charm as Gary Cooperís son in 1955ís Friendly Persuasion, but within five years his image would be dramatically and permanently altered. As Norman Bates in Alfred Hitchcockís Psycho, Perkins would give birth to a character that would become a stereotype in cinema, that of the shy, seemingly harmless boy next door who is both a sex pervert and a murderer. Perkinsí greatest role also became a curse. The actor became so identified in the public mind with the knife wielding, cross-dressing, and highly strung Norman that his Hollywood career went into an almost immediate decline. Late in his career, Perkins seemed to accept his identification with his most famous role, even going so far as to say, "I am Norman Bates."
He was born April 4, 1932, the son of actor Osgood Perkins who died when Tony was five years old. The elder Perkins was 30 before he became a professional actor, but his son was already a member of Actorís Equity by the age of 15. He started in summer stock. "I began as an off-stage bat-howl in Dracula," he joked to the press in 1959, and though that statement may not have been literally true, it was his way of suggesting he worked a variety of unglamorous jobs in theater before finally taking to the stage. What his first director saw when he hired him was "a boy who would also sweep up the place, clean up paint buckets, and nail scenery together."
Eventually he was given the opportunity to act and he appeared in such plays as Junior Miss, George Washington Slept Here and My Sister Eileen before moving on to Rollins College productions of Harvey and The Importance of Being Earnest.
Determined to break into movies, his ambition paid off when a trip to Hollywood led to his being cast in 1953ís The Actress. Though impressed by star Spencer Tracy , he was not enamored with the film or his performance. "I thought Iíd given a very callow performance in a slight romantic picture, and I was critical of what I saw in Hollywood."
Heading back to New York, he hunted for television roles in between classes at Columbia University. There were parts on Studio One, G.E. Theater, and other familiar legends from the Golden Age of Television, and, finally, success on Broadway as the successor to John Kerr as the sensitive college boy suspected of homosexuality in Robert Andersonís Tea and Sympathy. His performance won praise from tough as nails critic Brooks Atkinson who felt that Perkins offered a "mature performance of an immature role."
In 1956, a Goodyear TV Playhouse production titled Joey in which he sang "A Little Love Goes a Long, Long Way" led to a recording contract, first at Epic Records, then at RCA Victor. It was a course that many other "teen idols" would also take, and a teen idol is exactly what the lanky six footer was becoming. Nonetheless, the singing career was not a success. "Nobody played Ďem," he said of his three solo albums, "nobody bought Ďem, as far as I can determine."
Luckily, by yearís end, his acting career would take off in a big way. Directed by William Wyler, Friendly Persuasion is a film much beloved for its warmth and unpretentious depiction of Quaker life. As Josh Birdwell, the thoughtful son of Gary Cooper and Dorothy McGuire, the 24 year-old Perkins earned an Oscar nomination as best supporting actor.
Like many another young actor who achieved stardom in the wake of James Deanís emergence as a rebel without a cause, many of the roles Perkins was offered could best be described as "misunderstood." In the western, The Lonely Man, he was the son of a repentant outlaw (Jack Palance) hoping to reconcile with the son he abandoned years before. A father and son relationship was also at the center of 1957ís Fear Strikes Out.
The disturbing account of the events leading to baseball player Jim Piersallís mental breakdown, Fear Strikes Out is one of Perkinsí most powerful performances. "Tony lived his role," director Robert Mulligan said, "and his tortures were real." With a subtly monstrous Karl Malden as the father who pushes his son beyond a point that he can handle, Perkins slowly unravels in an extraordinary portrait that made the real Piersall seem worthy of sympathy. In recent years, Perkinsí remarkably sensitive portrayal has been criticized by everyone from Piersall (who insensitively complained that a "fag" played him in the movie) to Kevin Costner who has snickered at Perkinsí alleged lack of believability in the baseball scenes. Such ignorant carping misses the point, of course. Fear Strikes Out is not about baseball, but a sonís inability to satisfy his fatherís unrealistic ambitions and the toll it takes on his psyche. Whatever faults Perkins may have had as a baseball player were more than compensated for by his stunning portrait of Piersallís mental collapse. As Laura Kay Palmer observes in her book, Osgood and Anthony Perkins, other actors may have played baseball more believably, but "No one else could freak out in Fenway Park like Anthony Perkins."
The Tin Star, another western, this time with Perkins as a sheriff tutored by bounty hunter Henry Fonda, was not a worthy follow-up, nor was Desire Under the Elms with Sophia Loren or the genteel comedy of The Matchmaker with Shirleys Booth and Maclaine. The pretentious Green Mansions was a disaster all-around with both Perkins and Audrey Hepburn miscast.
Stanley Kramerís On the Beach was pretentious, too, as any film dealing with the end of the world is bound to be, but it was better than most. Off-screen, Perkins earned the admiration of co-star Fred Astaire. "He was terribly, terribly nice to me," the legendary dancer said. "He knew that I was concerned about playing my first serious part, and I used to talk to him about that."
Then came the most pivotal year in Anthony Perkinsí career: 1960.
It started innocently enough with the starring role in the Broadway musical Greenwillow which closed after 95 performances. At the movies, there was the innocuous Tall Story, a none too amusing and dated comedy with Jane Fonda as a college girl with eyes for the basketball teamís star athlete (Perkins).
And then there was
.
After its June release, Anthony Perkins would never be the same again.
Except for the presence of Alfred Hitchcock behind the camera, there was little about Psycho to suggest the impact it would have. Made quickly and cheaply at Universal studios with the same crew the director employed for his then current TV anthology series, there was even talk of the film airing as a two-part segment of that show when the original distributor, Paramount, had misgivings about its violence.
Psycho was released, of course, and it was a sensation. With his nervous ticks and conflicting air of sweetness and menace, the actor inhabited more than the skin of his character. He plunged deep into Normanís soul, as well as the soul of Normanís mother. A remarkable, and remarkably subtle performance, Norman Bates, thanks to Perkins, is one of the most unforgettable characters in the history of cinema, "the Hamlet of horror," as he himself had wisely suggested.
Perkinsí performance may have been too good. "I am ashamed of your fellow actors," Hitchcock told his star via telegram after Perkinsí work was ignored come Oscar nomination time.
Prior to Psycho, no one had thought of him as homicidal or even odd except in a shy, anxious way. In fact, Hitchcock was very cleverly casting against type when selecting his star. It was the novelty of casting Perkins that won over screenwriter Joseph Stefano who had little enthusiasm for the task of adapting Robert Blochís novel in which Norman Bates was a seedy 40 year-old. "I suddenly saw a tender, vulnerable young man you could feel incredibly sorry for." Moviegoers in France were not so quick to associate the actor with the knife wielding young man of the Hitchcock thriller. After his role as the young American pursuing Ingrid Bergman in 1961ís Goodbye Again, he became the Elvis Presley of Paris, a teen idol whose dress and hairstyle were widely emulated by French teenagers. He was also named best actor at the Cannes Film Festival.
Appreciative of his cult status, he remained in Europe throughout much of the 1960s for Phaedra, Orson Wellesí adaptation of Kafkaís The Trial, Five Miles to Midnight, and Claude Chabrolís The Champagne Murders among other films, and would return to make more films there in the next decade. Working in foreign films gave him a chance to escape Norman Bates, but upon his reentry into American films, he was back in psycho territory for Pretty Poison. The 1968 film which has gone on to achieve cult status, cast Perkins as a disturbed young man recently released from an institution where he was sent after killing his aunt. More at home in his own fantasy world than reality, he soon hooks up with a majorette played by Tuesday Weld who proves to be more disturbed than he is.
But the movie roles were becoming infrequent. The next two years found him directing theater, including an Off-Broadway production of Bruce Jay Friedmanís Steambath in 1970. The same year, he starred in How Awful About Allan, a made for TV thriller that, despite its cast (Julie Harris and Joan Hackett co-starred) and Curtis Harrington behind the camera, never quite hit its target.
Mike Nicholsí big-screen adaptation of Joseph Hellerís acclaimed novel Catch-22 might have been a success had the book not cast such a long, imposing shadow, and if Robert Altmanís M*A*S*H not already proven such a big success. In an all-star lineup that included Alan Arkin, Orson Welles, Bob Newhart, and Art Garfunkel, Perkins appeared as the chaplain who tries to comfort the men, but only manages to make them uneasy.
On the surface, WUSA was impressive, too. Produced by Paul Newman who co-starred with wife Joanne Woodward, the heavy handed political drama was seen by some critics as the left-wing equivalent of John Wayneís widely condemned gung-ho and right-wing take on Vietnam in The Green Berets. It was an embarrassment for all involved except Perkins, who managed to make his initially gentle characterís transformation into an assassin very believable even in a less than believable script.
It was back to France for Someone Behind the Door co-starring another husband and wife team of note, Charles Bronson and Jill Ireland, and to star again for Claude Chabrol in the lifeless Ten Days Wonder which also reunited him with Orson Welles for their third film together.
Universalís Play It As It Lays was every bit as pretentious as its title, but, on the plus side, it reteamed him with Tuesday Weld. "Making Pretty Poison, Tuesday and I had several severe disagreements," he said. However, Weld specifically requested him for the role of her husband, a request that director Frank Perry granted because "Tony was so incredibly right for the part...." Unfortunately, not only was Play It As It Lays pretentious, but the film, based on a Joan Didion novel, was a dull affair with little beyond its stars to recommend it.
His terrific and amusing cameo in The Life and Times of Judge Roy Bean was less notable than the off-camera relationship he had with co-star Victoria Principal. At age 39, Perkins had his first sexual experience with a woman, and in the following years he would enter psychotherapy in an attempt to turn from his homosexuality. Marriage to Berry Berenson (pictured at left, she was a passenger on the first plane to strike the World Trade Center on 9/11 ) and the birth of two children did give the actor a taste of a more conventional life.
He next added screenwriter to his resume. With Broadway legend Stephen Sondheim, he wrote The Last of Sheila, a clever whodunit that won the two amateur screenwriters the Edgar Allan Poe Award in 1974 for the best mystery screenplay.
A more established author of mysteries, Agatha Christie, wasnít the only attraction of Murder on the Orient Express. An all-star cast that included Albert Finney, Sean Connery, and Lauren Bacall brought the audience out in big numbers for this handsome, though sometimes sluggish, mystery. Perkins was especially memorable as the nervous secretary to villainous millionaire Richard Widmark.
Peter Shafferís Equus was already a hit on Broadway when Perkins was asked to replace Anthony Hopkins. Perkins didnít think he was right for the role of the psychiatrist who analyzes a boy who blinded six horses, but director John Dexter insisted he take it. Although his success in the play was overshadowed by his more flamboyant replacement, Richard Burton, who had been promised the lead in the film version, Perkins won acclaim for his performance.
"Kitsch" may be the fashionable way to describe Mahogany, the 1975 film that Motown founder Berry Gordy executive produced and directed for ultra-diva Diana Ross. Looking sensational throughout, Ross is an aspiring fashion designer who finds fame and fortune as a model while being wooed by a politically active Billy Dee Williams. As the gay photographer who guides her to the top, Perkins used his entire bag of tricks (twitching, mock laughter) from every previous psycho he had played. If he overdid it a bit, the results were in keeping with the stylishly shallow tone of the film. Mahogany is very entertaining in its trashy way, and Perkins provides most of the fun. Some offbeat assignments followed, such as hosting duties on Saturday Night Live, Alan Rudolphís Remember My Name, Disneyís The Black Hole and a particularly visious villain who battles Roger Moore in ffolkes, but with Norman Bates always lurking behind him in the publicís eye, the sequel-mania that was sweeping through Hollywood seemed destined to affect him, too.
Other actors could play James Bond or Sherlock Holmes and meet with public approval, but Norman Bates was a different matter (as Vince Vaughn would discover when playing the role in the disastrous 1998 remake). In the early 80s, with Alfred Hitchcock safely in the grave and in no condition to protest, Universal, which had acquired the rights to Psycho from Paramount, decided a sequel was in order. Naturally, they came calling on Anthony Perkins. Psycho II was originally conceived as a way to cash-in on the "splatter" film trend that began with 1978ís Halloween. Since that John Carpenter film was often compared to Psycho, it was assumed that Hitchcockís masterpiece was the granddaddy of the gratuitously violent genre.
Under the confident, if undistinguished, direction of Richard Franklin, 1983ís Psycho II benefited from a clever screenplay by Tom Holland. What really made it work, though, was Perkins who was attracted to the sequel because "It really represented Normanís story. Psycho was about Janet Leigh and her activities and Norman and his mother were brought in more for local color."
Twitching to perfection, and pronouncing "cutlery" in such a way that, once heard, it was not likely to be forgotten, he was once again superb. Those critics who did not consider a sequel to a masterpiece a blasphemous act were kind to the film, and it sold enough tickets to nab a place among the 10 biggest grossing films of the year.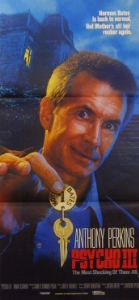 But its success also seemed to reinforce the notion that Perkins and Norman Bates were one and the same. His next film, Ken Russellís Crimes of Passion further capitalized on that belief. As the deranged reverend obsessed with a call girl (Kathleen Turner), he was a seedy delight, and he impressed his director with his commitment and creativity. When released in 1984, the film generated more talk than ticket sales, however, due to sexual content that required extensive editing to avoid the dreaded X rating. Perkins was soon back at Universal for Psycho III. Aware that it was hard enough to land a quality director for a sequel, let alone a sequel to a sequel, Perkins offered to direct the film, as well as star. Psycho III treats Norman more sympathetically than ever, as he wrestles with his demons while courting and being courted by a lovely woman (Diana Scarwid) whom he has saved from a suicide attempt. There are some touching moments, as well as some amusingly ghoulish ones, and Perkins shows himself to be a very confident and capable director.
Released in summer 1986, Psycho III was a box-office failure, and Norman Batesí big-screen career came to an end. Norman would be back for a 1990 cable TV movie that reeked of desperation, but mercifully there were a few other worthy roles for his creator before the curtain came down a final time. Edge of Sanity was unceremoniously dumped into second-run theaters in 1989, but it deserved a better fate. This retelling of Robert Louis Stevensonís classic Dr. Jekyll and Mr. Hyde is vibrant in its anger, and Perkins is disturbingly effective, as well as effectively disturbing.
Perkins learned he had AIDS the same way millions of grocery shoppers did: courtesy of a 1989 headline in The National Enquirer. Once revealed, he neither confirmed nor denied the report, choosing to keep quiet about his personal tragedy because, as he said in a posthumously released statement, "The problems of an old actor donít amount to a hill of beans in this crazy world." With his wife, he worked on behalf of Project Angel Food, a non-profit organization that delivered meals to AIDS patients. He died on September 12, 1992 at the age of 60. The rest of his statement suggests a philosophical attitude toward his illness, but a somewhat bitter one toward Hollywood:
"There are many who believe this disease is God's vengeance. But I believe it was sent to teach people how to love and understand and have compassion for each other. I have learned more about love, selflessness and human understanding from people I have met in this great adventure in the world of AIDS, than I ever did in the cutthroat, competitive world in which I spent my life."
Intelligent, highly sensitive, and extremely gifted, Perkins did have at least one thing in common with the character that would make him a legend. Like Norman Bates, he was forever an outsider, a quality that no doubt brought an unnerving truth to his characterizations and a strong pathos to his work in such films as Fear Strikes Out and Play It As It Lays.
But even though Perkins and Norman Bates are interchangeable in most peopleís minds, the majority of his films find him breaking from the image he acquired and displaying a versatility that the continuing popularity of Psycho tends to obscure. If his performance in Hitchcockís film were his only contribution to the cinema, Anthony Perkins could still rightfully claim an esteemed place in celluloid history. But rarely seen films like Loviní Molly and Remember My Name demonstrate that there was much more to him than Norman Bates. For those who know him only through Psycho, its sequels and imitations, his true versatility has yet to be discovered.
© Copyright 1999, Brian W. Fairbanks. All Rights Reserved.
MORE ON

On Movies and Criticism
FOREWORD from I Saw That Movie, Too

FILMOGRAPHY:
The Actress (1953), Friendly Persuasion (1956), The Tin Star, Fear Strikes Out, The Lonely Man (1957), The Matchmaker, Desire Under the Elms, This Angry Age (1958), Green Mansions, On the Beach (1959), Tall Story, Psycho (1960), Goodbye Again (1961), Phaedra (1962), Five Miles to Midnight, The Trial, Two Are Guilty (1963), The Ravishing Idiot (1964), The Fool Killer (1965), The Champagne Murders, Is Paris Burning? (1966), Pretty Poison (1968), WUSA, Catch-22 (1970), Someone Behind the Door (1971), Play It As It Lays, The Life and Times of Judge Roy Bean, Ten Days Wonder (1972), Loviní Molly, Murder on the Orient Express (1974), Mahogany (1975), Remember My Name (1978), Winter Kills, Twice a Woman, The Black Hole (1979), Double Negative, Ffolkes (1980), Psycho II (1983), Crimes of Passion (1984), Psycho III (1986), Destroyer (1988), Edge of Sanity (1989), Demon in My View, The Naked Target (1991).
DIRECTOR: Psycho III (1986), Lucky Stiff (1988).
SCREENWRITER: The Last of Sheila (1973).
TELEVISION MOVIES AND MINI-SERIES: How Awful About Allan (1970), First, You Cry, Les Miserables (1978), For the Term of His Natural Life (1982), The Sins of Dorian Gray (1983), The Glory Boys (1984), Napoleon and Josephine: A Love Story (1987), Daughter of Darkness, Iím Dangerous Tonight (1990), Psycho IV: The Beginning (1991), In the Deep Woods (1992).
UNSOLD SERIES PILOT: Ghost Writer (1992)
MISCELLANEOUS TELEVISION APPEARANCES: Kraft Theater, Armstrong Circle Theater, Man Behind the Badge (1954), G.E. Theater, Windows (1955), Studio One, Front Row Center, Goodyear Playhouse (1956), The Ed Sullivan Show, US Steel Hour, Big Story, Theater Guild on the Air, The Steve Allen Show, Person to Person (1957), Look Here, The Jack Paar Program, American Bandstand (1958), Hedda Hopperís Hollywood, Whatís My Line (1960), The World of Sophia Loren, Password (1962), Iíve Got a Secret, Whatís My Line (1963), ABC Stage 67 (1966), Password, The Male Animal (1967), Saturday Night Live (guest host, 1976), The Horror Show (host), The American Film Institute Salute to Alfred Hitchcock (host, 1979), CBS News Nightwatch (1983), Late Night with David Letterman (1984), The Best of Broadway (1985), The Tonight Show (1986), Faust, Evening at the Improv (1989), The Horror Hall of Fame, Chillers (1990)
More Actor Profiles

Previously published at
Email: brianwfairbanks@yahoo.com