Cycling Adventures in Colorado - 1996
Welcome to my online photo album.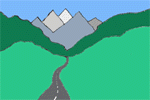 Vacation Pictures of 1996 biking trip to Colorado
Here are some pictures of great tour I did the mountians of Colorado in 1996. This tour was an eight day solo tour from Colorado Springs to Leadville via Breckenridge and back via a three day downhill along the Arkansas River. I took this trip with a Trek 2120 with rear panniers for clothes and supplies. I stayed in motels and youth hostels as I could not carry the weight for camping gear on this bike. This is a taste of what is to come in 1999 where I plan to do an extended self-contained tour around the San Juan Mountains visiting places like Durango, Mesa Verde, Silverton, Ouray, Telluride to name a few. You might want to join me next year for tremendous scenery, sunny weather, no humidity, exhilarating mountain passes and great downhills.
last update 12/29/98
Colorado Map of eight day solo tour August 5, 1996 to August 12, 1996 370 miles 11,000' vertical climb. Woodland Park to Fairplay, Co; Fairplay to Breckenridge, Co; Breckenridge to Silverthorne, Co; Silverthone to Leadville, Co; Leadville to Salida, Co; Salida to Canon City, Co; Canon City to Colorado Springs, Co.
Downtown Colorado Springs and Pikes Pike viewed from Palmer Park
---
North Cheyenne Canyon Drive
---
---
Valley of the Gods, Colorado Springs, Co
---
On the route to South Park, looking back at Pikes Pike.
---
At Wilkerson Pass you can still see Pikes Pike in the distance
---
The top of Wilkerson Pass (9,507') after a long,long uphill pedal.
---
From Wilkerson Pass looking across South Park and the Colorado Rockies in the distance.
---
At Hartsel only 17 more miles of barren country to reach Fairplay at 10,000'.
---
A rare shade tree on this side of the barb wire and a chance to rest a cool off in the 100 degrees.
---
Route 76 a state bike route to Fairplay, Co.
---
Old Western town museum in Fairplay.
---
Gold trailings from the gold rush days north of Fairplay.
---
At Alma the road starts up the 4 mile climb to Hoosier Pass.
---
Near the top looking back at the road from Alma, Co.
---
Mountian view at one of the rest stops to the pass.
---
I made it to the top of Hoosier Pass, it wasn't so bad afterall.
---
A lone cyclist pedaling to the top of Hoosier Pass (notice he has no packs on his bike).
---
Breckenridge, Co.
---
Fireside Inn (AYH) where I stayed in Breckenridge.
---
Dillon Reservoir.
---
dirt trail to overlook view.
---
View of Dillon Reservior.
---
bicyclist using the dillon Reservoir bike trail which connects Breckenridge, Dillon, Frisco and Silverthorne.
---
Took in some downhill mountain biking at Keystone Resort. Take the gondola up and ride down the service roads and ski trails.
---
Back on the bike path from Frisco to Copper Mountain.
---
After a long 7% grade for many miles one reaches the anticlimatic top of Fremont Pass.
---
Behind the only motel (building)in Kobe there's a great view of Mt Elbert Colorado's highest peak (14,433ft).
---
Early morning sun melted the frost.
---
Twin Lakes and the mountains beyond on rt 82 that goes to Aspen, Co.
---
Collegiate Peaks.
---
Collegiate Peaks west of Buena Vista.
---
Overlooking the Arkansas River somewhere between Coaldale and Parkdale.
---
Rafters on the Arkansas River.
---
Looking down 1,200 ft into Royal Gorge.
---