Wild Bill Hickok's engraved 1851 Navy Colt on display in the
Autry Museum of Western Heritage located in Los Angeles, California.
One of a pair of matching presentation Colts,
the other one resides in the Buffalo Bill Museum located in Cody, Wyoming.
"Deep within every dilemma is a solution that involves explosives"
- Joe the Circle
Web Sites That Sell Black Powder Revolvers:
The Authentic Colt Blackpowder Signature Series
Brocock's Air-Pistols (no kiddin')
C&J's Hunting and Fishing
(click on "Product Lines" in Welcome Menu, and then click on "Hunting and Shooting", select "Category" and GO, and then scroll down to "Black Powder")
Chattahoochee Black Powder Arms
Eders Hunting
(scroll down to "Hand Guns")
Great prices if you happen to live In Hungary
Jedediah STARR Trading Company
The North American Arms Companion
Replica Percussion Revolver Collector's Association
Southern Trading

Taylor's & Co., Inc.
Traditions Performance Firearms
Upper Mississippi Valley Mercantile Co.
Gold inlay Colt Dragoon
Interesting Historical fact: Mounted soldiers were once known as "Dragoons".
After the Civil War, mounted soldiers became the "Cavalry."
Sutlers:

there is a God!
Civil War Vintage:
Civil War Battleground Antiques,Inc.
Dave Taylor's Civil War Antiques
Jon Feazell Civil War and Antiques
Middle Tennessee Civil War Relics
Sherwoods Spirit of America

Shiloh Civil War Relics



Non-firing Replicas:
1ABC Store

BroderickCom

Brubakers

Camelot

Civil War

Civil War Mall

Collector's Armory

Excaliber

First Line Industries

Kope's

Lone Star Cowboy Gear

Maxsell's

Old West Cowboy Store
Tuscany Trading Company



Cartridge Conversions
History of the Cartridge
The introduction of the self contained bullet and powder filled cartridge was a logical next step in the evolution of the gun. For nearly two centuries, the flintlock had been the state-of-the-art firing mechanism. Towards the end of the eighteenth century, the flintlock was replaced by the percussion lock , which represented a significant improvement in efficiency. This advancement in weapons technology also made possible the multiple-shot revolver. Early attempts at this include the "Pepperbox".

In 1837 Samuel Colt invented the world's first practical multiple-shot revolver, the "Paterson Revolver" (named after Paterson, New Jersey, where Colt had his shop). Having once been a sailor, Colt applied the mechanism that raised a ship's anchor to the rotating cylinder of his revolver. And then in 1847, based upon input from Captain Samuel H. Walker of the Texas Rangers, Colt produced the " Walker Colt " - a huge .44 caliber gun. The magnum of its day. There was a saying back in the days after the Civil War, "Abe Lincoln may have freed all men, but Sam Colt made them equal."

With the sudden advancement in weaponry, it didnít take a great leap of inventiveness to come up with the concept of paper cartridges. During the Civil War, paper cartridges, which comprised measured amounts of powder, wad, and ball were regularly issued to the military. Soldiers would bite off the ends of the paper and pour the contents into the barrels of their weapons and then pack the contents down. Cartridges were also produced made of paper which had been soaked in nitrate, making the paper highly combustible. The entire cartridge could be packed into a gun and then fired. This, of course, significantly cut down the time needed to reload. It also made the contents of ammunition pouches highly combustible and susceptible to disastrous explosions. There were also occassions when the cartridge wouldn't fire, leaving a soldier with the contents rammed in his weapon.

In 1856 the Smith & Wesson Co. produced the world's first metalic cartridge breech loaded revolver. This was a phenomenal breakthrough in firearms. No longer was it necessary to pack powder, wads and balls, and then install caps. Everything was in one package and needed only to be inserted into a gun. A former Colt employee, Rollin White, had patented a revolver design with cylinders bored end-to-end. He had approached Sam Colt with his new design that would accomodate metalic cartridges, but Colt felt that the cap & ball revolver would never be replaced. Daniel Wesson heard of White's design, and in November of 1856, a meeting was set up with Rollin White in which they agreed upon an arrangement giving Smith & Wesson exclusive license to manufacture bored-through cylinders. Needless to say, at the outbreak of the Civil war, the Smith & Wesson .32 caliber Revolver was in great demand. Orders for this revolutionary gun were so many that Smith & Wesson found their staff of twenty five hopelessly mired in back orders and unable to keep up with demand. At one point they were forced to stop taking new orders.

So, why didn't Colt follow suit and also produce a cartridge gun? The reason is because Smith & Wesson owned the patent. And why didn't the United States supply the Army with this more advanced gun? As mentioned, Smith & Wesson couldn't produce them fast enough. Also, the Colts were less expensive, produced en masse, and the South had nothing better, anyway. So Colt got the contract to supply the Army. Meanwhile, the South was manufacturing their own black powder revolvers produced by Griswold & Gunnison . The frames of these revolvers were made of brass, as the South was limited in its steel resources. As a matter of fact, the good people of Macon, Georgia donated the brass bells from their churches, save one, to be melted down for cannons and guns.

During this same period, Remington manufactured a cap & ball revolver which was actually a more practical weapon than the Colt, and those soldiers who could afford a Remington, bought them as their personal combat weapons. What made the Remington more desirable than the Colt was that the Remington had a top strap, making the gun stronger, and the cylinder removal and replacement system was much faster and more efficient than that of the Colt. Reloading a cap & ball revolver is a delicate, time-consuming procedure, virtually impossible under fire. Typically, soldiers armed with revolvers carried several pre-loaded cylinders so that they could replace their spent cylinder with one that was ready to fire. In this respect, the Remington was the gun of choice. Clint Eastwood, in a gun fight scene from the movie Pale Rider, gives an exemplary demonstration of replacing the cylinder on a Remington.

Speaking of the movies, those early Hollywood Westerns crack me up. What is supposed to be taking place during the post-Civil War years depicts everyone running around with Colt "Peacemakers" which weren't produced until 1873. They're also sporting Hollywood gun-slinger type rigs which never existed in the Old West! One of the most accurate representations of what Westerners actually carried is depicted in Crossfire Trail starring Tom Selleck. His side arm is the most advanced and sought-after gun of its day - a Smith & Wesson break-top revolver. I personally got all misty-eyed when, in a gunfight, Selleck pulled out his back-up gun - an old Colt conversion. And do you remember the 50's TV series, Wild Bill Hickok, starring Guy Madison? The only thing historically accurate in that show were the backwards facing guns. Guy Madison packs a pair of shiny, stag-grip 1873 Colts holstered in a fancy rig with backwards left and right holsters. That show also enlightened us with a little known historical fact. Apparently, Wild Bill Hickok palled around with a comedy-relief sidekick named "Jingles" ( Andy Devine). At any rate, the real Wild Bill Hickok carried a matching pair of beautifully engraved 1851 Navy Colts with sculptured ivory handles, which he kept tucked in his belt with the butts facing forward. They were never converted for cartridges. It is interesting to note that when Wild Bill Hickok was murdered while playing Poker in Saloon #10 in Deadwood, SD, 1876 (while holding what has since become known as the "Dead Man's Hand" - aces and eights), He was carrying a Smith & Wesson .32 caliber revolver.

But I digress. In 1870 Smith & Wesson's patent ran out. Colt immediately began converting their cap & ball revolvers to cartridge guns. Two employees of the Colt Firearms Co., Charles Richards and William Mason, obtained a patent on the means by which a cap & ball revolver could be converted to fire cartridges. The rear end of the cylinder was sawed off and the holes machined to accommodate cartridges. A loading gate was added behind the cylinder, the powder-packing lever was removed, the recess plugged, and a shell ejector added to the side of the barrel. The U.S. Army submitted their weapons for conversion. In 1870, a person could mail his black powder revolver to the Colt Factory and, for five dollars, have it converted. This was the gun that moved out West. To own a Colt Conversion is to own a unique piece of American history!
Epilogue
In 1871, Colt produced its first dedicated cartridge revolver. It was essentially a modified black powder revolver with the distinctive open top. Getting back to the movies, the Colt Open-Top Revolver is featured in The Outlaw Josey Wales starring Clint Eastwood.

In 1873, Colt introduced the .45 caliber Single Action Army revolver - the famous "Peacemaker" - the Colt .45! The rest is history.

- Bruce Tackett, 2001
Web Sites That Sell Cartridge Conversions, Gunsmiths who Convert, and Dealers of Antique Conversions
Kirst Cartridge Converter
Arm Chair Gun Show - Remingtons
1851 Navy Cartridge Conversion Manual
Black Powder Accessories
L & B Custom Gun Grips
Militec-1: THE ULTIMATE METAL CONDITIONER AND LUBRICANT
The Blackpowder Shooter's Resource Guide
Black Hills Ammunition: Cowboy Action Ammunition
Pyrodex: The Muzzleloading Propellant







A thing of beauty
Holsters
Historically Accurate Holsters
Carrico's Leatherworks
Leather Goods
Old West Reproductions, Ltd.
Texas Jack's Gun Leather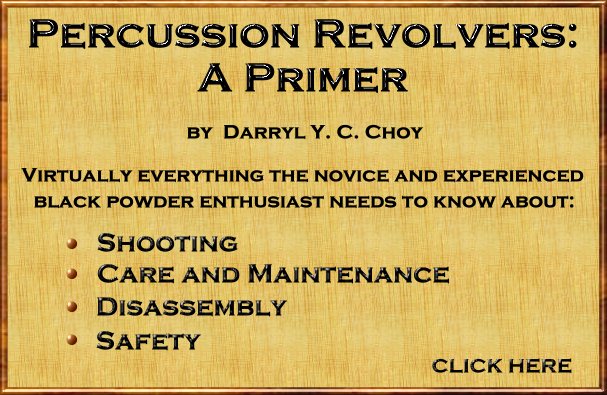 Know of any other web sites that sell black powder revolvers?

E-MAIL ME
While in town, visit:
The Black Powder Revolver Message Board
Want to swap? buy? sell? Make contacts? Share information? Ask questions? Answer questions?
This is the place to do it!
Support Your Second Ammendment Rights!

(You don't have to own a gun to be a member)
"Just wanted to let you know how much we appreciate your site! I personally go to it almost every day. I am a reenactor and all our company uses your site. Thanks alot and God Bless!"

- L.W.

This Civil War Circuit Site owned by Shenandoah