EIGHT YEARS OF GROWING NAILS. WHY?
"PLEASE",REMEMBER THIS IS A "G" RATED WEB PAGE THAT WILL BE VIEWED BY PEOPLE OF ALL TYPES. THIS INCLUDES CHILDREN! NO PORNOGRAPHIC SIGNINGS, OR SEX RELATED COMMENTS."
.
My Sincerest Appology for such a long delay in updating of my page.It Is now Updated! Video's will be added to a new page coming soon!I am also getting my Long Awated Computer. I should Be on Line next Weekend.
Please,I know you are all upset with me for my delay.New pictures are on the way.
I also Have a Yahoo E Nail you can also contact me at..............
My Nails Now Have been Growing 8 Years and They Look musch different that you see in these pictures. I will be adding A Photo album to this site Just for The New Pictures I will be taking.I will also Be contacting many of the Yahoo Groups to advise of My new E Nail Addresses
Hello all its Shelly-Anne, I've been trying to answer as many e-mails as I can. I really am blessed to have such wonderful people checking my site and giving me loads of great feed back and support.Thank you all for your many kind thoughts and comments,and don't worry my "DVD" is still comming out as well as some other treats so stay with me people,later.
"
UPDATED 03 28-03
Hi ! It's Now 8 Years that I have been growing my Nails. I will be posting some new pictures and some pictures from my trip to London. I thank you all for being so patient with me and the webmaster. All of us have been busy in many aspects of life. But, we are still here and the Nails are still growing. Thank You all for your e mails, and comments. I am going to be on the cover of a new magazine "Statement News" here in NYC.
Hi, Well I heard the show. I'm so Glad I did not get the opportunity to be Slandered, Belittlled, Taunted, Harrassed, Mentally and Emotionally Baggered,Attacked, Made to look like a fool, and anything else that makes the "Show " a "Show". Howard Stern and hius team are too much to try o handle. I feel for the ladies who were coersed into appearing on the show. Some things make you say"Hmmmmmmmm". Well, I am of on vacation Next Week Nov. 4th "See Ya"!And, I will be celebrating my birthday on the 15th of November. So I expect to hear from all you you by e mail or message board with a positive word or two.
I also hope to be completing the long awaited video of "My Life With Nails". Before the end of the year.Yes, it has been a long project, but good things come to those that wait.
I also hope to add some new pictures from my trip. You can e mail me and check the alternate page if this one is down Due To So many People visiting. Thanks again for your continued interest in My Web Site
Love..........."Shelly-Anne"
It is Still Underconstruction but Keep It Book Marked when this page is Down

"www.angelfire.com/ny5/shellyanne"
I have only had ONE off beat message from an individual who seems unable to respect my only request, "Respective". That means Even In Your E mails and Guest book signings. You don't realize that there are many people from many walks of life and many children who find their way around the internet.Any Vile remarks, or profanity or uncooth remarks or postings will not be tollerated and will be removed an blocked from communication.Please Respect Yourself!
I 'd like to say hello to all the interesting people I have been meeting since the start of this web site. I hope to soon complete my long awaited video. Also, I am starting a new page for my new video scans and some video clips of my video.
I have been cotinuing to recieve very nice interesting comments and thoughts about my nails and my web site. Since you "ALL" have been so wonderful with your interest in my web site,I have added a "NEW" picture for you to see. If I did'nt tell you before, I am a fan of the Artistry of Tattoos!
SO!,
I Hope You Like This one of My Back
Just Added To My Web Site, "VIDEO CLIP"
Let me know if it works OK. You Can reach me thru the E Mail below. Yes, It works NOW!
I WANT TO SAT THANK YOU ALL FOR YOUR FANTASTIC RESPONSE TO MY FIRST WEB SITE. YOU ALL HAVE BEEN VERY RESPECTFULL AND GENTELMEN AND WOMEN AS WE SHOULD BE.I WANT TO THANK ALL THE YOUNG CHILDREN WHO HAVE VISITED MY WEB SITE SEEKING INFORMATION ABOUT PEOPLE LIKE ME WHO HAVE.........."Extrordinary Long Growing Fingernails".
PLEASE SIGN MY GUEST BOOK, I DO CHECK IT OFTEN DAILY.I THANK ALL WHO HAVE BEEN FREQUENTING MY PAGE AND SIGNING MY GUESTBOOK.
YOU CAN SIGN HERE

View My Guestbook
Sign My Guestbook

I Want You To Meet some Of The Other Ladies That Have Extra Long Fingernails Like I Do"
Meet My Friend "Ayanna" and her fascinating nails
"Thank You" Herb Lasker for Your work and efforts in bringing us more pictures of other women with Long Nails. Here is another picture of "AYANNA"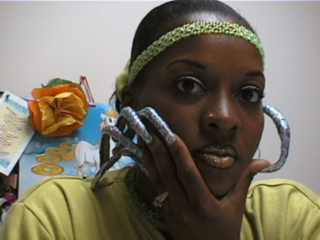 "Meet My Friend "Melissa" and her Beautiful Long Nails'
"Another Picture of My Friend "Melissa"
As I meet more and more Women With Long Nails Like Mine, I will Be Adding Their Pictures To My Web Site
TO ALL MY FRIENDS THANKS FOR SIGNING MY GUEST BOOK. I MUST APOLOGIZE FOR NOT REPLYING TO YOUR INPUTS. PLEASE FORGIVE ME. I HAVE SOMEONE TAKING CARE OF THIS WEB SIGHT AND THEY ARE NOT ABLE TO HANDLE THAT TASK.
In regards to my video about"My Life with Long Fingernails", I will make it very informative and NoN X Rated because I want My Children and Other Children to Appreciate My Life Long Task of Keeping My Nails Long !
Check out These First Pictures I am Submitting to The Internet, I hope you like the Pictures. I do Have thousands more pictures. I am also in the process of interviewing experiences I have encountered because of my Long Nails.Video Tapes and C.D.'s of this interview will be available.
Simple "Clouds"
"PRICE "......Video:30.00 for 2hrs VHS or VHS-C Format. I will accept Western Union and , U.S. Postal Money Orders Only
I will Let you know how to Order Pictures , Video's and C.D.'s
Hope You all will stay dedicated to We Women With Extrordinary Long Finger nails.For all who have seen the price change for the video, I have made the cost for a 2 HOUR tape affordable for all.I thing that you will now be able to work it out in your budget. It is not completed yet. I plan to do the final part of the video in a mall.I'd love to get the publics reaction on tape so you all can visualize some of the things that I encounter in public a daily basis due to my Unique Nails.Pleas ebe a littl more patient. I will let you all know when it is complete.I would also like to get your input about upcoming Nail Shows and Tattoo Shows and events. Maybe I'll have a Event Message Board added to my web site.
"NEW PICTURES from April 26th 2003"
"Having fun with The Web Cam"
I Know ,You Want to See More Nails, Right?
Smile!
How do they Look?
Peek a Boo!
My Manicurist Likes This Style
Whoa!
Do You? Please Continue to Sign My Guest Book
The More Entries, The More Pictures You will Get To See!
Hope You Can see them
Sign My Guest Book , I'd Love to Hear From All of You
I Have Completed most Of My Video
Nails are very Interesting Subjects for Photographers
Hi Dave Cutter Hope You like The Site
First Complete Series Of Internet Video Scans
These Pictures are not of the best quality, but I promise You that when the next series of Photos are added to this web site you will truly be AMAZED!
They Are Seven Years Old in This Picture!

They Are Also Almost Unbreakable!jpg

They Are So Hard I am Unable to Cut Them !

Maybe I can Make it on to the Nail Passion Famous For Nails Page!
Nail Passion Famous For Nails Page

What Do You Think?
Did You Know That Long Nails have Nerves in Them?

I was told this by a Doctor who Showed me X Rays of My Nails growing NERVES In Them!

How Ofted Do you see women with Nails Like Mine?

Click Here To View My Web Page!
Shelly-Anne's Life with Long Nails Web Site

I Would Like You All That Have Any Questions, Comments, Compliments, Views, Concerns,and Criticisms Regarding My Very Long Fingernails, Feel Free to Sign My Guest Book. I Have Only One Demand!
My Nails make very Loud Noticable Noises

The Sounds of Them Often Startle People

Do you believe some people are afraid of my Nails!

Everyone tells me they Love My Nails

I Love Them and Could Live Without Them

Can You survive a day with Nails Like These?

"PLEASE",REMEMBER THIS IS A G RATED WEB PAGE THAT WILL BE VIEWED BY PEOPLE OF ALL TYPES. THIS INCLUDES CHILDREN! NO PORNOGRAPHIC SIGNINGS, OR SEX RELATED COMMENTS."
I ALSO REQUEST THAT YOU MAKE NO PRIVATE ENTRIES INTO MY GUEST BOOK. WHY ? IT IS FOR ALL TO SEE, READ, AND LEARN FROM. THANK YOU VERY MUCH! Could You Function doing simple task with your hands?


View My Guestbook
Sign My Guestbook
<
Meet My Friend "Virgina" from Macon Georgia. Here is The Cover Picture From her CD....."Barefoot Girl From Georgia". Very Different!

"YOU TOO CAN HAVE YOUR OWN WEB SITE LIKE MELISSA and SHELLY-ANNE! E MAIL Tony Rankin"
Copyright ©2000Rankin WebSites-© Copyright 2002, Rankin Webs,Inc. All Rights Reserved.Rankin Webs® is a registered trademark of Tony Rankin International.
tonyrankin1@lycos.com
My Favorite Long Nail Web Sites
Meet Melissa and Her Long Fingernails
Dave Cutters Long Fingernail Web Site
Dave Cutter 's Quick Links To Long Nail Web Sites
Jax and Judy Fantastic Toenails Web Site
Page 2 Of My Web Site
Sexy Long Nails Webzine
Sexy Long Nails Quick Link To Very Long Nail Web Sites
Link To NailBytes.Com Quick Links
Visit Adre's You've Got Nails web Site
Meet Ruth Ward and Her Super Long Nails
Nail Passion Web Site
First Video Clip On My Web Site. The Resolution is not the best, but it's more like a trial run.Keep Signing My Guest Book.
Women in Thailand Have Nice Nails

Email: sbartlette02@sprintpcs.com