On D-Day, June 6, 1944, the Normandy Invasion of UTAH BEACH had terrible and lasting results for the 29th Field Artillery Battalion. Many of our men from B Battery,
29th Field Artillery were killed in action, from the sinking of LCT 458, when it struck a mine and sank off the coast of Normandy. Sixty men were on board, and a total of 39 men from our battalion died as a result, and most of them were never recovered!





MAY THEY REST IN PEACE !





LCT 81 next to an LST in the Aleutians, August 15, 1943!


Here is a "model" of LCT 22 !


LCT Mk5 landing at Normandy !


An LCT sits on the deck of an LST !


Diagram showing the size specifications of an LCTmk6 !


M105 Howitzer Mounted on M7 Track Vehicle !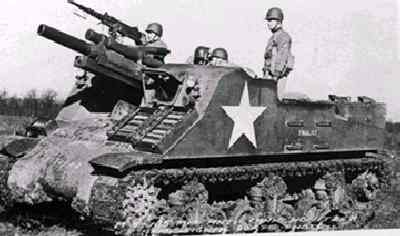 Photo Courtesy of Irving Smolens!


Historical note from Irving Smolens:

The 29th Field Artillery was equipped with these throughout the war in Western Europe as were the other 2 artillery battalions of the 4th Infantry Division. The only exception that I know of was with B Battery, which had burned out the rifling on 2 tubes and ordnance did not have replacements so they were issued trail drawn conventional 105s after the advance into Germany the first time. I think it must have been in September or October of 1944.

Infantry divisions are not normally equipped with M-7 105s. Because we were the assault division, it was felt that M-7s would be more maneuverable on the beaches and also that we could line them up on deck, 2 in front and 2 in back, and fire support fire onto the beach. The tracks could easily absorb the recoil whereas trail drawn guns could not be dug in on a steel deck. The 2 guns in back, firing high trajectory fire actually would fire over the heads of the 2 guns in front.

These oddities and departures from established practice are important, as it was this type of innovative thinking that set the tone for the initiative and flexibility of our combat soldiers and proved to be an important factor in our ultimate victory.

Painting of LCT 1206
Painting by Paul Lem, an LCT 1206 crewmember!
A comparison of the above two graphics should provide you with some idea of the
"close quarters" our men experienced during the Invasion landing at Utah Beach!

Troops Load Into A Barge!
Our 29th FA troops boarded LCT's in much the same manner!
---
[ Our Regimental History ] [ Our Separate Unit Histories ]
[ Our Memorial Tribute of Honor to Fallen Comrades ]
[ He Was My Friend, And, I Remember... ]
[ Our Vietnam War POW-MIA Pages ] [ Our Korean War POW-MIA Pages ]
[ Our Medal of Honor Tribute ]
[ Individual Combat Awards ] [ Individual Service Awards ]
[ Our Email Listings ] [ Our Postal Listings&nbsp]
[ Message Archives ] [ Related Links ] [ Favorite Links ]
[ Acknowledgements ] [ Our Site Awards ] [ About the Webmaster ]
[ Sign Our New Guestbook ] [ View Our New Guestbook ]
[ Discussion/Message Board ]
[ View Our Old Message Board ] [ View Our Old Guestbook ]
[ Our Member's Personal Home Pages ]
[ Stories of WWII ] [ Stories of Vietnam ] [ Stories of the Gulf War ]
[ WW I Photo's ] [ WW II Photo's ] [ Vietnam Photo's ]
[ Gulf War Photo's ] [ Bosnia Photo's ] [ Peacetime Photo's ]
[ Our Supplemental Web Site Pages ]
[ Awards We Give ]

[ Master Site Index ]