NIAGARA COUNTY FIRE INVESTIGATION UNIT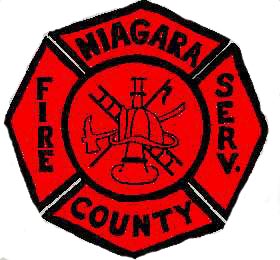 The Niagara County Fire Investigation Unit
The Fire Investigation Unit is made up of over 50 volunteer Origin & Cause Investigators.Plus paid firefighters& Law Enforcement personnel.Through the dedication and determination this program has been a huge success.We have 7 Zone Coordinators in the county.There are 4 coordinators in the county and 3 are with each City in the County.Lockport, Niagara Falls,and North Tonawanda.The Fire Investigation Unit also is made up of Firemen, Police, Sheriff`s Department,New York State Police, Forensic Lab, The Districts Attorneys Office,The Special Forces Unit(Bloodhounds,and accelerant detection dogs).Also members of the fire Department from the Niagara Falls Air Force Base.

There are training classes regulary that cover all phases of fire investigations.All fire investigations are done under the supervision of William Manth Deputy Fire Co-ordinator in charge of Investigations. The NIAGARA COUNTY FIRE CO-ORDINATOR James Volkosh and Bill Manth have been one of the biggest reasons the K9 accelerant detection program here in Niagara County has been so successfull.There support and faith in the program is whats made this k-9 team what it is today.I would also like to thank the area volunteer fire companies for their help and support, and for including myself and the k9`s in their training.Also Al Mack at the Niagara County Sheriff`s Dept. Forensic Lab for all his help as well in making this program a success.Also I would like to show my thanks to Kenneth Jonmaire, who was the former Chief Of Forensics at our lab.When I first became interested in accelerant detection K9's, Ken spent alot of time with me on this and helped me out alot. Because of the support of our Lab, it has been in their help in training and their guideance that is why I was able to have 3 great accelerant dogs.There has been so many people who have helped me that it is impossible to thank everyone.I appreciate their help very much. Also I owe alot to my wife,Dorothy who has put up with so much.Always going for some type of training, or those phone calls at 2:00 or 3:00AM to be called to a fire somewhere. Although These canines have been very successful assisting in fire/arson investigations, one must understand that these canines are only a tool to assist fire/arson investigators in locating traces of ignitable liquids. The canine, however, is not an infallible tool. There is a high probability that an ignitable liquid is present when a properly trained canine alerts. However, some pyrolysis products will solicit a positive reaction from these canines. The canine will never replace the trained and experienced fire/arson investigator. The canine alert does not prove or disprove that a crime has been committed or omitted. It certainly does not prove that ignitable liquids were used in the commission of the crime of arson or unlawful burning. Samples must be collected by a qualified evidence technician familiar with the canine program and confirmed by the crime laboratory to determine if the samples contain ignitable liquids. Fire/Arson investigators, canine handlers, and chemist must work in concert to corroborate each other to establish that a crime has been committed or omitted. Most jurisdictions are utilizing canines for a number of types of searches. These searches include fire scenes, equipment searches for contamination purposes, vehicle searches both burned and unburned, crowd searches, clothing lineup searches, and area searches.





Gasoline, stove oil, paint thinners, solvents, and other similar fluids, even though highly volatile and flammable, frequently do not burn completely. Identifiable residues of such fluids can therefore be recovered in many cases even after large fires and can be examined for classification and/or identification of the original liquid used.


The best and most reliable method used to analyze arson evidence is the gas chromatograph. The gas chromatograph separates the components of the sample and prints out a chromatographic pattern of the particular petroleum product.


We have attempted to do a page on STARTING AN ACCELERANT DETECTION DOG If you have any questions or comments feel free to email me.


In November 2000 at the New York State Academy of Fire Science in Montour Falls, NY, the Niagara County Fire Investigation Unit was presented with the James H. McGroarty Memorial Fire Investigation Team of The Year Award This was an honor every member of this team is proud of.To be selected to be the best in the state by your peers is an honor. The award was presented to us by the New York State Fire Investigators CH.23 of the IAAI




In the start of 2000 we put our first Fire Investigation vechile into service.This enables us to conduct interviews,collect evidence,and conduct a more efficient and total investigation in a shorter amount of time.Everything needed to complete an on scene investigation will be on one vechile.This is an old county ambulance we converted to the investigation vechile it now is.Through no expense to the county all its furnishings have been done through donations from area County Fire Companies which we are so grateful.We would also like to thank the area fire companies that have helped in storing this Vechile for us.


Section 209-d of the New York State General Municipal Law places the responsibility of determining, the cause of every fire with the fire chief. Should that determination be beyond the chief's capabilities, he or she may ask for the fire to be investigated by an outside entity. Here enters the fire investigator. The elimination of accidental causes is where most of the work takes place. Photographs, sketches, interviews, reconstruction, sample collection for Laboratory analysis and accelerant detection with canines are only a few the steps necessary to confirm or eliminate various causes of a fire. Later on in an investigation, other information such as property transactions, owner financial information, judgments,liens and insurance coverage may be obtained to establish or rule a motive for an individual to intentionally start a fire.

Should a fire be determined to be intentionally started, the investigation takes completely a different direction. Criminal investigators and the District Attorney's Office are contacted and the investigator works with these prosecutorial entities to bring the peretrator to justice. Motives to start incendiary fires can range from revenge to spite to fraud and all arsons are considered felonies in New York State. Sentences can range from no jail time for the less serious crimes to life in Prison for the more sever classifications of arson. Other crimes such as homicide, burglary,and insurance fraud are commonly attached to arson.
The Niagara County Fire Investigation Unit takes pride in its capabilities and alliances with both the public and private sector. However, our strength lies in our personnel.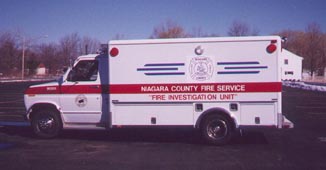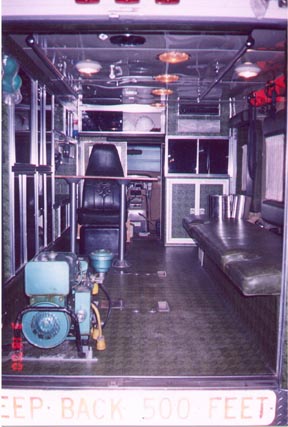 Inside The Fire Investigation Vechile.


We are getting a new, & much needed building
The Niagara County Legislature has approved $2.8 million of the Tabacco Money received during the Tobacco Settlement for a new Public Service Building. This will be built next to the Niagara County Sheriffs Department,and by the new Fire Training tower.

The new building will house the Offices of the Niagara County Fire CoOrdinator,The Emergency Management Offices, the Sheriff's Dept. Dispatchers, and several other offices.It will have a vehicle storage area for the 2 Hazardous Material Vehicles,The Fire Investigation Vehicle.It will have a large classroom or two where we can have our classes here instead of having to use the area Fire Halls. All the fire halls in the area have been a God send when it comes time for someone to open their doors so we can have a place to hold meetings or classes.

The one thing I want to say at this time and thank The Niagara County(New York)Fire Chiefs Association for sponsering a K9 Memorial.When we had to euthanize "Paul" I was invited to the Chief's Association picnic at Hartland's Fire Hall. It was here that the Chief's Association voted on having "Paul" buried on the grounds of our new building. Back when this Building was a dream, and now it is a reality.All k9's that work for Niagara County will be buried here. The dogs to be buried will be"Paul", "Margie", & "Gypsy" who were my Accelerant Detection dogs & "Candy" who Belongs to William Tolhurst.They were the first Accelerant Detection dogs in this County.. This is an honor and I can't thank the Niagara County Fire Chiefs Association & The Niagara County Fire Service enough for their thoughtfullness.These are the greatest people in the world to work with. I was informed yesterday by Jim Volkosh the Fire Coordinator. And Deputy Coordinator in Charge of Investigations Bill Manth had obtained a donation of a huge stone from the a quarry in theTown Of Niagara For the tombstone and they will polish it and deliver it to the site of the new new K9 Memorial. A brass plaque will be placed on the stone with each dogs name and info.I talked to Bill and expressed my appreciation to him and the quarry.

As of August 1st,2001 "Marge" had to be euthanized and her remains will be laid to rest with "Paul" & Candy".On November 8th,2001 we lost "Gypsy" who will also be layed to rest with her friends and Partners.


Our K-9 program has continued to be expanded, with a new ADC (accelerant detection canine) to work with "Gypsy". That will be Carl Greene with his dog "Montana" who has both "Gypsy" and "Paul"`s bloodline and is a perfect image of "Paul".All three dogs, "Paul","Gypsy", and "Montana"came from the same breeder. We also have access to a bloodhound that works closely with the Fire Service. And that would be "Mattie" who is handled and owned by Dan Foley of Lockport.We also have access to Narcotic, Explosive, Cadaver,and Patrol dogs. But we are in no way affliated with the Niagara County Sheriffs Department K9 Unit.We have volunteer & Professional handlers in our group which trains together when ever possible.Last year we had 4 K9 Officers from the Pittsburgh Pa. Police K9 Unit who came here to talk to Bill Tolhurst and they were so impressed with our system here they purchased a Bloodhound and now have it working the streets of Pittsburgh. This year we have several officers from different departments coming here to see our ways in working accelerant, tracking,and cadaver dogs.


Fellow Fire Investigators Darwin Hasley and Vern Zuch at a fire scene.