VISIT TO FORT BENNING
498th MEDICAL CO. AA
498th patch by Cpt. Mike Pouncey (498th dustoff)

I PAID A VISIT TO THE 498TH AIR AMBULANCE COMPANY AT FORT BENNING IN FEBRUARY 2001.
I MET THE COMMANDER, MAJ. KYLE D. CAMPBELL AND THE EXECUTIVE OFFICER, CPT. MIKE POUNCEY.
THEY WERE QUITE GRACIOUS IN THEIR PRAISE OF THE 498TH IN THE VIET NAM YEARS AND GAVE ME THE VIP TOUR OF THE COMPANY.
TODAY'S 498th MEDICAL COMPANY IS AS IMPRESSIVE AS EVER!
I SALUTE YOU ALL!



FIRST UP SHIP-FT. BENNING
borrowed from 498th Medical Co. website

some recent accomplishments of the 498th dustoff at ft. benning


1. Exceeded Department of Army Standards for the past 12 consecutive months for Operational Readiness rates for the aircraft.

2. Provided dedicated support to 4 separate installations including Fort Stewart, Fort Benning, Florida Ranger Camp and Mountain Ranger Camp.

3. Deployed in support of Advanced Warfighter Operations to the Joint Readiness Training Center earning high praise from the observer controllers.

4. Deployed in support of Operation Purple Dragon flying over 100 simulated patients and medical personnel to the Navy's USS Comfort hospital ship.

5. Successfully completed the FORSCOM ARMS inspection with 9 soldiers singled out for Commendable Achievements.

6. Deployed to Egypt in support of Operation Bright Star executing the mission with 100% success.

7. Currently preparing to send 6 aircraft and 7.5 crews to Bosnia in the near future.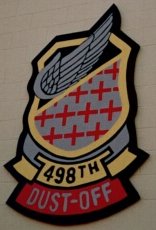 498th Crest made and installed by Cpt.Mike Pouncey on the 498th DUSTOFF HQ



CPT. Mike Pouncey




CPT. Mike and then Commander, Maj. Kyle Campbell



Hangar Ship


TODAY'S 498TH DUSTOFF HOMEPAGE
498th DUSTOFF COMMANDER'S WELCOME
TODAY'S 498TH DUSTOFF PICTURES PAGE
HOME
498TH DUSTOFF LINKS


Email: lillym45@dustoff.org